May 2, 2016
This morning we woke up early to catch our flight to Seoul-Incheon en route to Taipei. Our flight time on our e-ticket said 8:55am so we woke up at 6am and left the hotel around 6:45am. We took the JR train to Chitose Airport, which took about 40 minutes (we also had to wait 15 minutes for the train). Luckily, Tim checked the flight time while we were at the train station and it showed that the flight time actually changed to 9:40am. I guess we didn't get a flight time change notification. Any how, that actually worked out a lot better for us because by the time we arrived at our check in counter, it was already 7:50am.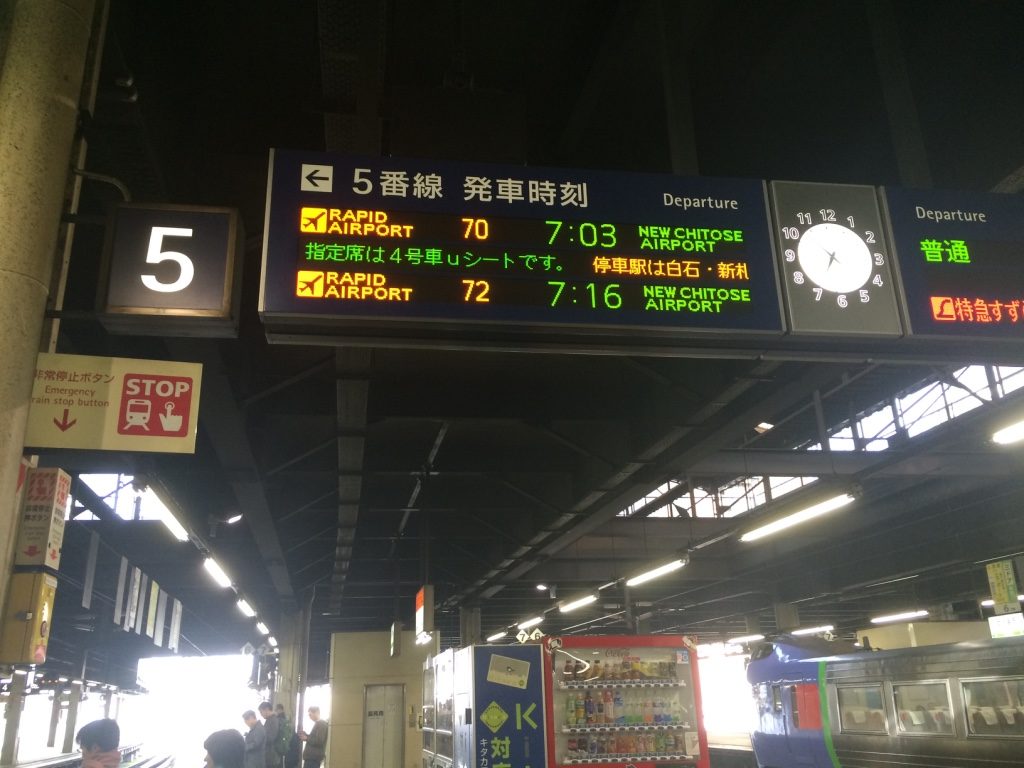 Chitose International Terminal is about a 8-10 minute walk from the JR train (it's a lot closer for the Domestic Terminal). The international flights that leave Sapporo are only to a few cities – 5 to Taipei, 4 to Seoul, 3 to Bangkok and 1 to Kuala Lumpur on a daily basis. One thing that I've noticed in Sapporo that I didn't see anywhere else in Japan was that tourist signs always include Russian. We're pretty far north and this is probably the closest I've ever been to Russia.
The International Terminal at Chitose has a few duty free stores. The store with food souvenirs was a bit of a gong show. There were a few Thai flights leaving so people were stocking up (I think I'll be the same in July). A LeTAO representative was there dishing out huge spoon fulls of their cheesecake. (Yum!).
We were flying Korean Air so we had a 3 hour layover in Incheon before flying to Taipei at 4pm. Incheon iss a really good airport to have a layover in, so I don't mind being there for 3 hours. There are a lot of stores, restaurants, and their Wi-Fi is extremely fast.
Our flight to Seoul from Sapporo was only half full (if even), so we got a row to ourselves. There are some really nice views of the mountains as you leave Sapporo. Tim likes to take aerial shots from the plane while we're flying. The food on Korean Air has been very good. We both had a chicken dish and it had a shrimp salad and a plate of assorted fruits. (I didn't take a picture of the meal).
When we arrived at Incheon, we walked around for a bit and browsed some of the duty free stores. If you like Longchamps bags (Tim: and who doesn't?), Incheon's Longchamps store is about about 25%-30% cheaper than at home or online. I can't say the same for the other luxury brands, since those are the only bags I looked at in detail. Also, if you want to buy face masks while in Seoul, you can buy packs of 50 of them at the cosmetic stores for slightly cheaper than what you would pay in the stores in Seoul (they have Nature Republic, Tony Moly, Innisfree, and the Face Shop). Another interesting thing to note is that Incheon retail store prices are all in USD and are charged in USD, which doesn't really make sense to me. But all the food and restaurant prices are in Korean Won. I don't get it.
Tim and I didn't eat anything at the airport since we got meals on both the flights on Korean Air. While walking around the airport, I was reminded why I wasn't a big fan of Korean food and/or snacks. There was definitely not as big of a draw to buy any snacks and treats like there is in Japan (unless you want to buy Red Ginseng). I just bought a Chilsing Cider (which is their version of 7up) to tie us over until our flight.
Our flight to Taipei was a full flight and it was a fairly large plane (777). Apparently there was a long weekend for Labour Day in Taiwan this weekend, so that's why so many people were traveling. The flight was one of the scariest flights I've been on to date. There was a lot of turbulence that made the plane go up and down a lot. I'm "okay" with turbulence when it just shifts the plane side to side but when it starts to dip up and down, that's when I start to freak out. The flight attendants had to sit down quite a few times during the flight because the turbulence was so bad. When I'm scared on flights, I grab Tim's hand and squeeze it pretty tight. He's really calm when there's turbulence. He told me after we landed that I looked like I was going to cry. To be honest, I did have that urge to start crying (which has never happened before on a plane). Other than the turbulence, I watched the Steve Jobs movie (which was pretty good) and the meal they served was also quite good (I had Korean beef bulgogi).
We landed at Taoyuan Airport about 15 minutes late and as soon as we got off the plane, we felt a sudden wall of humidity. Apparently it was 37 degrees Celsius today, a stark difference from our 5 degrees temperatures in Sapporo. A bunch of flights from Japan landed at the same time and we were caught behind the crowds and had to wait at customs for about 35 minutes. We finally got through and got our bags, which were very lonely on the baggage carousel by the time we got downstairs. Uncle Albert came to pick us up and we dropped off our bags and headed straight for dinner with Tim's Mom, and Tim's Dua-yi Diu (whose apartment we are staying at).
We went to G-Woo, a restaurant close by to the apartment and one that we had gone to in March with Tim's other relatives. They are known for their chicken soup, but since we got there fairly late, around 8pm, they said they were sold out. Everything Tim's Mom and Uncle ordered was really good. I didn't realize how much I missed the taste of Taiwanese/Chinese style food.
Before leaving Japan, we found out that some good friends were in Taipei visiting from Toronto and we would have a 12 hour overlap with them here. Unfortunately they were leaving tomorrow morning at 6am for Hong Kong so the only time we could meet was tonight. We planned on meeting at Ice Monster (shaved ice restaurant) after dinner. We don't get to see them very often since they live in Toronto so we were both really happy to see them here. We shared two shaved ice and chatted for a couple of hours before saying bye. It felt like we were at home. They had to be up in a few hours to go to the airport and we were pretty beat from our long day of travel.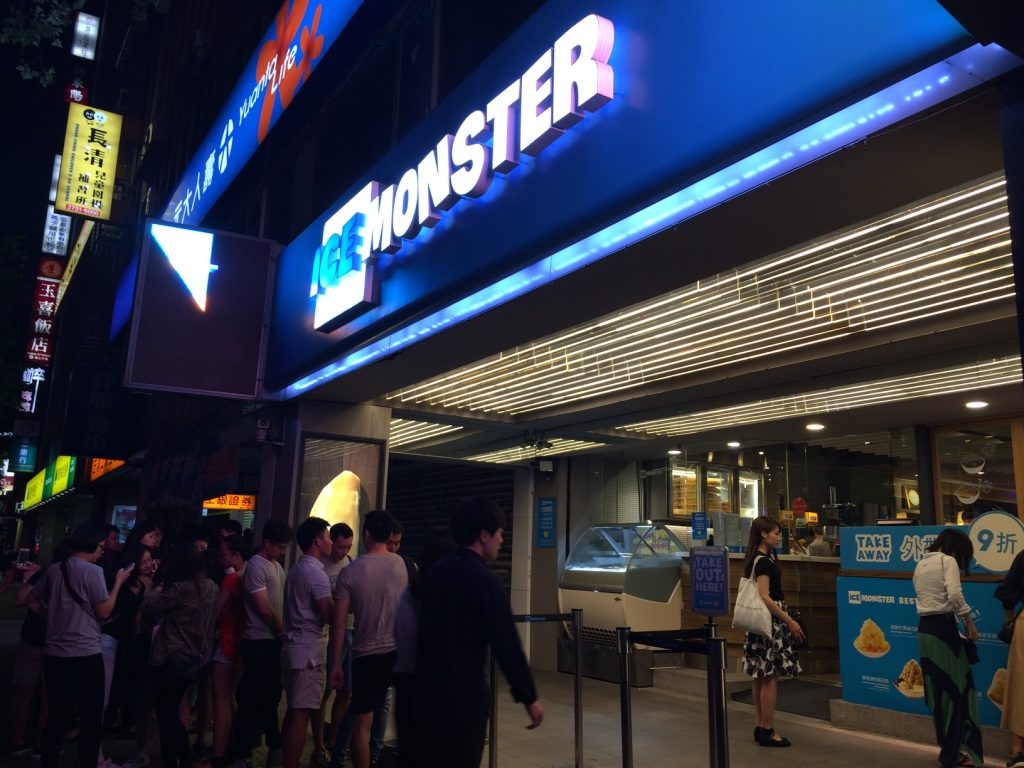 We walked back to the apartment, washed up and crashed. Tomorrow we planned on watching Captain America Civil War (which came out in Asia last week, and doesn't come out in North America until Friday) at 9:30am. Tim has been waiting to come back to Taipei to watch it, since most movies here aren't dubbed like in Japan.
It feels nice to be back in Taipei. It feels like our second home since we're most familiar with it and there is family here. We only have 3 nights before heading off again. I kind of wish we had a bit more time here before leaving. Tim's Mom is here visiting, so it's nice to be able to see Taipei with her and meet more family friends.
Steps today: 13,000