April 5, 2016
Our flight to Fukuoka, Japan, was at 2:05pm from Incheon Airport. Instead of taking the airport bus that we had taken from Incheon into Seoul, we planned to take the airport express train (AREX) from Seoul Station. I had read about the AREX, but our hotel as well as other travel bloggers recommended taking the airport bus into the Myeongdong area because you didn't have to transfer from the AREX to Seoul's subway lines. But considering we were only one subway stop away from Seoul Station, the process was painless and the journey to the airport was a lot more enjoyable than the airport bus. The only issue I see with taking the subway to get to Seoul Station is that their subway stations have a lot of stairs and not many elevators or even escalators (which is probably why the hotel recommended the bus for most travellers with suitcases). Thank goodness (Tim: or thank practical packing and planning) we both have backpacks or it would have been a very painful walk through the stations.
Once we made it to Seoul Station, we went to buy our airport express tickets. Like Hong Kong Station, you can check into your flight and check in your luggage at the train station (such an awesome system). This is only available for Korean Air, Asiana and Jeju Airlines though. If you are flying on any of these three airlines you get a discount on your train ticket (6,900 KRW = $7.80 CAD instead of 8,000 KRW = $9.00 CAD). But another added perk of checking in at Seoul Station is that there's also an immigration office which lets you bypass the regular line up when you arrive at Incheon! The other benefits of taking the AREX was that it was shorter than the bus ride by 30 minutes (40 minutes instead of 70 minutes) and there's free wifi on the train.
Before leaving Seoul, we had our subway cards which had a balance of 800 KRW on it. Since we had gone farther away from our hotel yesterday, it messed with our cost per ride. We weren't able to just add 200 KRW (a short ride is 1,250 KRW and we had 1,050 KRW balance) as the minimum deposit amount to your card is 1,000 KRW (it's silly that they don't let you add any amount you want) (Tim: even the Seoul Subway employee thought we could add 200KRW… he went to try at the machine, as we had already done, and realized he couldn't). So long story short we both had 800 KRW on our card and didn't want to get a refund (because there is a 500KRW fee to get the remaining balance refunded). You can use the subway card ("T Money" card) at participating stores and restaurants though (similar to a lot of cities). We ended up going to McDonald's and each buying a chocolate dipped vanilla cone (for "breakfast") for 800 KRW (yay!). Tim will have a more detailed blog post about this at some point.
We got to Incheon around 12pm and headed through security and to our gate. We still had to go through customs but we were able to go into a quicker line for both security and customs which was much quicker (Tim: the same line as pilots, flight attendants, etc). Korea has tax free shopping at their stores if you make a purchase of over 30,000 KRW. Since I bought a bunch of stuff from Missha, I had one receipt that qualified (that was stamped at the store). If you ever had to deal with getting your VAT tax back in Europe, getting your tax refund back in Korea is much easier. We found a tax free kiosk, the lady took my receipt, scanned the barcode, scanned my passport and my refund in cash was dispensed. I got back 3,500 KRW for a 57,000 KRW purchase (around 6%, you can get up to 8% depending on what you buy). If you have more expensive items, you need to have the items in your carry on to show them.
When we arrived at our gate, we noticed that it seemed like the average age of passengers flying to Fukuoka from Seoul was around 50 years old.
The flight to Fukuoka was only an hour and twenty minutes, so basically we were in the air for a bit less than an hour. I tried to write my blog post from yesterday on the plane but was only able to write a couple of paragraphs before they brought out a meal (chicken sandwich that wasn't very appetizing, Tim thought it was tuna and said it was fine to him), cleaned up and then it was time to land.
Fukuoka is one of the closest Japanese cities to South Korea (there are ferries that go between Busan and Fukuoka), which has made it a popular destination for Koreans and Chinese tourists. To be honest, the first time I heard of Fukuoka was on our last trip to Asia, when we were at the Taipei airport and a flight just got in from Fukuoka. When I googled it, it seemed like an interesting, more laid back, Japanese city and it is the birth place of a lot of famous ramen restaurants such as Ippudo and Ichiran.
The Fukuoka airport is quite small. The international and domestic terminals are not connected, but there's a free shuttle bus that goes between the two terminals. Once we got to the train station (which is at the domestic terminal), we bought our subway cards and loaded some Yen on to it and headed to our hotel.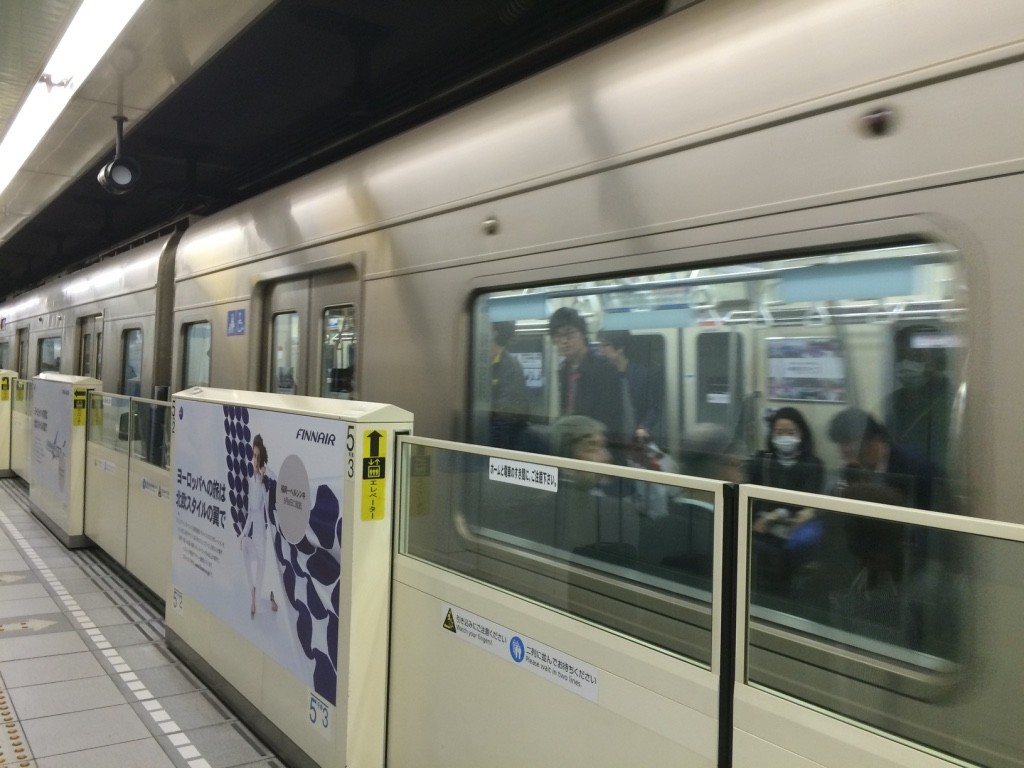 We're staying at Hotel MyStays Fukuoka Tenjin, which is about a 3 minute walk from Tenjin Station. The hotel's location is very convenient – close to the train station as well as a lot of shopping and restaurants. The room itself is small but very clean. We booked this hotel through Expedia and are paying $56 CAD/night. Fukuoka is a lot cheaper than the rest of Japan!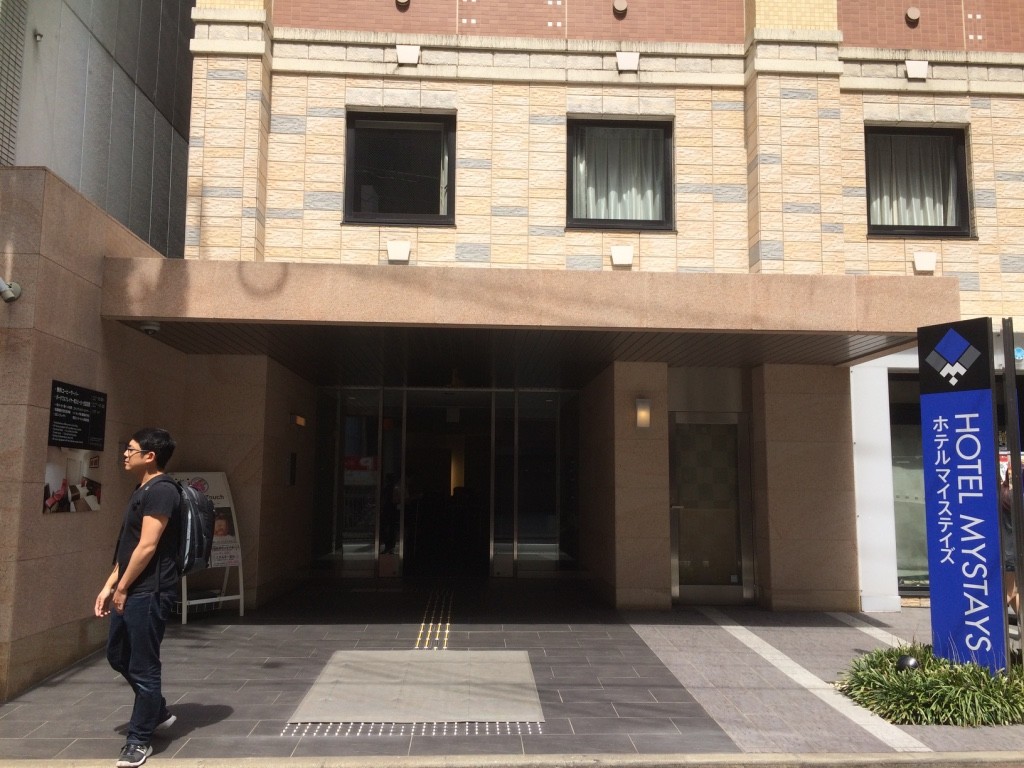 Finally! It was time for our first meal in Japan. Since Fukuoka was our first stop, it was a no brainer that we were having ramen at Ippudo. Ippudo has many international locations, one being in New York City. Up until today, I had only been to the East Village location and thought the ramen was good but it was pricey – at around $16 USD (plus tax and tip) a bowl. The one in New York is a lot fancier with a lot of other menu options besides ramen. Tim's been to Ippudo in Tokyo and has always said how it was the most amazing ramen he's ever had (Tim: what I actually say is that I wasn't the biggest fan of ramen until I tried Ippudo in Tokyo, but the first time I had Ippudo in Tokyo definitely put Ramen on the noodle soup map for me.).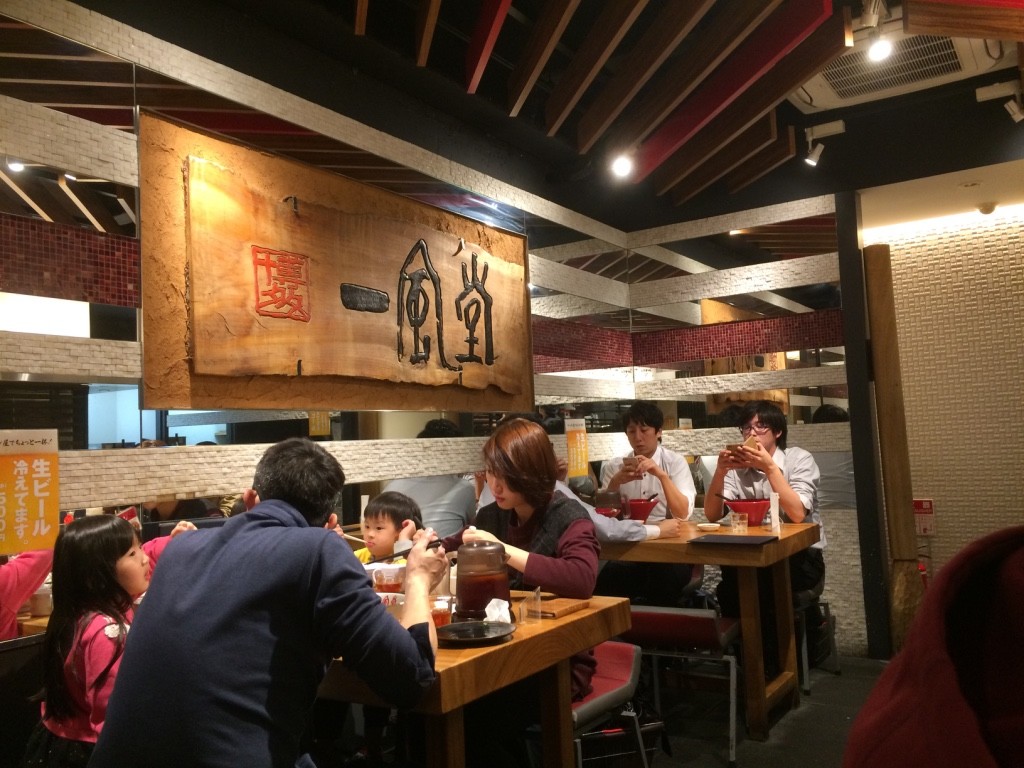 The ramen was delicious and the servers were friendly and courteous. (I love Japan!) We're not the biggest fans of Korean food in general (Tim: or I have certain body parts that aren't the biggest fans of Korean food), so eating a bowl of ramen made us so glad we're finally in Japan.
After dinner we walked around towards the river and canals. Fukuoka is filled with canals and open air food stalls called a "yatais". I read that yatais were very popular in Japan historically but now they only really exist in Fukuoka. We passed by a row of them but since we had just eaten, we just looked. Most of them served either yakitori (grilled skewers), oden (boiled items), or ramen.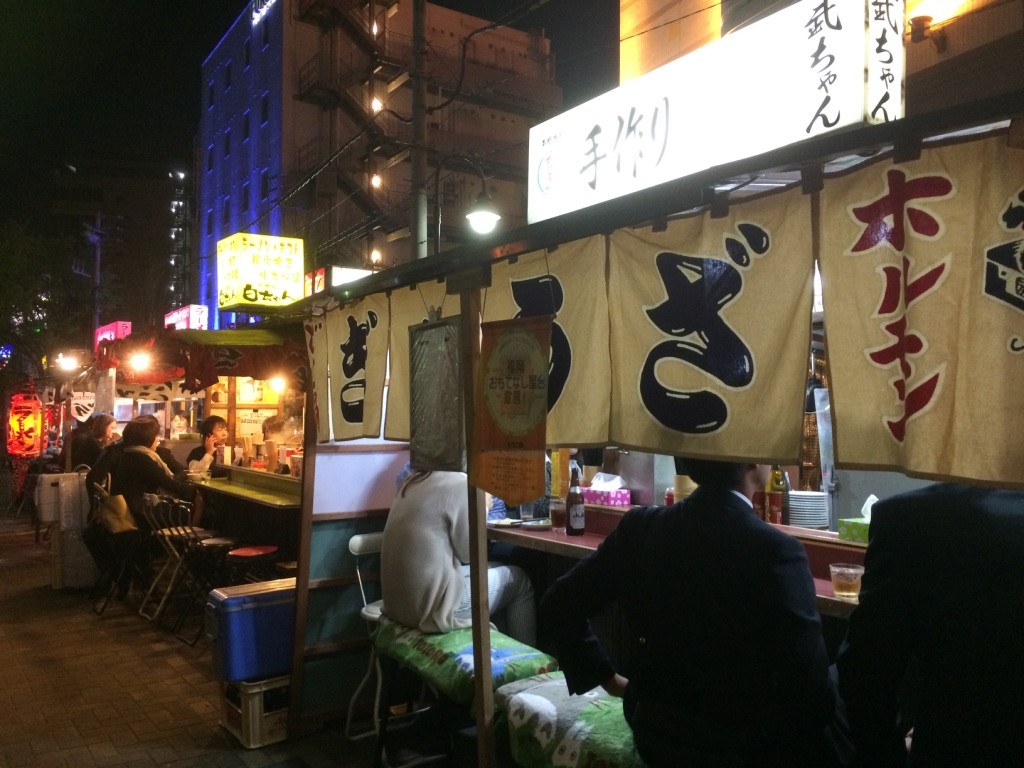 Fukuoka seems to be a very laid back and calm city and is apparently a stark comparison to Tokyo (it's a nice change of pace from Seoul as well). It's my first time in Japan and I'm really excited to discover more of it. I love Japanese food and can't wait to eat my way through Japan (and prepare to starve when we go to Australia) (Tim: we're not going to starve). While walking through the streets and looking at the different sushi places, I had to stop myself from thinking, "Is this a good place? Are they actually Japanese?" like I would in Vancouver. Looking forward to our time in Japan!
Steps today: 16,000