July 7, 2016
Today was our last full day in Kuala Lumpur and we had nothing planned. We flipped through guide books and looked online at KL's attractions and we basically saw everything we wanted to see yesterday. Most people take a few hours to see Batu Caves but after seeing more than 2 limestone caves on this trip we decided to pass. Also, since it's a holiday in Malaysia, we expected the caves to be more of a gong show than they probably are.
We went down to the main breakfast hall for breakfast to compare the two different areas. The restaurant was packed and looked very chaotic. Little did we know this would only be the first time we'd be surrounded by swarms of people. The main breakfast restaurant had a lot larger selection of food than the lounge floor. They had Western, Malaysian, and Indian options for breakfast. They even had a fresh roti station, egg station, and a noodle station. The big downside to eating here was that there were so many people and staff couldn't keep up – they ran out of plates, cups, juice, and food trays were empty.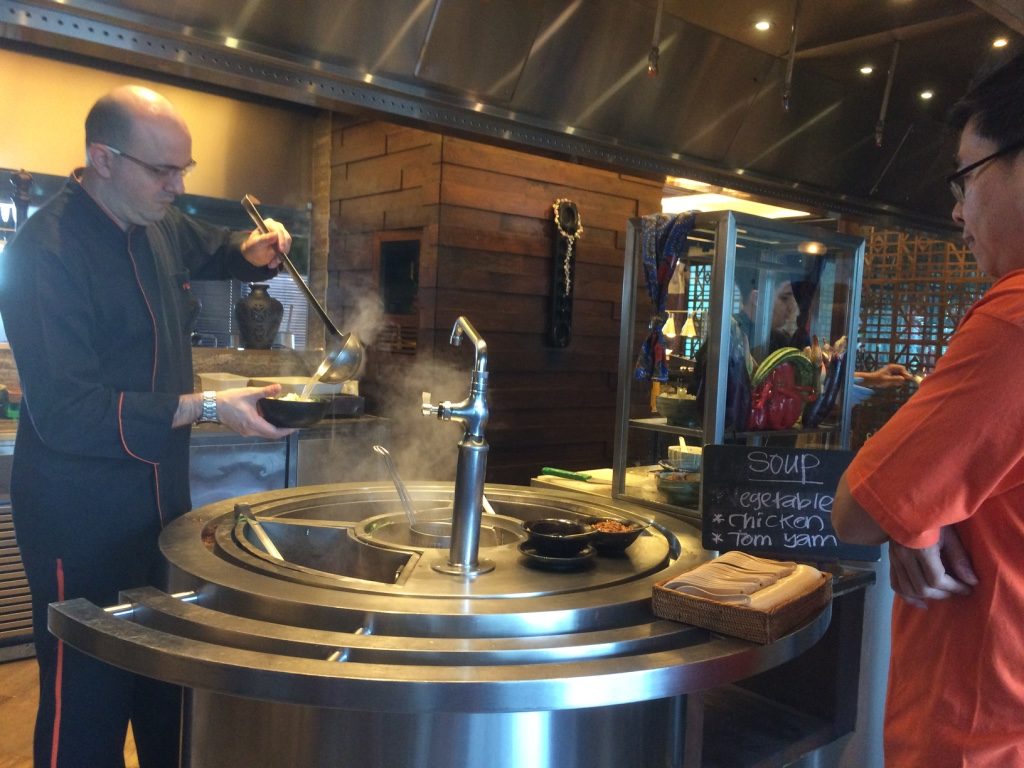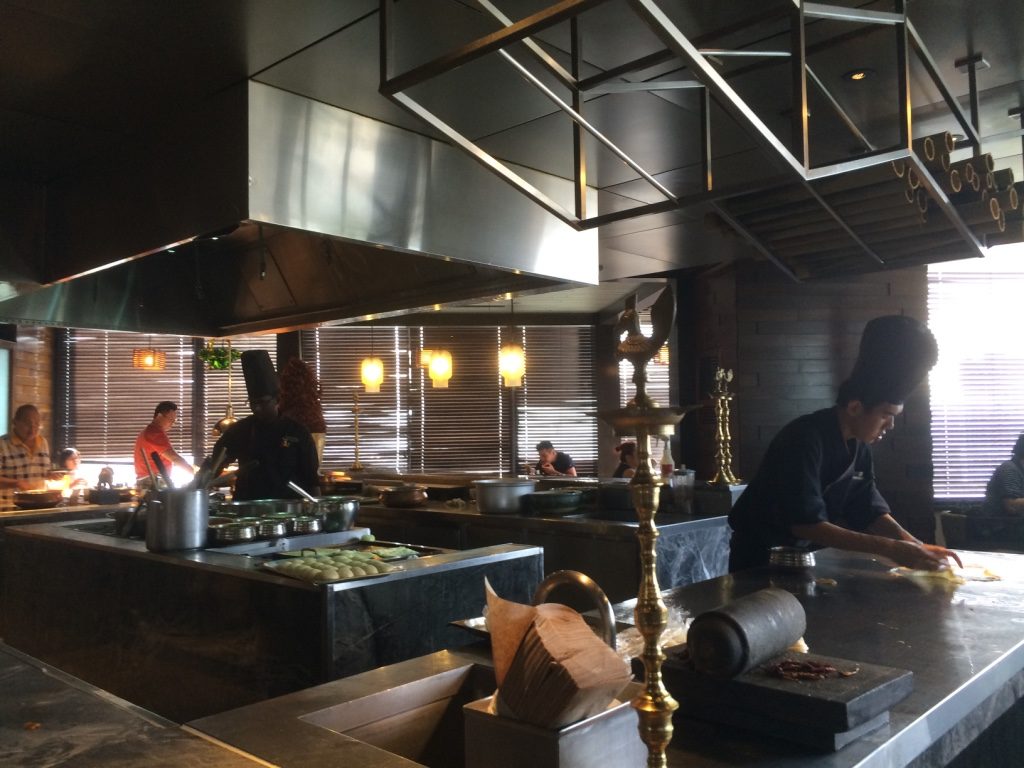 After breakfast we stayed in and caught up on some errands we had to do. We decided that we'd go out for lunch and then save the majority of our activities for the evening. Tim wasn't feeling that great so it was good we had more of a chill afternoon.
We decided to go to the Suria KLCC for lunch and check out their food court. We took the LRT to KLCC stop, which goes straight into the Avenue K Mall. Avenue K is located directly across the street from Suria, and it was the calm before the storm. As soon as we crossed the street towards the Petronas Towers and Suria Mall, we saw hoards of people. Today is another holiday in Malaysia so everyone is at the mall apparently. We went inside the mall and it was super packed. I don't think I've seen that many people in one place in a long while. People didn't really seem to be shopping, they were just loitering and walking around. We went up to the food court and it was way too busy to find anywhere to sit and eat. They looked like they had some good Malaysian food choices but it was unfortunate that even at 3pm, we couldn't find somewhere to sit. We walked around to all the restaurant/cafe options at the mall and they all had line ups, so we left Suria and went back to Avenue K.
Avenue K was so dead compared to Suria. I guess everyone wants to be at the fancier mall. After looking through all the food options, they didn't look that great so I went to Nando's at Avenue K – there was no long line up at that location. Tim wasn't feeling well so I ordered something for myself. It was almost 3pm and I was really hungry. After almost an hour of waiting, I saw food come out and go to all the tables around us that came after. I was pretty annoyed and frustrated (probably because I was so hungry) so I went to ask them what happened and if they even put in my order. No one apologized or really addressed what happened, which made me even more upset. Our waiter miraculously disappeared during the whole ordeal and we never saw him again. I told Tim this was probably the most annoyed I've been the entire trip. I know it sounds ridiculous after I recall what happened and how I was so upset, but after wandering around Suria and other places to find something to eat and having to shuffle through hoards of people, my fuse was pretty short (I was so annoyed that I didn't even take pictures of my food!) (Tim: plus it was Nando's so no one really needs to see a photo of it).
Any way, after that ordeal, we made our way back to our hotel for the rest of the afternoon. As we experienced how crazy Kuala Lumpur gets during a holiday we didn't have the urge to go out any more. Right at 5:30pm we went upstairs to the lounge for free drinks and appies. We went right at the time it starts to get a table after seeing how busy it was the day before.
When we got upstairs we were shocked to see the whole place packed with Malaysians and there was only one table left! I went to browse at the food they had for the day and everything was gone. The lounge was so loud and crowded, it was like a repeat of being inside Suria Mall. There were kids running around like it was a day care and you could tell people were getting upset with the state of the "executive lounge". I overheard an Aussie complaining to management about how he's never been in such a horrible executive lounge. Since there weren't enough seats, people were standing all over and the food supply was being turned over constantly. Today the two regular waiters had help, which was good!
We headed out to the Petronas Towers after sunset to see the towers at night. As we got off the train at the KLCC stop, crowds of people piled on to the train before we could even get out (had to point out the elbows for this one). We went through the mall again to get to the other side of the building to see clear views of the towers. They looked much nicer at night than during the day. We took a few photos and walked through the crowds and headed back to our hotel.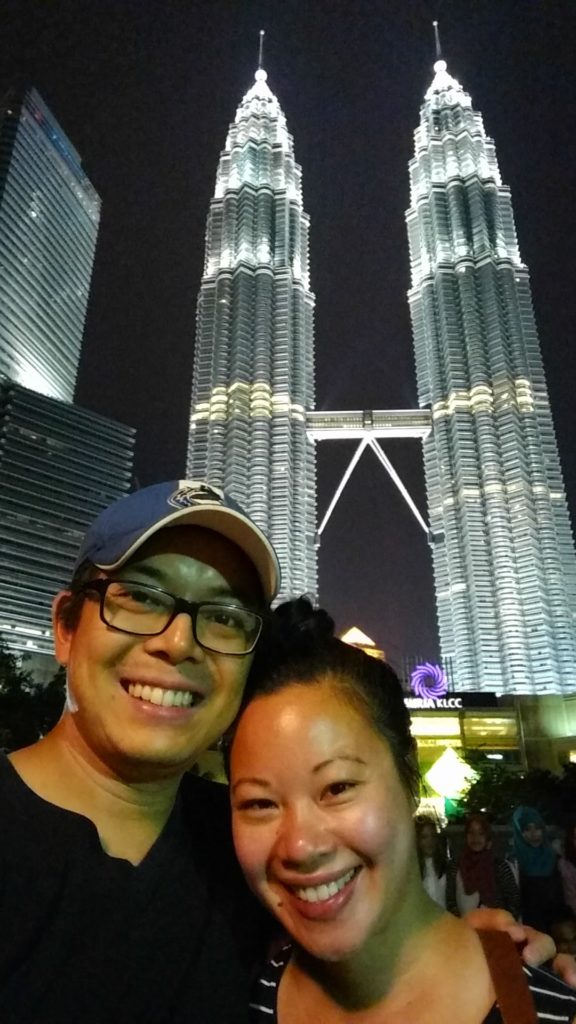 I'm looking forward to getting out of Kuala Lumpur and going to Penang. Kuala Lumpur doesn't have the same charm or warmth (from people) as other large SE Asian cities that we've been to. There aren't many notable sights in the city and you could probably spend a day and a half here if you really want to see everything on the Trip Advisor attractions list. The most interesting part about Kuala Lumpur for me was the fact that Malaysia is a Muslim country so it was cool to be here during the end of Ramadan and see how the city celebrates (may not be the best time to be a tourist here though). Penang is the food capital of Malaysia so I'm looking forward to going there to check it out.
Steps today: 11,500