April 11, 2016
It was our first morning in Osaka and the sun was shining. We didn't have any plans for today, which was nice. We took our time getting ready and did a bit of planning for the upcoming legs of our trip. The hotel has a pretty large desk that both Tim and I could work on (perfect set up). We decided to just walk around the city and head towards the popular Dotonburi area for lunch.
When we walked outside, the sun was shining but it was very windy and there was a cold breeze that we haven't felt since leaving Vancouver at the end of February. We walked briskly and made sure we were on the sunny side of the sidewalk to stay warm. It was about a 10 minute walk to the Dotonburi area, not 25 minutes according to Google Maps.
Once we got to Dotonburi, I was feeling very overwhelmed with all the craziness and frenzy of the area. There were so many tourists and people in general that it made trying to decide where to eat difficult. The prices around that area are a lot more inflated than what we saw on the way to Dotonburi (obviously). There were a lot of takoyaki street stalls, which Osaka is famous for, that we'll save for another night. We walked up and down the streets and couldn't decide or find something that we thought looked like good value. We decided to walk one block out of the craziness and ended up going to a ten don restaurant (tempura restaurant).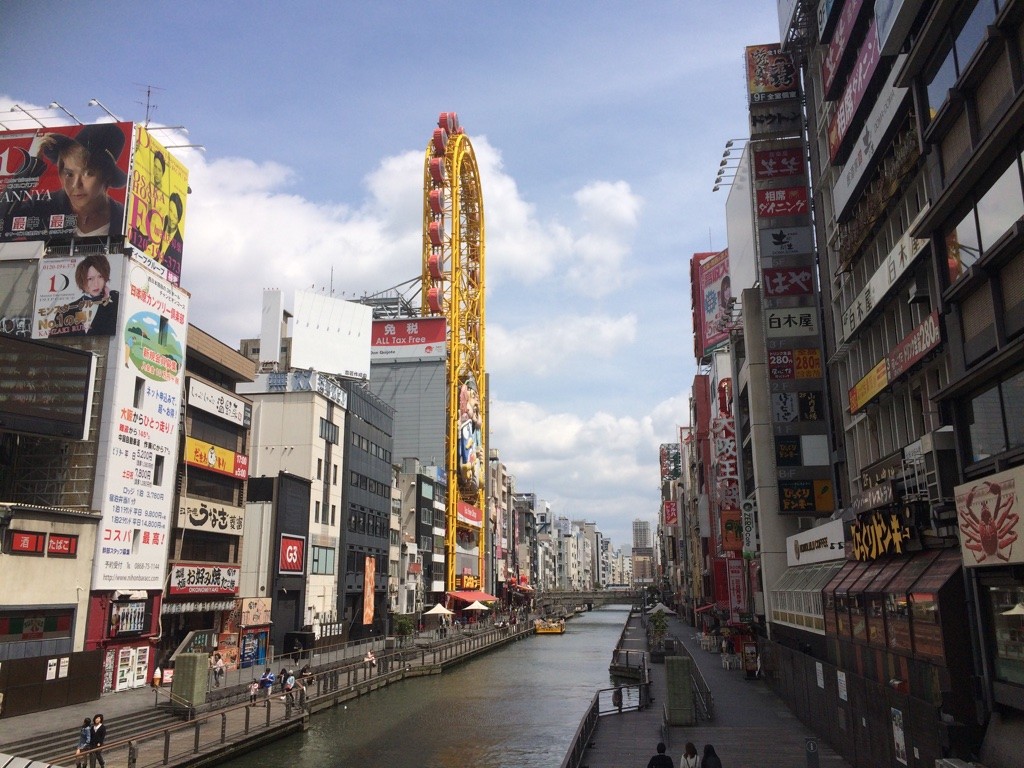 The restaurant is called "Tenya", it's a casual Japanese restaurant that serves assorted tempuras over rice. It's a Japanese chain that is based out of Tokyo. Inside the restaurant were a lot of locals having their lunch breaks (I guess they know not to even go into the main part of Dotonburi for lunch).
The food came quickly and it was tasty. I think we were both very hungry as we ate pretty fast. After we finished lunch, we continued to walk around the shopping area, hoping to make it to the Yodo River. We ended up in an area called, Shinsaibashi, which is Osaka's main shopping district.
We went into a Uniqlo and stayed there for about an hour. We've been into multiple Uniqlos in Taiwan, Seoul and now Japan, but this is the first one I've been in where I actually tried on some clothes. I had a basket full of clothes to try on and went to the fitting room. When the sales associate lead me to the room, I walked in and she politely told me I needed to take my shoes off. Now I know that you have to take your shoes off while trying clothes on in Japan. I'm a North American small or sometimes medium, but here, I'm a medium or large(!!). At first my basket was full of items that were good deals but not practical for the trip, so after some thinking, I ended up buying practical items that I would need on this trip. These were mainly their Airism tank tops (light fabric that's anti-odor and anti-bacterial) and a HeatTech long-sleeve (that I feel like I'll need for here and for Sapporo). Airism tank tops and HeatTech were all 990 JPY = $11.80 CAD). Tim was [is] very patient with me at Uniqlo (Tim: fixed that for you), he found WiFi and sat on the bench and waited for me.
It's too bad that for Tax Free shopping in Japan, you need to buy a minimum of 10,000 JPY = $119 CAD at one store in order to get 8% tax back. In Korea, you only needed to spend around $30 CAD. A small annoyance about Japan is that they charge tax on top of the marked price (just like North America) (Tim: Not universally, some places include tax, some places don't). This is uncommon in Asia, as all the others countries I've been to have tax included in their prices.
We walked a bit more through Shinsaibashi and went into a couple more stores to browse. There was a 3 level Sanrio Store, which got me excited. My Mom used to own a Sanrio Store in Vancouver when I was young and I have always loved Sanrio stuff. I went to each floor and looked at everything, the one big difference between the Japanese Sanrio store and ones they had North America (do they even have any stores left?) is that they don't have a candy section. I was looking forward to getting some cool gum or suckers.
After a fairly draining afternoon in Dotonburi and Shinsaibashi, we went back to the hotel to rest and do some work before we went back out at night. I ended up watching two episodes of the Amazing Race while I unpacked and repacked everything in my suitcase, did some laundry and took inventory of my Korean socks and face masks. Tim worked on his blog post about our final spending summary for Korea (which will be posted later today). Before we knew it, it was already 8:30pm when we went back out for dinner. We thought we would just stay close to the hotel and not go back out to Dotonburi as originally planned since we were likely going to end up there tomorrow night with my friend Mable and her boyfriend, Keith (who are also in Osaka for the next few days).
We went back to the top floor of the department store beside the hotel, where they have a bunch of restaurants. When we went outside for the short period of time to cross the street, it was really cold out. I think it was about 5 degrees Celsius, so it was good we stayed in tonight as we weren't dressed appropriately.
We ended up picking a restaurant that had an assortment of udon and rice dishes. Tim got an Oyako Udon and I got a beef an egg donburi. Our dinner was very simple and quick. The food was good, but a tad overpriced compared to donburis outside of a department store.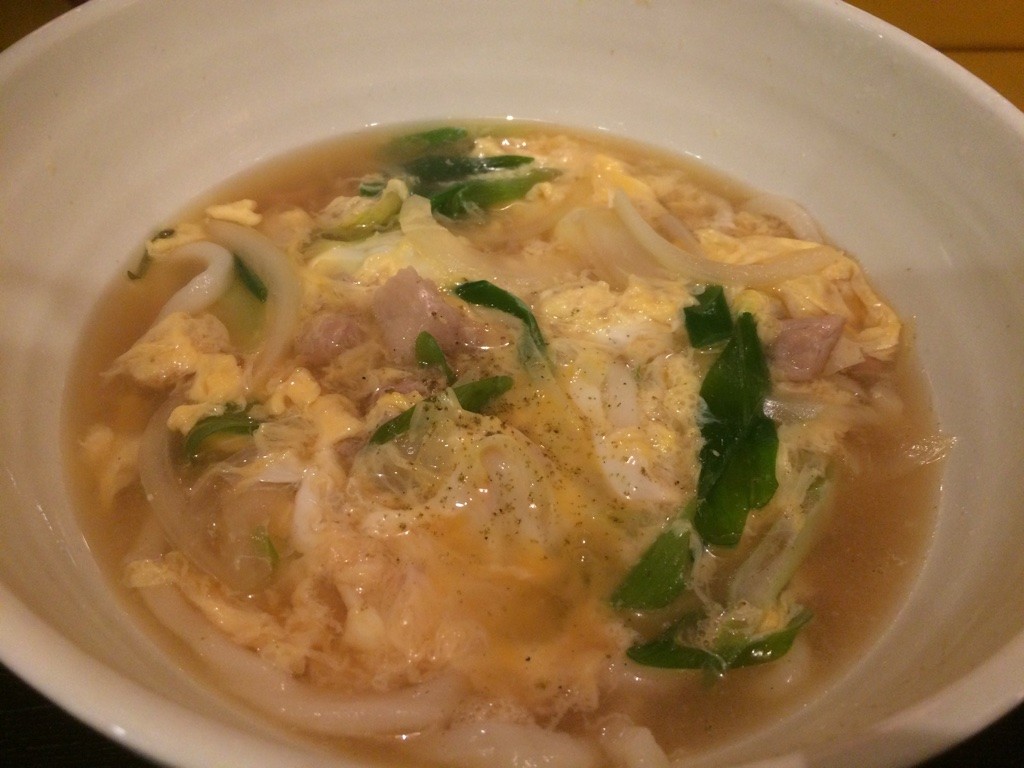 Tomorrow we'll be going to Osaka Castle and then meeting up with Mable and Keith for dinner around Dotonburi. We're thinking of going to an izakaya since we'll have more people so we can order and try more items. Looking forward to meeting up with friends from back home.
Today was a good, restful, and productive day. Osaka is a sprawling city and we've only ventured into a very narrow part of it. I'm looking forward to going to the Castle tomorrow and walking through the parks, away from the crowds for a nice afternoon stroll. I think I'm a mid-sized city kind of girl (if that's even a thing). In terms of liveability, I can see myself living in some of the cities we've visited but it's hard for me to picture living in a city as big as Seoul or Osaka. I enjoy big cities but I think large sprawling metropolitan areas intimidate me.
Steps Today: 14, 500