March 15, 2016
Since more than half the people in the apartment are jet lagged, I woke up at 6:30am too. Nate was in a good mood this morning but you can tell his internal clock is very confused. Hopefully he can adjust in the next couple of days so he will be in a better mood.
Once Tim woke up, he went with Noel to Yong He Soy Milk King to get breakfast. I think my sister and Noel learned early on that those egg wrapped rice rolls are really filling and that they should just be shared. My sister cooked Nate one of the organic eggs for breakfast – he loves his eggs!
When we looked out the window, it was raining and it didn't look like it was going to let up any time soon. We wanted to try to keep most of our activities indoors since it was raining and it wasn't that warm (around 15 degrees again today). As most of our planned Taipei activities are outdoors, we decided to do the one sightseeing activity that kept us the driest -that being the National Palace Museum.
The National Palace Museum is a museum that has mainly Chinese arts and artifacts – even more than what is at the Forbidden City in China. This is because during the Sino-Japanese Wars, the Nationalist Government in China decided to pack up all the most valuable artifacts in the Forbidden City and hide them in storage to keep them away from the Japanese. After World War II, as the Chinese Civil War resumed (and the nationalists were losing), Chiang-Ki Shek decided to move all the (already packed up) artifacts to Taiwan. Now, the museum houses around 700,000 ancient Chinese artifacts, of which approximately 1% is on display at any given time in 3 month exhibitions.
I had visited the museum in 2013, during my first time in Taiwan. I had seen the highlights of the museum – the jadeite cabbage and the stone that looks like a piece of pork (Tim: my favourite!), but I didn't remember the rest of the museum too well (I was half asleep when I visited after a long flight) (Tim: Any it's hard for things to look familiar when many of the exhibits are rotated out for new exhibits). I knew that the museum gets really busy with tour groups from China but I didn't know how busy it would get.
We got to the museum around 10am, and were met with the hoards of tour groups and schools on field trips. As soon as we stepped inside, it was a gong show. General admission to the museum is 250 NT = $10 CAD (in 2013 it was only 160 NT = $6.50 CAD).
First, this is the strictest museum I have ever been to and I've been to a lot. You're not allowed to bring any food or drink inside (which is understandable but this includes water bottles that are inside your bag). Traveling with a toddler, this isn't ideal as you never know when they really need something to drink and they won't take no for an answer. There are signs that say no backpacks are allowed and that you have to check it in. I've been carrying a small Longchamps backpack as my purse during this trip and as soon as we got into line to get into the museum, they singled me out and told me to check it in. I get why you can't bring huge backpacks in, but mine was smaller than most purses and that made no sense to me. I even took everything out of it and was folding it up (it's a foldable bag that can fold into a small square) and they told me I needed to check it in. At this point I was getting really irritated and annoyed with the security people (Tim: who were just doing their job) at the museum. They weren't very courteous and it was a bad start to the morning. We put everything into a locker (for 10 NT, which is refundable), including Nate's lunch bag and water (which he later cried for).
We finally got into the museum and were greeted with even more Chinese tour groups. I was already on edge with security that this whole scene made me want to leave. Being pushed around and cut in front of it not a great way to start your morning. In addition to the pushing, the tour groups were so loud. I felt bad for the museum workers inside that were holding signs that said "Please be quiet", as their jobs seemed really hopeless and a bunch of them looked so defeated. Even when Nate woke up from his stroller to see where he was, his crying didn't even matter since the tour groups drowned him out (this was the only upside to the noise). I know this is bad, but I learned to start walking with my hands on my hips when I wanted to get out of crowds because I didn't want to get pushed around anymore. I don't remember the museum being so busy when we were here in 2013. Not only did the price go up 90 NT, but it was not nearly as enjoyable. This was probably my least favourite place in all of Taiwan – inside the museum, which is such a shame because they have a lot of interesting things to see. But personally, I wouldn't want to go back again (Tim: a statement that could probably apply to all museums for Kaitlyn :P).
After we escaped the museum, we headed to the Miramar Entertainment Park. This is a mall that is known for their large Ferris wheel on the roof, that has nice views of Taipei. Due to the weather, no one was on the Ferris wheel. Once we got to the mall, we went down to the food court for lunch. We were feeling a bit cold and wet – although it was 15 degrees, it didn't feel like it when it was damp. We did a quick loop around the food court and all decided on Pepper Lunch (a Japanese casual/fast food place). I knew we could get this in Richmond, but we hadn't tried it yet. We shared two lunch specials between the four of us, which each came with an appetizer and a drink.
The mall food courts in Taipei are all really good – great food selections, clean and ideal for eating with children. They have very clean high chairs to sit on and cleaning stations for people to wash their hands right in the middle of the food court. Since Nate is here, we're eating more in food courts because it's easier than what we have been used to. It's nice and comfortable compared to eating on the street.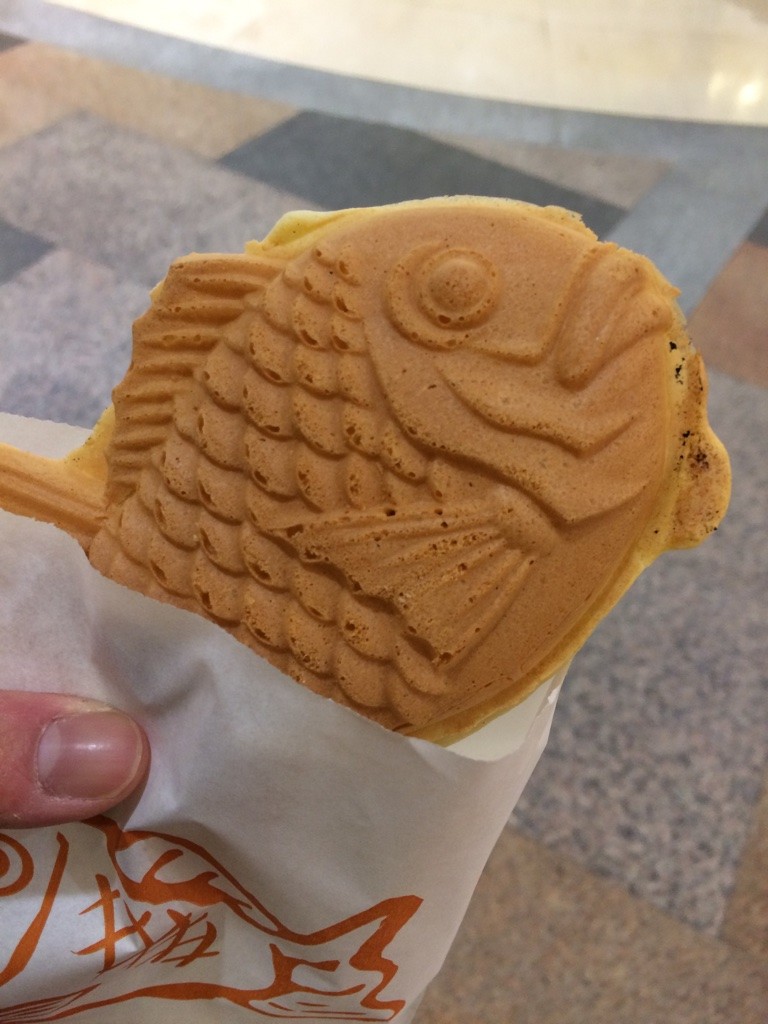 We walked around the mall and went to Muji and Uniqlo to look around. My sister and Noel bought a couple of items from Uniqlo. I notice that their prices are a bit more expensive than what they are in New York and in Hong Kong. There was also a Carrefour (French grocery store) across the street from Miramar, so we went to check it out. Our Grandma (Paw Paw) really likes the cookies my sister brought back for her from Paris' Carrefour so we went to see if we could find them. Unfortunately, there didn't have much Carrefour branded items so we couldn't find the French cookies she wanted. (Ah zut!)
The rain continued to come down so we decided to go back to the apartment for the day- it was about 3pm. Nate was in and out of napping, poor guy, his days and nights are mixed up. Once we got back he was pretty happy playing around with the bubble tea cups – he likes to play with the straw and poke holes in the top of the thin plastic lids. Nate went down for a nap and then eventually so did everyone else (including me) except for Tim. I feel like since my sister has been here, I've reverted to having jet lag again. Nate and I woke up from our naps around 7:30pm – except Nate eventually went back to sleep and has been sleeping since (it's midnight right now). Noel fell asleep and has been sleeping since as well.
My sister, Tim and I went for dinner without them, hot pot as originally planned. We went to the same place we've been twice before. Tim and I now have a stamp card (10 meals and one is free). My sister enjoyed her first individual shabu shabu experience and had some much needed vegetables. We picked up some soup noodles from a popular food stall down the street for Noel – but he hasn't woken up to eat it so we put it in the fridge.
Once we came back to the apartment, we started to watch the finale of the Bachelor (3 hour finale). Warning! Spoiler alert!
My sister hadn't watched any of the season so she was rolling her eyes the whole time (and same with Tim). I knew he would pick Lauren B, but I liked Jo Jo more. We were joking around that out of the final three girls, he got rid of the ethnic ones (half Persian and half Filipino) and picked the blonde girl (typical).
Now everyone is sound asleep and Tim is watching the Walking Dead. Apparently my typing is too distracting, so he went into the bedroom to watch it while I type away outside in the living room.
Tomorrow it's supposed to be mainly cloudy so hopefully it will be a better day!
Our total steps were 15,400.