March 7, 2016
The beds at CityInn were really comfy which felt good after our long night. Today, we planned to head south to Kaohsiung, Taiwan's second largest city and the largest port city.  It's about 200km away from Taichung, and about a 2.5 train ride on the regular Taiwan rail.
Before heading out, we wanted to go back to Miyahara to have ice cream and browse around to buy something for family at home.  The store is a couple blocks away from the Taichung Train Station (not the high speed rail stop) which makes it really convenient if you just want to go to Taichung to visit the store from Taipei.  Miyahara is actually a former eye hospital built by a Japanese optometrist (Dr. Miyahara) while Taiwan was under Japanese rule.  After WWII, the building was turned over to the government then eventually sold to a businessman and became a ice cream/tea/fancy treat store (pretty random). Taichung's famous pineapple cake brand (actually they're originally known for their cheesecake) is called "Dawn Cake", which has made Miyahara their flagship location.
When we were there yesterday, the ice cream parlour had a crazy long line up so today when they opened at 10am, we decided to try their famous sundae before we left Taichung.  When we got there, there were only a few people ahead of us.
For the sundae, you pick 3 ice cream flavours and get to pick 4 toppings. There are 54 different flavours of ice cream (18 of them are just chocolate) and they all looked really good. If we stayed in Taichung longer, I would probably go back for a scoop of ice cream each day.
The ice cream sundae was very over the top but we both really enjoyed having it (for our breakfast and lunch).  My favourite ice cream was the mango.  The chocolate was really good too, especially when eaten with the cheesecake.  But I always gravitate towards fruity ice creams/sorbets because they're more refreshing.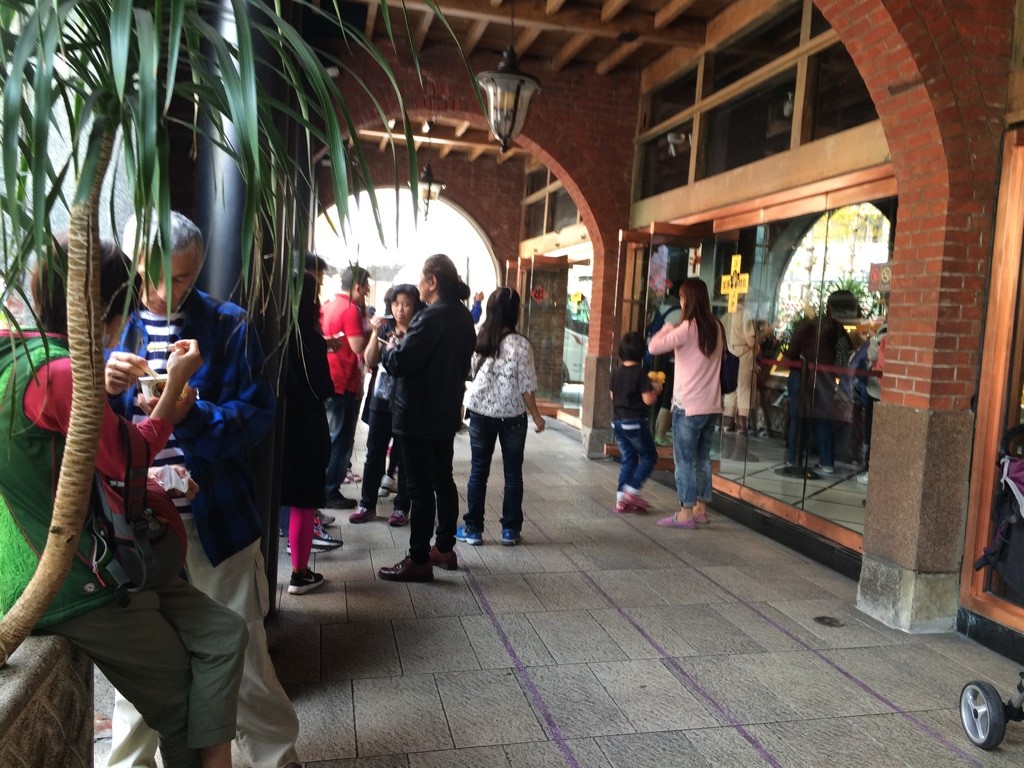 We bought tickets for the 12:17pm train to Kaohsiung and this time Tim and I were able to sit together.  The train ride was about 2.5 hours long. This train wasn't as nice as the last one we were on to Taichung, but it was comfortable enough.
We arrived in Kaohsiung around 3pm and walked to our hotel, which was about 10 minutes away.  We booked the "Cloud Hotel" on Expedia ($55 CAD/night), because of the decent reviews on Trip Advisor and mainly because it was a 3 minute walk from the Formosa Boulevard KMRT stop (which connects the two KMRT lines).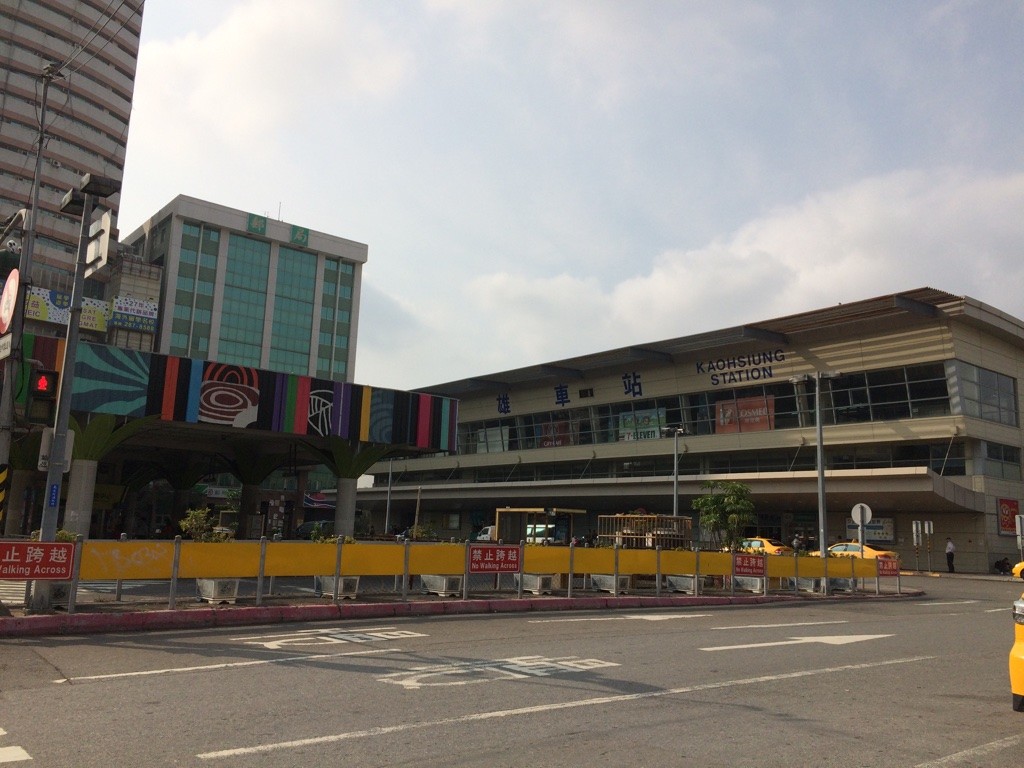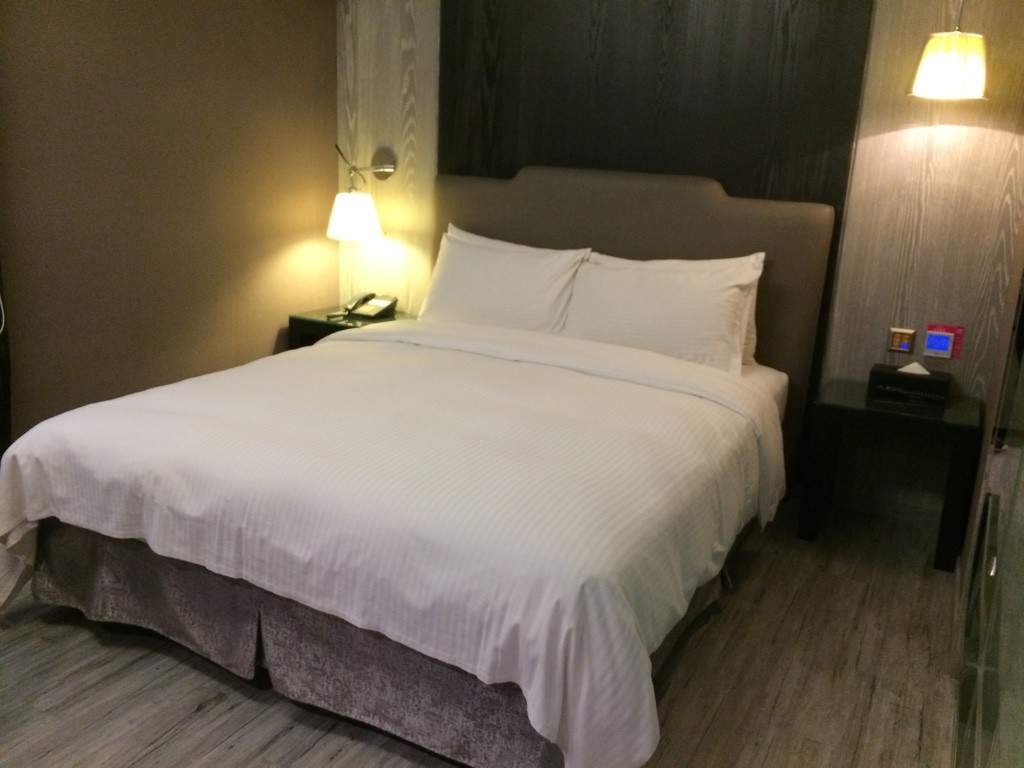 Today, we wanted to catch the sunset from the British Consulate Residences (which is on a hill overlooking the ocean) and go to out Cijin Island for seafood for dinner (I read that Cijin has better seafood than Keelung.  I haven't been to Keelung so I have nothing to compare it to) While taking the KMRT, we noticed how quiet the train stations were.  It was a bit odd, we have a few pictures of how empty the stations and train cars are.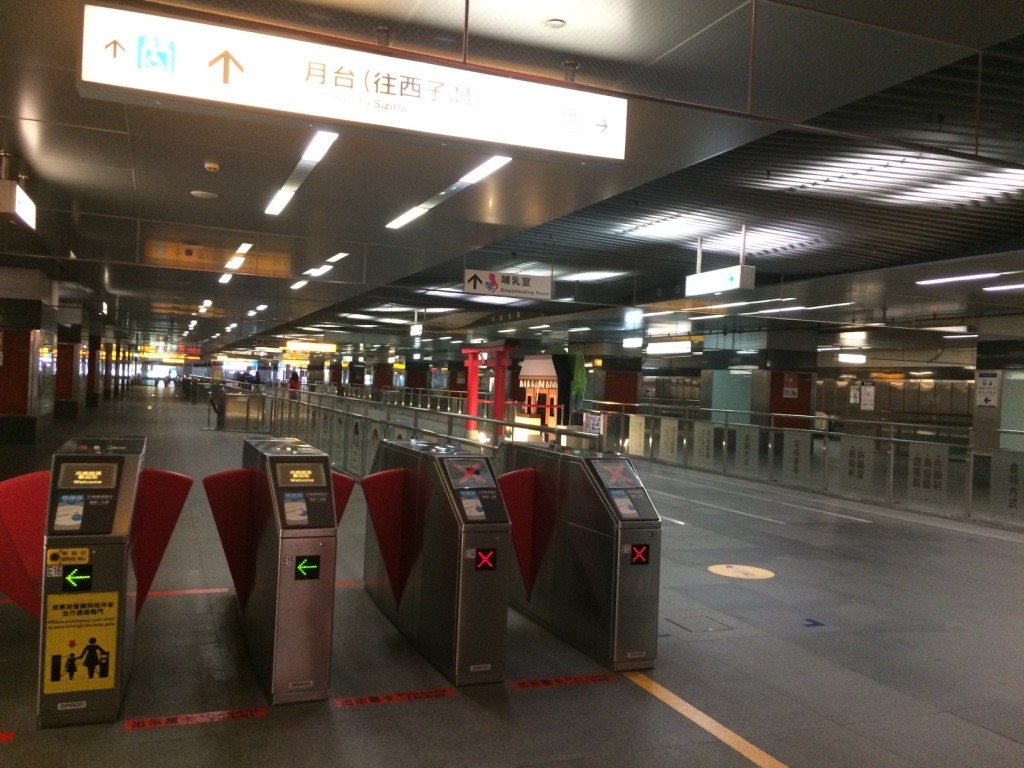 Kaohsiung is definitely a lot more laid back than Taipei and Taichung. There are way more locals wearing shorts and flip flops and you can feel how easy going things are.  I like it!
On our walk, we grabbed pearl milk tea from "Gong Cha". It was a fairly busy location with a large seating area.  We noticed afterwards that they have locations all around the world, even in Canada (Markham).  When we got back to the hotel, Tim looked at his expenses and saw we went to one in NYC this summer. I guess I drink too much bubble tea to remember. On a related note, Gong Cha is originally from Kaohsiung.
While walking down the same street as Gong Cha, we came across a place filled with locals eating noodles at 4:45pm.  We looked inside and decided to share something since we didn't have lunch yet.  Tim ordered pork hock with noodles and a Sarsaparilla (sort of like Taiwanese root beer).  I got some pickled garlic cucumbers as a side. Everything was very tasty and the noodles were perfectly cooked. And in true Taiwanese fashion, they had a container of fresh minced garlic to add to your meal – which Tim did of course.
Here are pictures of some of the interesting places we past by on the way to the viewing point.
After our pit stops, the sun was starting to set (you can see it on its way down while we were at the park) and we didn't know if we would make it up to the top of the mountain.  We found steps up to the British Consulate Residence (which is the recommended viewing point for sunsets) and basically went up as fast as we could.  It was a good short work out.  But unfortunately, by the time we got up the sun had gone below the horizon.
After walking along the pier and trying to get ahead of the masses of Mainland Chinese tourists (there were over 20 tour busses at the park), we headed to catch a ferry to Cijin Island. Cijin Island is a small island five minutes from Kaohsiung Harbour, known for their seafood and beaches.
The ferry ride there was 25 NT = $1 CAD and the ride was a short one. There were three ferries operating at the same time to and from the island.
Once we got to Cijin Island, we did a quick walk up and down the seafood restaurant row and just picked one.  They were all fairly busy so it was a coin toss to see which one we would go to.  I did read some reviews on Trip Advisor about one that was top rated by mostly Japanese tourists but I had forgotten the name. (Tim: the one we ended up at was only so-so).
We picked clams, snapper and shrimp at 100 NT per dish. My favourite was the stir-fried clams, they used a lot of garlic and basil.  The deep fried shrimp was a bit underwhelming.  If we had more people to eat with, we could've tried a lot more.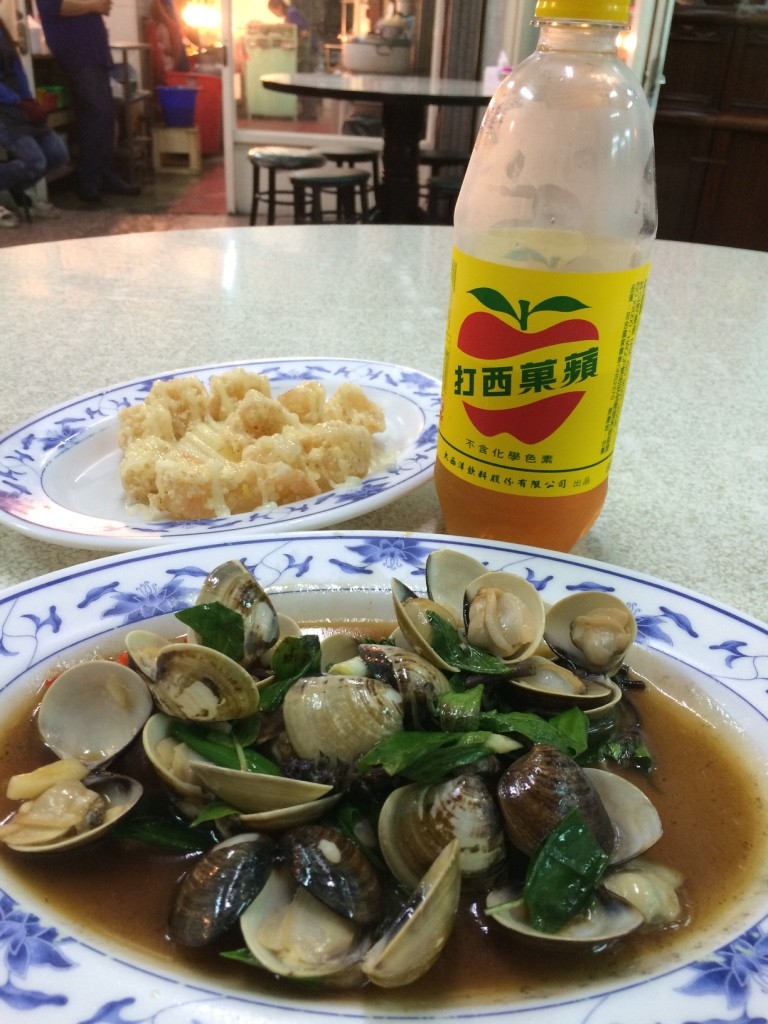 We decided to call it an earlier night and head back to the hotel.  We took the KMRT back and again noticed there aren't that many people using it. Kind of weird, right?  Also, the train makes its transfer point announcement in Mandarin, Taiwanese, Hakka, English and Japanese.
Tomorrow we're planning on taking a day trip to Tainan to visit the National Museum of Taiwan History and Tim has some other specific food he wants to try there.
Today we walked 21,000 steps. It helps being close to an MRT (or even having one)
I'm glad we're spending another night in Kaohsiung, I really like the city so far.  I like being close to an ocean and having the mountains close by too (reminds me of home).  When we saw the ocean (Tim: straight) for the first time from the view point, it made me really happy.  I guess because we've been in two land locked cities with a lot of scooter exhaust in the air for the past week; it made me really appreciate being close to water (I'm a spoiled Vancouverite). When we were walking along the waterfront, we sat and just listened to the small waves wash up against the shore.  It was nice.