March 22, 2016
Today started off a bit hectic as we were busy packing up everything and making sure the apartment wasn't a mess when we handed it back (Tim: Not sure why that was necessary since we pay a cleaning fee for AirBnB). We left the apartment at 10:30am and made our way to Taipei Main Station to catch the high speed rail train to Zuoying (Kaohsiung).
This was our first time taking the high speed rail (HSR) long distance. We had taken the HSR to Taoyuan (15 minute ride) for the lantern festival but were only taking the normal railway for our loop around Taiwan. Our train left Taipei at 11:24am and was scheduled to arrive in Kaohsiung at 1:00pm. Taipei to Kaohsiung is approximately 360km, so to get there in about an hour and half (Tim: with two stops) is pretty awesome!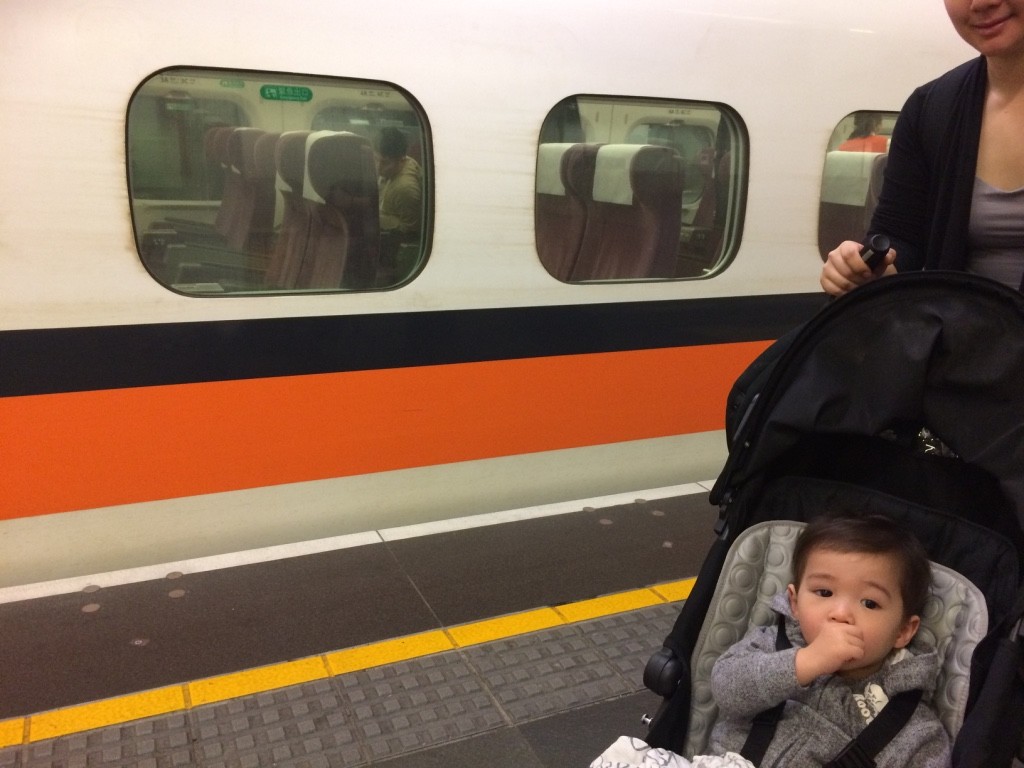 As scheduled, we arrived at the Kaohsiung's Zuoying station at 1:00pm on the dot. We bought our tickets for our return trip back to Taipei and walked around before heading to the hotel shuttle that picks up everyday at 1:50pm. Zuoying Station is very modern with an assortment of food options and even has a Muji and Shin Kong Mitsukoshi attached to it.
The shuttle from Zuoying to our hotel in Kenting took two hours for about 114km (which included a 15 minute rest stop break). If only there was a train connecting Kenting to other cities in Taiwan, it would make traveling here so much easier. Long bus rides are pretty painful, I prefer train rides.
Once we got to the resort, I was pleasantly surprised. We are staying at the Chateau Beach Resort in Kenting. It's a popular destination because of a movie (Cape No. 7) which was filmed around the area. The hotel and grounds are very nice and our room is quite spacious with very high ceilings (our room is $200 CAD/night for a "Mountain View" family room). The hotel is very family friendly with multiple shallow pools for kids, a playroom, and the hotel's private beach has super soft and pristine sand. This is the only hotel in Kenting that backs on to its own beach – which was a major selling point for us, especially with Nate.
We were excited to explore the resort once we settled in since it was actually sunny and warm (about 26 degrees celsius). We walked down to the beach and walked along the shore for a bit – the water is a bit too cold to swim in but it's perfect to wading in. The sun was starting to set so we decided to head out and grab something to eat, since we didn't really eat much today.
The Kenting night market is located just up the street from the resort – which is a pretty ideal location. We snacked on some green onion pancake, fried milk, sausage, and chicken. For dessert we went to McDonald's and tried their black sesame sundae (it was really good, and I don't even love black sesame). The main street in Kenting is very touristy and it reminded Tim and I of Thailand (Tim: Koh Samui) more so than any other place we've been to in Taiwan.
We headed back to the hotel and went to the rec room to let Nate play (and Noel and Tim played ping pong).
It's nice to sleep in comfortable beds for the first time in a week or so. It's also so quiet here compared to being in the Daan apartment. I know that this part of our trip is a luxury and Tim and I will not be traveling like this for other parts of our trip (unless it's really cheap), so I'm definitely savouring every moment we have here for the next three days.
Looking forward to doing nothing by lounging and reading by the pool tomorrow. The temperature is supposed to be 28 degrees.
Steps today: 15,000