May 13, 2016
We had a really comfortable night's sleep at the Port Campbell Motel. The bed was extremely comfortable and cozy. Check out time was early, at 10am. This was okay though since we wanted to head out relatively early to see the Twelve Apostles and see all the other sites along the Great Ocean Road. Today was finally sunny, so I was really excited to get the day started.
We had to back track about 5 minutes down the highway to get to the 12 Apostles. I've seen pictures of it from Tim and others but when I saw it for myself, it was absolutely breathtaking. It was very windy out (I wished I had tied my hair back) so the waves washing on to shore were huge, but created a dramatic effect while looking down at the limestone formations. We went to each view point to take pictures and take in the scenery. After about an hour or so, we walked down to the beach to view the Twelve Apostles from sea level. We had to walk about 20 minutes to "Gibson's Steps" from the 12 Apostles viewpoint to get to the beach. We could have also backtracked about a 1km or so but the walk was nice and refreshing. If you're traveling to Australia, I would highly recommend this drive to everyone. It's the highlight of Australia so far for us (or for me at least).
When we got on to the beach, we quickly learned that the water from the waves crash quickly on to shore and the tide comes up quite high. A lot of people around us who were walking by the shoreline got their shoes wet. If we were to go back, I would have brought out my flip-flops and walked along the beach in those and also dipped my feet in the water. But since we were wearing our only pair of runners we were pretty cautious about getting our feet soaked and having to walk around the beach with wet socks and runners. We found a higher rock that we stood on for a while looking at the Twelve Apostles, taking selfies, and watching everyone run up the coast to escape the waves.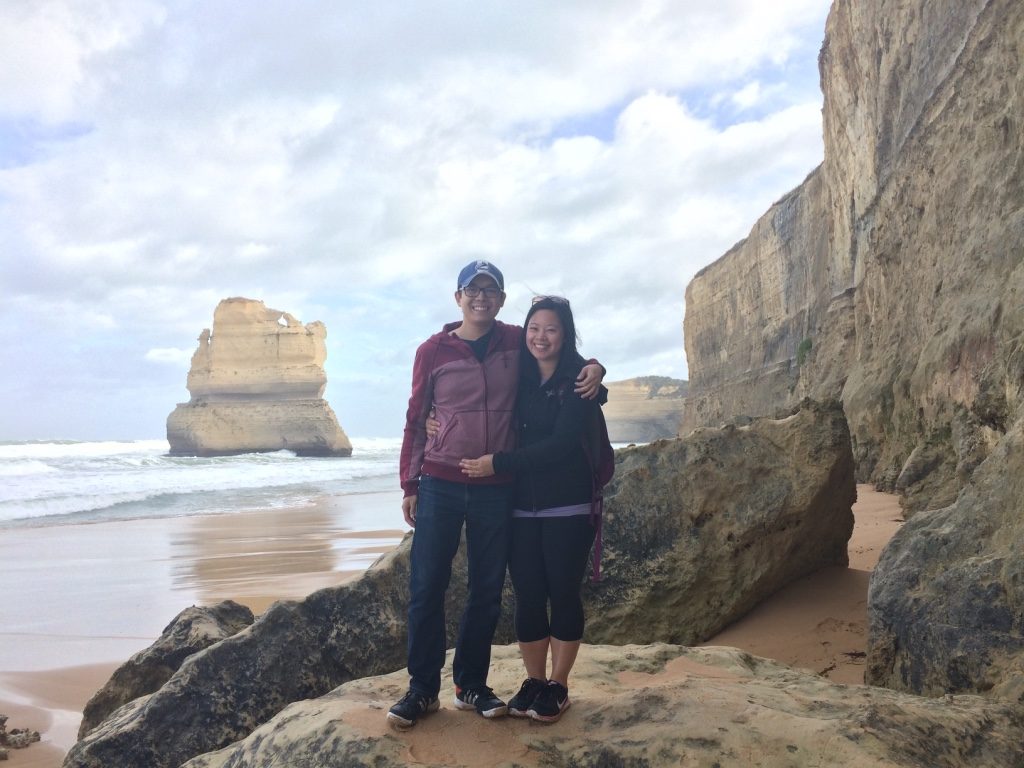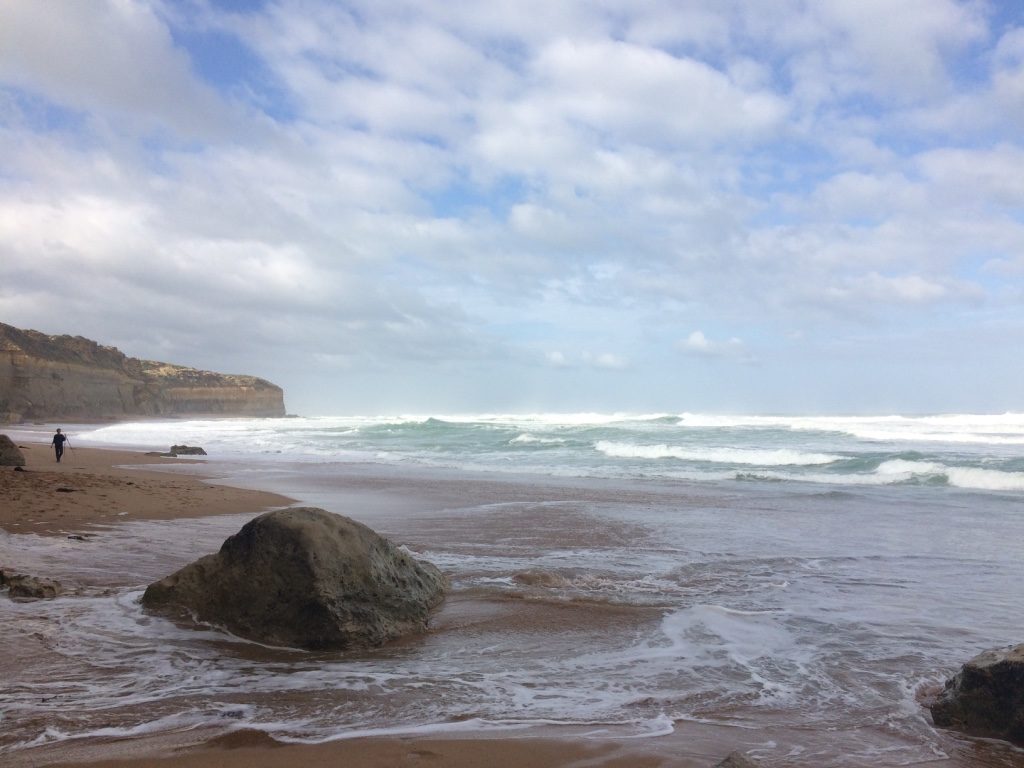 Along the Great Ocean Road from Port Campbell are several other limestone formations that you can see. We went to all of them on the map and each one was amazingly beautiful. Our favourite part was watching huge waves wash up and crash against the limestone. You can see how strong and violent some of these waves are. Slowly, these formations will be gone due to erosion (there's already only 9 Apostles left) and the shoreline will move inland over time (2cm/year). (Tim: but new formations we be created too!)
We finished more than half the Great Ocean Road sites before taking a break for lunch in Port Campbell. As you could see from our Port Campbell dinner, there wasn't much selection in town. We planned on going to the pizza place but they were closed for lunch. We headed down to the pub to take a look at their menu and were slightly horrified at the prices. We ended up going to a sandwich shop cafe that served Australian meat pies. I ordered a mushroom and beef and Tim had a sausage roll. They were both decent and filled us up for most of the day.
After we finished the Great Ocean Road, we continued on the A1 Highway towards Mount Gambier, which is in South Australia (the Great Ocean Road is still in the state of Victoria). The A1 Highway is inland and is basically a single lane, highway through farms all the way until we reached Mount Gambier.
When we crossed the state line to South Australia, I missed taking a picture of the sign. In my defense, the sign was pretty sad looking. I was expecting something nicer, but it was just a small red sign (smaller than some road signs) saying "South Australia". We also saw signage that said there are quarantines ahead and they had bins for people to dump their fruits and vegetables in. I don't get why you would need to dump fresh produce between state lines within the same country (Tim: we later learned that there are no fruit flies in South Australia, and to keep it that way, you can bring fresh fruit and vegetables into the state…). Also, when we crossed the state line, we gained 30 minutes. South Australia and Victoria are in different time zones.
We finally made it to Motel Mount Gambier, our motel for the night. Motels remind me of horror movies or scenes of murders in suspenseful crime dramas (Tim: Or at least what Kaitlyn imagines horror movies and crime dramas are like… she doesn't really watch any). We tried to read reviews on Trip Advisor to make sure the motels we were staying at were decent. Port Campbell and Mount Gambier's hotel selection are basically all motels. I suppose if you had more time in each town you could look into Airbnb or a traditional B&B, would probably be nicer. Since Mount Gambier isn't near a tourist attraction like Port Campbell, the room was cheaper at $98 CAD a night (not cheap for motel standards in NA but cheaper than other places around).
We checked in and were given the keys and WiFi vouchers for our stay. Usually the first thing we do is log on to the internet after a day without any. The problem here was that the internet wasn't working, or it was but barely. We were in a room quite far from the reception so Tim asked if we could change rooms to one that was closer in hopes of getting a better internet signal. We changed rooms and though the WiFi signal was stronger, the internet was still pretty bad (which is the reason why I wasn't able to post this on time). Also, when booking this place on Expedia, it said "Free Wireless Internet" and when Tim asked why the Wi-Fi vouchers had usage times of 2 hours each, the guy said that he couldn't control what Expedia puts on their website (that'll be in my review on Trip Advisor).
We grabbed dinner at the McDonald's close by since it didn't seem like much was around. We figured that road trips would probably be our best chance to eat fast food since most major cities we'll travel to will have better food options. All the McDonald's we've seen in Australia have the "create your own burger" option, where you can build a custom gourmet burger. We tried this out in Hong Kong last year and it was actually really good. The custom burgers here start at $10.95 AUD. We were both craving Big Macs so we ordered two meals – one with "loaded fries" (with cheese and bacon). Everything tasted the same. The only major difference is that in Australia, their medium drink size is equivalent to a small back home. Apparently if you order orange juice at breakfast and don't upgrade your drink size, it's like a Dixie cup.
After a quick dinner we headed back to the motel, washed up, and climbed into bed and watched TV shows that Tim downloaded.
Steps today: 13,000