May 25, 2016
After 85 consecutive days, Kaitlyn is finally taking a break from writing our daily travel log, so I (Tim) will be filling in today. 85 days is quite an impressive streak… What does it take for such an amazing streak to be broken? Just the season premiere of the Bachelorette.
Our flight today to Sydney was at 12:15pm. Late enough that we didn't have to rush in the morning, but not so late that we could do much in Brisbane before we had to leave (especially considering we normally sleep in). This was my first time here, and although we had less than 24 hours in Brisbane, it really left a good impression on me. I'd definitely want to spend more time in the city the next time we're in Australia. (Kait: I agree. It's usually skipped by most people but I think it's a really nice city)
We checked out of the hotel just after 9:30 and drove the rental car to the airport to return. Of course, you always need to fill up the tank before returning a rental car. One interesting thing about Australian gas stations (or at least every single one that we've been to) is that they don't have pay at the pump, and you don't have to prepay either. The gas stations are all like the good old days in Canada where you use the pump first, then go into the station to pay. It's also interesting to note that since Australia doesn't have pennies anymore (like Canada), when you pay for gas with cash, you can always give yourself 2 extra cents of gasoline 🙂
We we're flying Tigerair for the first time today and the check in and bag drop process were all automated. After using a kiosk to check in (like a lot of other airlines), you have to deal with dropping off checked luggage on your own as well. First you have to put the baggage tag on your bag, then proceed to the back drop stations where you scan your boarding pass. The bag drop station then automatically weighs your bag (to make sure it's within the weight limit you paid for), scans the baggage tag, and sends your bag down the conveyor belt. It was a little bit cumbersome because you had to make sure your bag and the baggage tag was oriented in a way that allowed it to be scanned, but overall, the process was fairly quick and painless.
We knew there wouldn't be any food (or drinks) on the flight, so we both got meat pies from Pie Face at the food court in the terminal. (We also shared a sausage roll from a cafe). We'd been meaning to try Pie Face since we arrived in Australia, and now seemed as good a time as any. We also got two more Bundaberg sodas: Sarsparilla (Kait: it was more like a root beer) and a Lemon, Lime & Bitters. This trip has been the first time I've had Sarsparilla from companies other than HeySong. (We also tried a Malaysian brand while we were in Singapore). While I enjoyed experiencing the diversity of flavours in the different Sarsparillas, I still think HeySong is the best.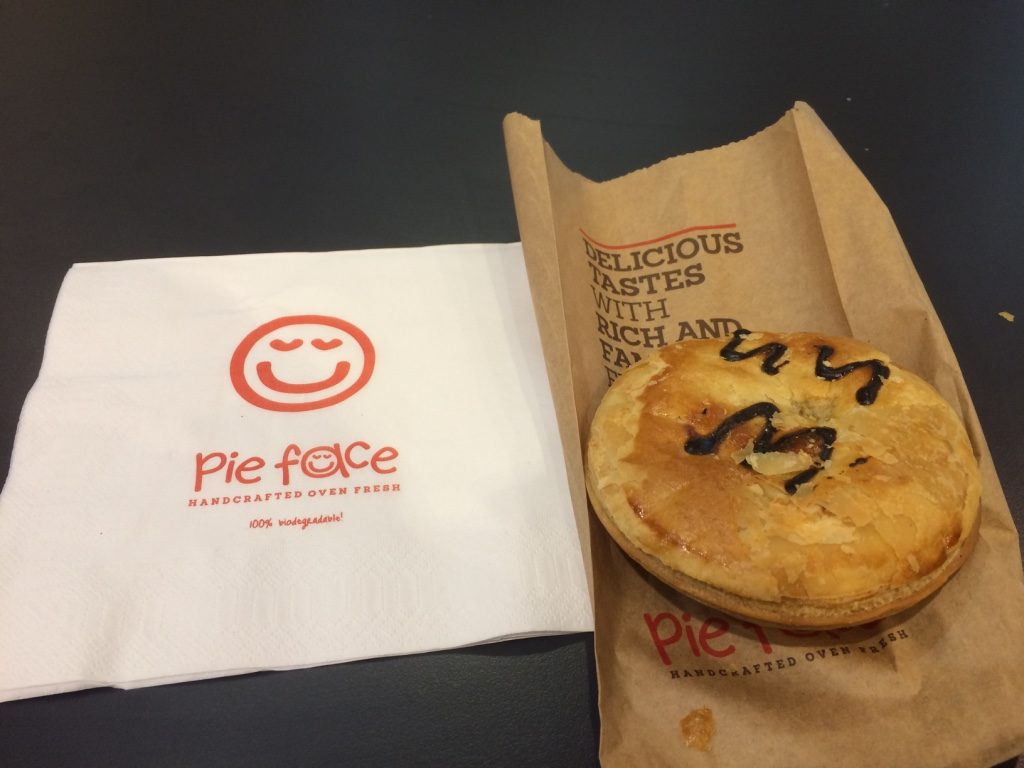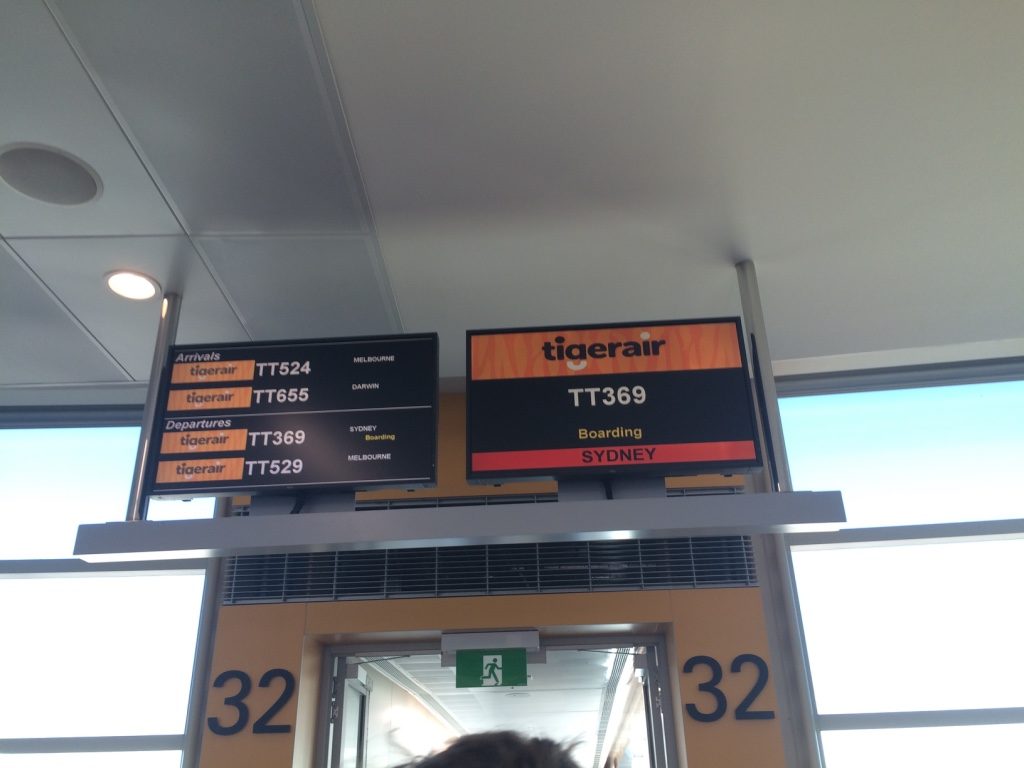 The flight was smooth and weather was good throughout the flight. As we approached Sydney, I could see out the window that there was a fairly large fire burning not far from the city. (Later in the day while we walked around, the air was hazy and we could smell the smoke.)
Getting into the city from the Airport was really simple with the train. We got transit cards (called Opal Cards in Sydney) and put 20 AUD on them. Unlike most cities with transit fare cards for tapping on and off, the Opal Cards did not require any cash deposit, so it was a no brainer to get them. From the domestic terminal at the airport, it cost 15.76 AUD and took 10 minutes to get to Central station. From the station, it was a short walk to the Central Station Hotel, our home in Sydney for the next 3 days.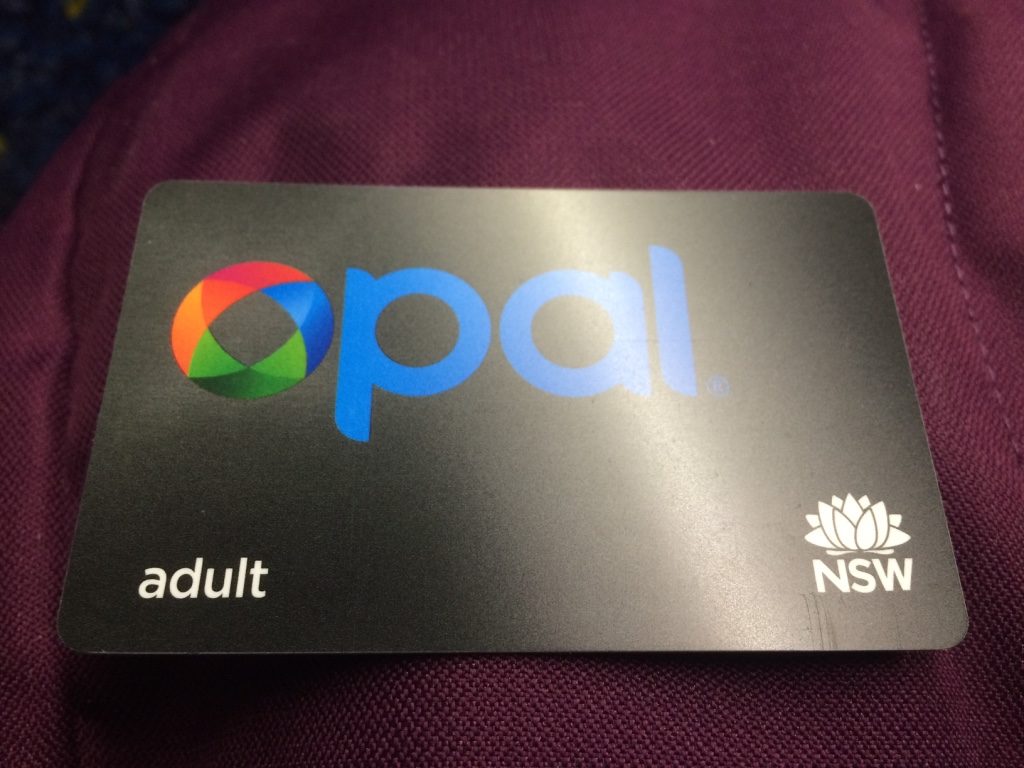 After checking in and getting settled in our small (but clean and cozy) room, we headed out to make the most of the remaining daylight. It wasn't even 3pm yet, but the sun was going to set before 5. Kaitlyn's mentioned this before, but I always find it odd when it's a warm or hot day, and the sun sets early. Growing up in Vancouver, I'm conditioned to expect 9pm sunsets when it's this warm.
From the hotel, we made our way first to Hyde Park. The park is named after the original Hyde Park in London, but it's less than 1/10 the size. None the less, there's a beautiful tree lined path that runs down the centre of the park, and a well kept fountain at one end. From the fountain, you also have a great view of St. Mary's Cathedral, one of the many beautiful older buildings in Sydney. Sydney was founded about 100 years before Vancouver, and it really shows in some of the fantastic old buildings.
From Hyde Park, it was a straight shot down Macquarie St towards the Sydney Opera House. When you think of the most famous landmarks in the world, I think the Sydney Opera House is definitely in the top 20, if not the top 10. I was really excited for Kaitlyn to see it for the first time.
The building itself is a marvel of engineering and design, and I was awed even though this wasn't my first time seeing it. It seems a shame if I were a local here and grew to take the building for granted (and it makes me wonder if visitors to Vancouver feel the same way about Vancourites taking our natural beauty for granted).
While the building itself was spectacular, the experience of trying to get a good photo of it (and more importantly to Kait, a photo with us in it) was not so great. There is an art to selecting a stranger to ask to take a photo for you. Normally at a landmark, it's not too difficult to pick a person who is likely to take a decent photo. My general rule of thumb is to find a person using a camera worth more then every piece of clothing and accessory they are wearing. If they are with a partner or in a group, take everyone's clothing and accessories into account. I think the higher the ratio between Camera Value vs Clothing Value, the higher the probability the person can take a decent photo. Unfortunately for us, we didn't have much luck getting a great photo in front of the Opera House. I shouldn't complain though. Our friend Chris recently came to Sydney and his photo in front of the Opera House didn't even really have the Opera House in the frame.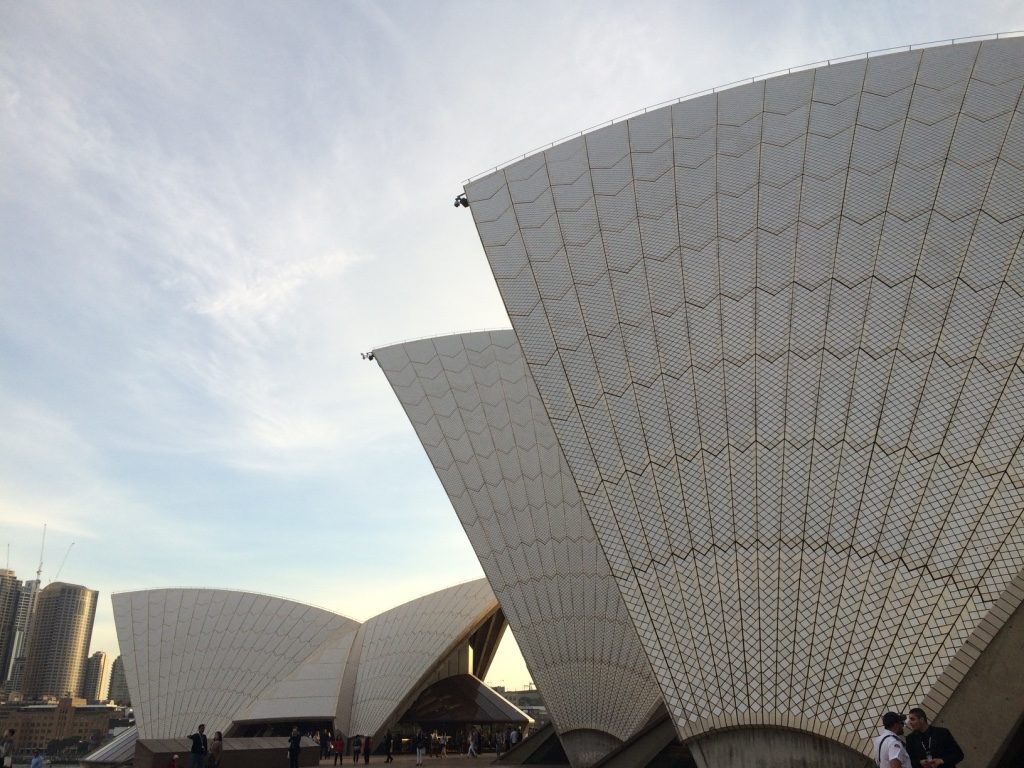 After the Opera House, we walked along the water past Circular Quay to The Rocks (not The Rock, or The Rock, or The Rock, but The Rocks). The Rocks is a historic area of Sydney adjacent to the Central Business District. It's a great place to stroll around with lots of food and culture to explore. We made our way through it quickly though, as we were hoping to walk to Darling Harbour before the sunset.
Lots of areas around Sydney are being set up for Vivid Sydney, a "Festival of Light, Music, & Ideas". I don't really know what it's all about, but it starts on the 27th so Kait and I will be able to check out the opening night of the festival before we leave for New Zealand on the 28th.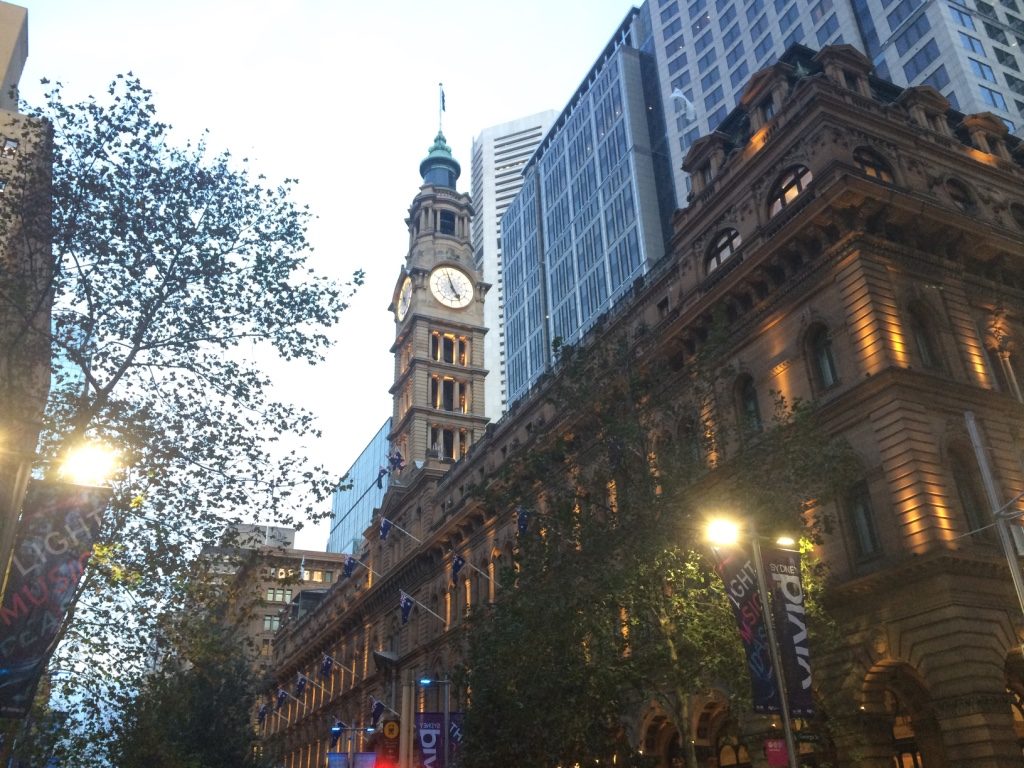 At this point, we were starting to get hungry, and weren't really impressed with our food options around Darling Harbour… They looked good, but a bit too pricey (e.g. 21.50 AUD for Chicken Schwarma with Rice). With that in mind, we decided we'd do a quick loop around Darling Harbour (and over Pyrmont Bridge), before making our way to Chinatown to find some food.
After strolling around Chinatown for a while, we settled on eating at Dixon House Food Court. Kait got fried noodles and I had a spicy noodle soup. The highlight of the noodle soup were the noodles themselves. They were thin, al dente, made in house, and they gave you a free refill of noodles with every order of noodle soup! I'm usually not big on kaedama (or gluttony in general), but it's also tough for me to pass up a free offer in order to maximize my value. That sort of tells you a lot about my personality.
After dinner, we slowly made our way back to the hotel. We made a pit stop at Coles (our favourite supermarket in Australia apparently) to pick up some drinks and fruit. When we got back to the hotel, it was only 7:30! So early in the day, but perfect timing for Masterchef Australia. We hadn't watched in almost a week, but I was happy to see that my favourite contestant (Sad Joey Fatone) was still in it.
We've got 2 more full days in Sydney, so we're spending the evening making some plans (while watching Masterchef and Bachelorette).
Steps: 21,000