March 30, 2015
We woke up earlier this morning to finish packing and clean up the apartment before we left for Seoul. Uncle Albert picked us up at around 10:15am and we headed to Taoyuan for our flight to Seoul's Incheon Airport at 1:25pm. The airport is about an hour drive from central Taipei. Hopefully when we come back in a few years they will have finished the train line connecting central Taipei to Taoyuan Airport.
It was my first time flying Korean Air and Tim's second time (he flew with them to Brazil). The flight wasn't full as they moved us up about ten rows when we checked in at the counter. There were a lot of Americans on our flight as it was a code share flight with Delta and it seemed like a lot of people were connecting through Seoul en route back to North America.
We had about an hour to kill at Taoyuan before our flight boarded. We decided to have lunch, unsure if we were going to get anything to eat since the flight was only 2 hours. There was only one restaurant near our gate that served Taiwanese set rice sets and noodles. We shared a pork chop rice set and I got a drink from the vending machine since it was priced the same as outside the airport at 20 NT = $0.80 CAD.
Our flight went by pretty quickly and we did end up getting a meal on the plane – oh well, now we know. We landed in Seoul-Incheon at 4:30pm (South Korea is an hour ahead of Taiwan). Looking out the window, it was a sunny day but it was very hazy so it was hard to even see the mountains in the distance. We haven't seen a clear blue sky in a while.
When we got off the plane, we had to take a tram to immigration and baggage claim. Once we got off the tram, we went to the immigration area and the line up for foreign passports was crazy. It took us about an hour to get through customs (I hate line ups!). After we got through and went to the baggage area, all the bags from our flight were already taken off the carousel. We found our backpacks and headed to the bus area.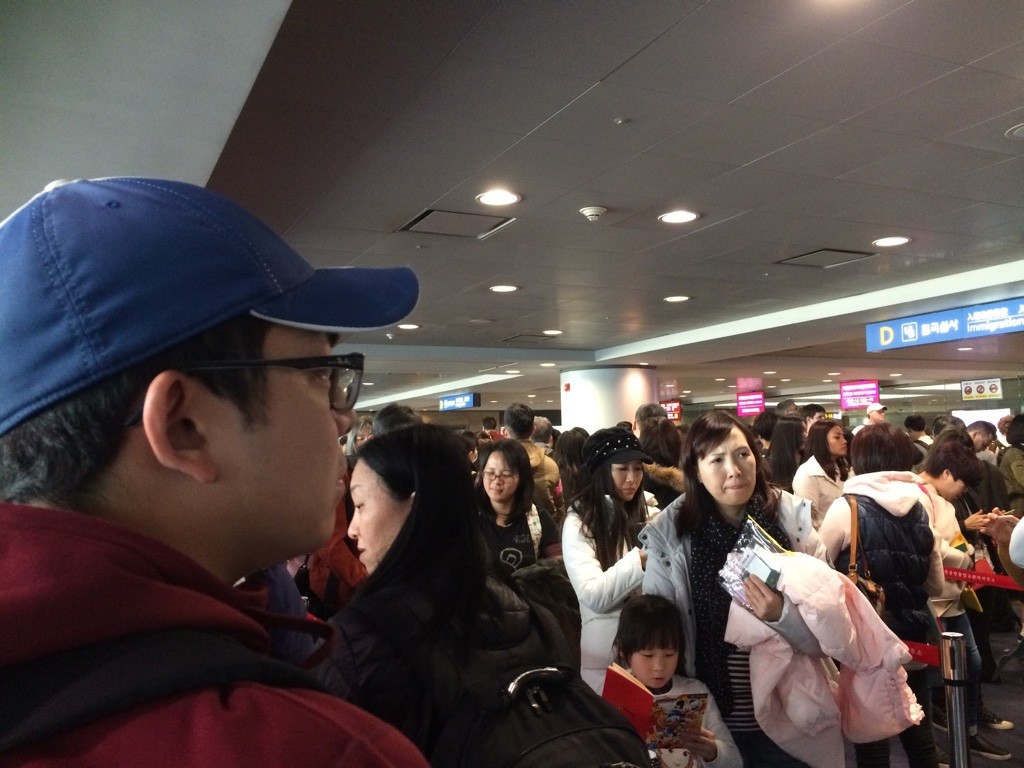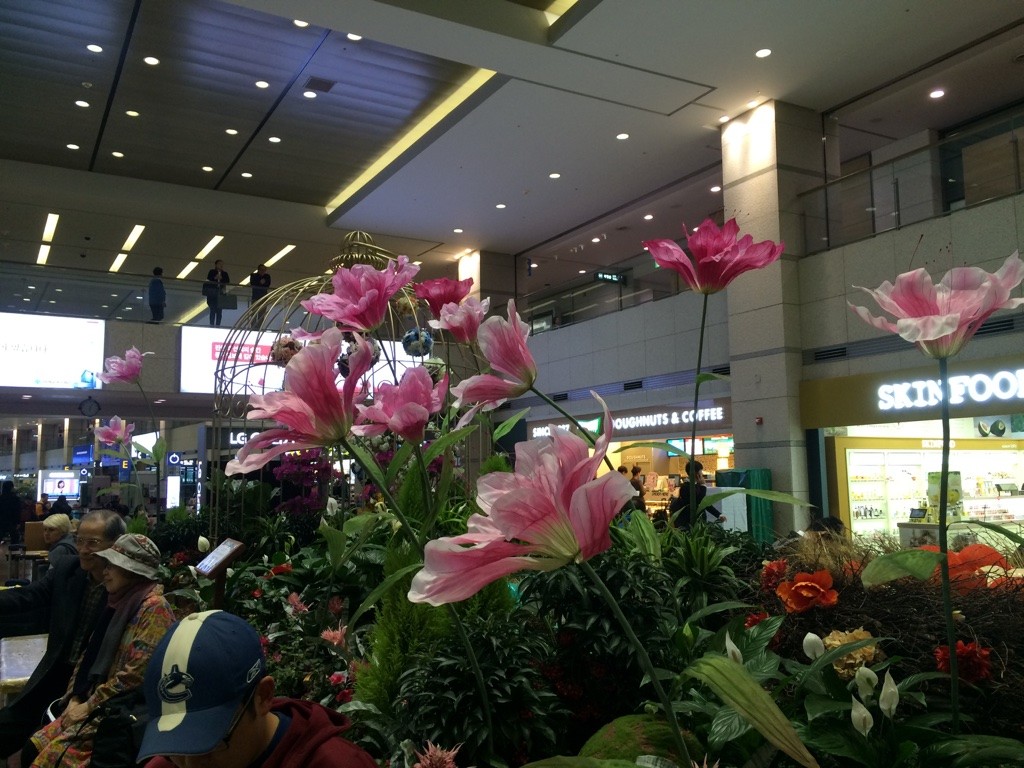 The bus area was another gong show. We had to take bus #6015 to get close to our hotel which is in the Myeong-dong area of Seoul. We lined up to board the bus then and realized we needed to buy tickets from the ticket counter before boarding (tickets were 10,000 KRW each = $11.30 CAD). We ended up finally leaving the airport at 6:4opm. The bus ride into the city is about 70 minutes long – I fell asleep along the way and only woke up when the bus started to make stops. The bus doesn't make any stops until you get into the city centre (which is after 50 minutes).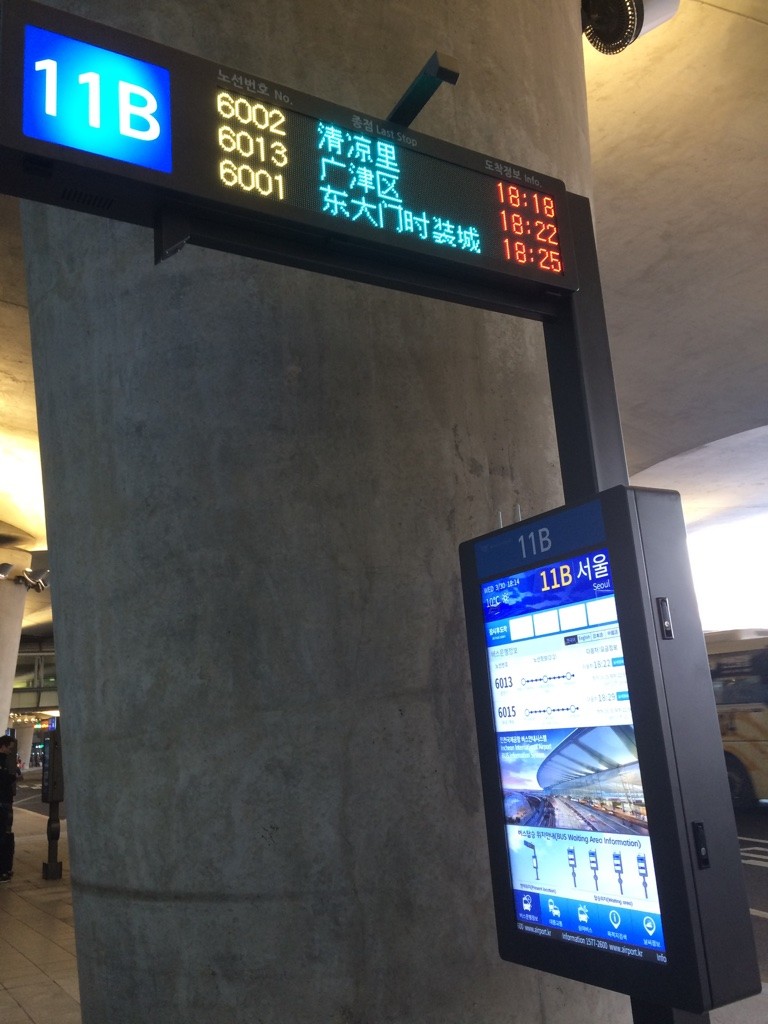 When I woke up, we were in the city and everything felt big, busy and bright. My first impression of Seoul is that it's very modern looking and a bit overwhelming. Finally, we got to our stop, Namdaemun Market, and walked to our hotel which was about 3 minutes away. Yesterday, I watched the hotel's instructional video on how to get from the bus stop to the hotel. It was really helpful and we didn't even need to look at a map!
We're staying at Hotel Shin Shin in the Myeong-dong/Namdaemun area. I found the hotel while looking on Trip Advisor as it has really good ratings and is one of the top hotels in Seoul that isn't a branded hotel (and is very reasonable at $85 CAD a night). Our room is another two single bed set ups, which I picked because it was the cheapest room option (Tim and I are roommates again). The room is fairly small but very functional and everything in it is modern.
After we settled in and rested a bit, we went out to walk around and look for dinner. It was about 8:30pm and we were starting to get hungry. When we stepped outside, it felt like we were in Vancouver because of the crisp cold air (about 12 degrees Celsius). We decided to go to the Namdaemun Market to see if they had street food, but when we went there everything was closing. I think we took for granted that not all markets are night markets like in Taiwan. We walked around the neighbouring streets and mainly found restaurants filled with Korean businessmen drinking and smoking outside. It was interesting, there weren't many women around at all and Tim kept asking if I felt uncomfortable (I didn't). Seoul definitely has a lot more smokers than in Taipei – just based on walking around this area. It seemed like everyone was outside smoking. We looked at the restaurants that did have menus outside and noticed that the prices were a lot more than Taipei. The prices are more similar to Vancouver pricing for food.
We walked around for about an hour and then decided to go to this noodle restaurant we passed by closer to our hotel. It looked clean and had locals eating there so we decided to give it a try. The waitress was very nice and knew we didn't speak Korean – we pointed to the pictures and ordered spicy noodles, fried dumplings and sweet and sour pork. When the food came, we were both surprised at how large the portions were (mainly the size of the dumplings). Next time we don't need to order that much.
Everything was very good but spicy – even the dumplings. We drank all the water they gave us and Tim was sweating like crazy. I guess we're not used to the Korean heat.
We came back to the hotel and washed up. We're looking forward to exploring Seoul tomorrow, it's always exciting to explore a new city together. So far we hadn't encountered any issues with language barriers yet. I'm practicing saying thank you in Korean, "gomabseubnida", so at least we can be polite tourists.
Step count will be updated tomorrow, Tim is sleeping already.
Gomabseubnida (Thank you) for reading!