April 10, 2016
We woke up later than we planned on but the bed was really comfortable. Tim researched that high tide in Miyajima was around 11:00am so we were still good on time. We checked out of the hotel and left our bags there around 9:30am. We decided to just walk to Hiroshima Station since we just missed one of the street cars and didn't see any other one in the near distance. The walk was actually really nice and refreshing.
We made it to Hiroshima Station with a bit of time to spare as the next train leaving for Miyajima was at 10:13am. I bought a tuna onigiri (110 JPY = $1.30 CAD) and grape juice (100 JPY = $1.20 CAD) from 7-Eleven for breakfast on the train. The train ride to Miyajima was only about 20 minutes (Tim: we caught an express train that only made a few stops), so it was a quick ride there. Once we arrived, we had to take a short ferry across to Itsukushima, where the famous O-torii Gate is in the water.
When we got off the ferry and walked a short distance through town towards the shrine and O-torii Gate, we were greeted by some friendly Japanese deer.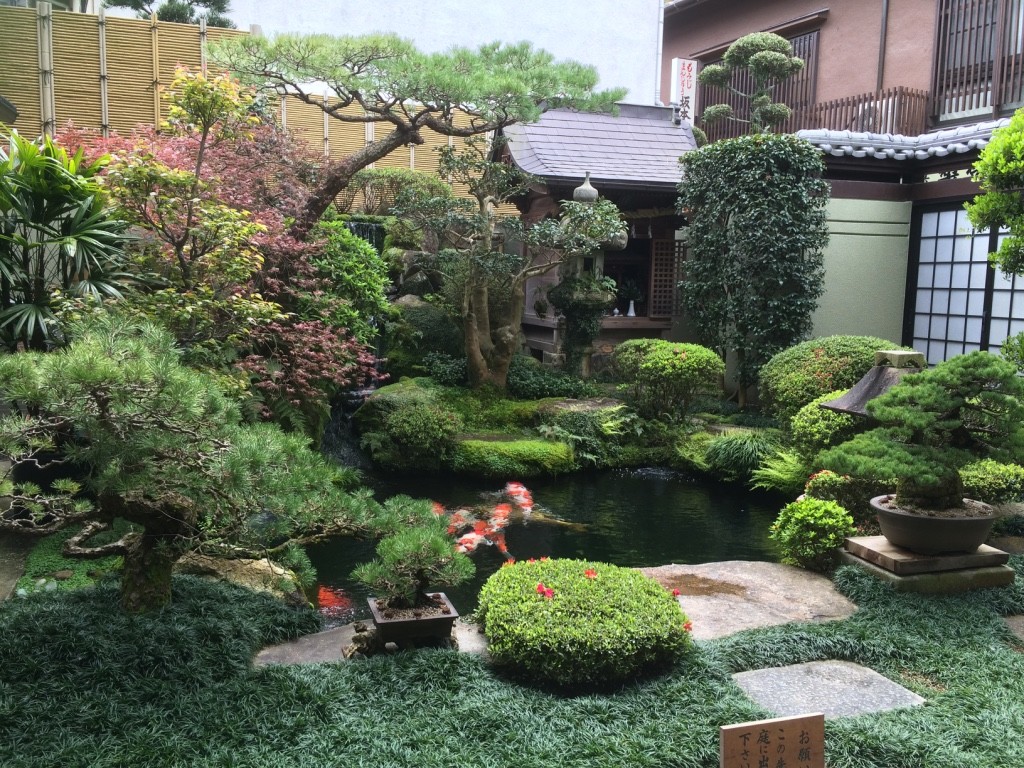 After we finished walking through the shrine and temple area. We walked around the streets of vendors, which mostly sold a Miyajima specialty called, "Momiji Manju", which are pancake like cakes shaped in a maple leaf. Another popular local dish are oysters prepared all ways: fried, grilled, or raw.
We had to keep a close eye on the time since we had to return to Hiroshima, grab our bags from the hotel, and be back at the train station by 4:17pm to head to Osaka. Surprisingly, we didn't feel as rushed as I thought we would, we were ahead of schedule by about an hour so I felt a lot more relaxed than I did yesterday thinking about today (Tim: just thinking about the possibility of not being on time can stress Kait out).
We made our way back to Hiroshima Station to have lunch. Since we failed at eating tsukemen last night, Tim found that there was a Bakudanya at the train station! Considering we were only in Hiroshima for 24 hours, we were able to eat two dishes that they're "most known for": okonomiyaki and tsukemen.
The final consensus was that Tim's cold tsukemen was better. I can imagine eating it on a hot summer's day, it would be really refreshing. I like how they give you paper bibs since there is a lot of splashing when you dip your noodles into the soup. (Tim: You can also choose the level of spiciness, with the (sane) range going from 1-20. I chose 3 and felt like it was a reasonable level of spice. You can go extreme and get levels up to the 100s though… I shudder to think.)
After lunch, we walked back to the hotel. We were really full from lunch so it was good to walk it off. The sun started coming out so it was actually really warm walking back. We had to switch to the shadier side of the street. We got back to the hotel and picked up our bags and caught the street car back to Hiroshima Station. I was happy that we were able to walk to and from the station and only took the street car back when we had our heavy backpacks (saved ourselves 640 JPY = $7.70 CAD) (Tim: and more importantly, got to take in the sights and sounds of the streets as a pedestrian).
We got back to Hiroshima with a half hour to spare before boarding our train to Osaka. It was important we didn't miss this train because we were meeting Tim's Great-Aunt (7th Aunt on my Dad's Mom's side) on the platform at the station. She knew our train number and which car we were in and said she would be waiting on the platform for us (she also does not have a cell phone). Once we arrived at Shin-Osaka station (after a 1.5hr ride from Hiroshima on the high-speed rail), she was there waiting for us!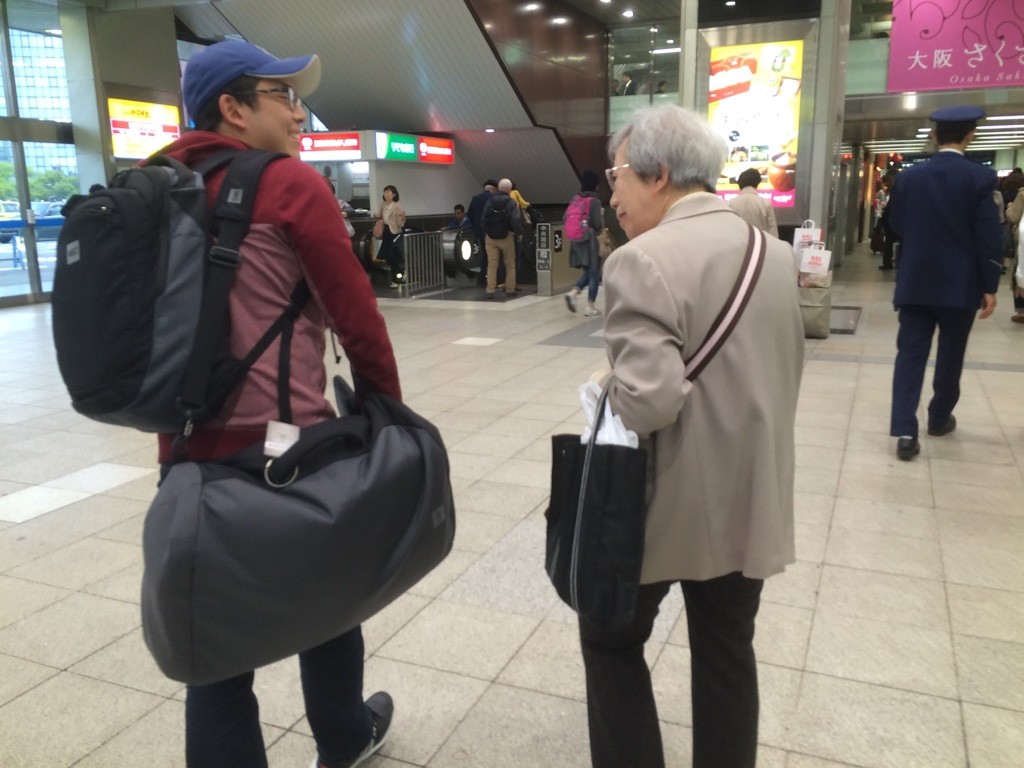 Tim's Great-Aunt has been living in Osaka since she was 26 after finishing her medical degree there. She came to our wedding (we just realized it's our 6 month anniversary already), so it was nice to be able to see her again this year. Tim doesn't know her exact age, but she's still working 4 days at week at the hospital (very impressive).
We took the subway to the hotel she booked for us for a week to drop off our bags before dinner. Osaka definitely feels like a huge city compared to Hiroshima and Fukuoka. I could only imagine what it would be like when we get to Tokyo. Tim says it's good I eased my way into Japan, so I wouldn't be so shocked going to Tokyo.
Tim's Great-Aunt is very kind and hospitable and booked us at the Sheraton Miyako Osaka for a week when she found out we were coming to Osaka. This hotel is the nicest hotel we have/will stay at on our trip (Tim's scared I'm going to get spoiled now). When we walked into the lobby with our huge backpacks and our hoodies, it felt like we didn't really belong. Our room is on a the 18th floor so it has great views of the city. It is a normal North American sized room, which feels huge compared to the Japanese sized rooms we've been staying at the last few days. We're both really happy to be able to just settled down here for a week.
Once we dropped our bags off, Tim's 7-Yi Ma (Great-Aunt) took us for dinner at a restaurant in the mall that's connected to the hotel. The restaurant was on the top floor of the mall and specialized in unagi. Tim mentioned that last time he was here with Jessica, his Great Aunt always took them out for unagi so he predicted we would have that for dinner as well, and he was right. She ordered dinner sets for us as well as an appetizer of tamago (egg) with unagi inside and a skewer of unagi innards.
After a delicious meal, 7-Yi Ma brought us downstairs to the grocery store and bought us fruit. I was joking to Tim that she probably looked at us and thought we needed to eat more fresh fruit. She bought us strawberries and oranges. Japanese fruits are all so perfect looking. We just finished eating the strawberries, they were all very sweet.
We decided to just relax in the hotel and catch up on the blog and roughly plan out our week. Looking forward to spending time in one place (with a couple of day trips close by). I think if we had to move out of a hotel room each night, I would burn out very quickly.
As always it's so nice to have family around, and 7-Yi Ma has been so sweet to us. I know we are extremely lucky to be surrounded by such loving families.
Our total steps today: 22,000