April 24, 2016
After a relatively late night of packing and getting things sorted, we woke up and were on our way out of the apartment by 11am (which was also our check out time). We were happy with our Airbnb experience in Tokyo and would be happy to stay in that apartment again.
We made our way to Shinjuku Station to take the train to Haneda Airport. It's nice that we're flying out of Haneda since it's a lot closer to the city centre than Narita is. Our flight to Naha, Okinawa was at 2:45pm. We arrived at the domestic terminal at 12pm and took our time getting to the gate. While on the train, we were happy that our flight was on a Sunday, since maneuvering around the station and being on the train with our backpacks would be horrific during a weekday.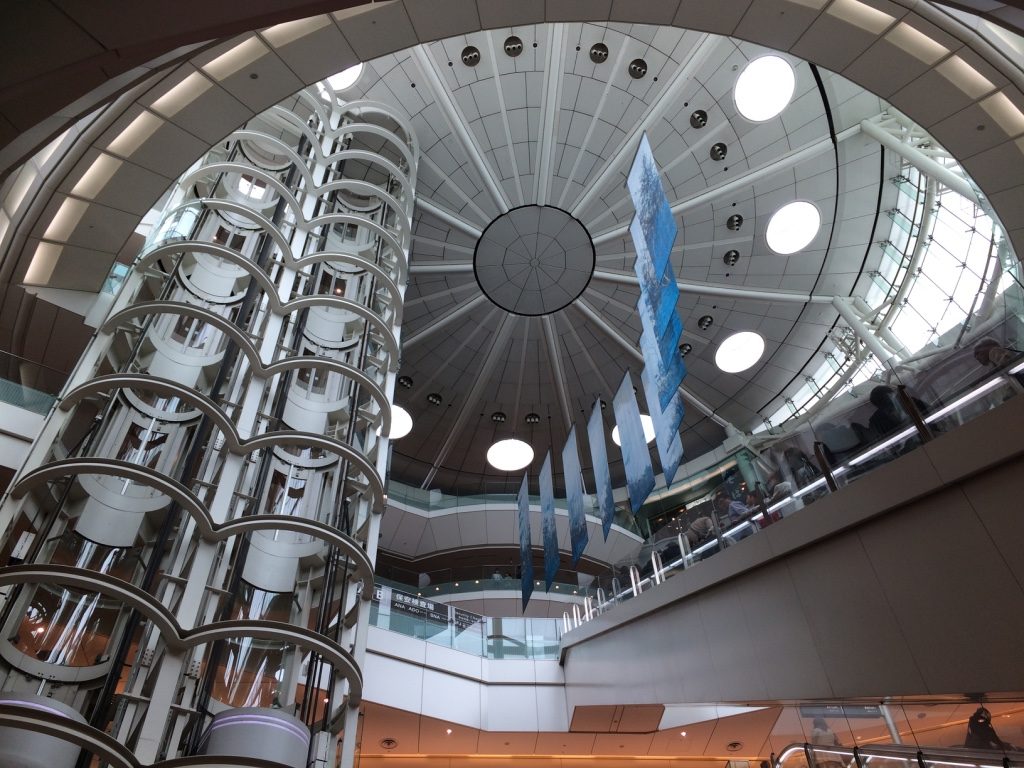 There are a quite a few stores in the public areas of the airport but once you cross security there isn't much in the domestic terminal. We had lunch at Tenya (the same tempura don place we ate at in Osaka). Tim and I both agreed that we can eat cheaply in Japan and would be happy with it as we don't seem to appreciate (Tim: the value proposition of) super expensive tempura. The jumbo prawn tempura I had in Roppongi Hills was the most expensive tempura I've eaten – at $12 for one piece (Tim: more than our entire meals combined at Tenya)!
Haneda is a nice airport, though the domestic terminal is kind of lacking in stores, I'm sure the international terminal is much better. Since we are flying ANA back home in July, we will be connecting through Haneda again for two hours before our final flight back to Vancouver. I was trying to scout out what stores are available on the international side (past security) so I know what I don't need to buy until July.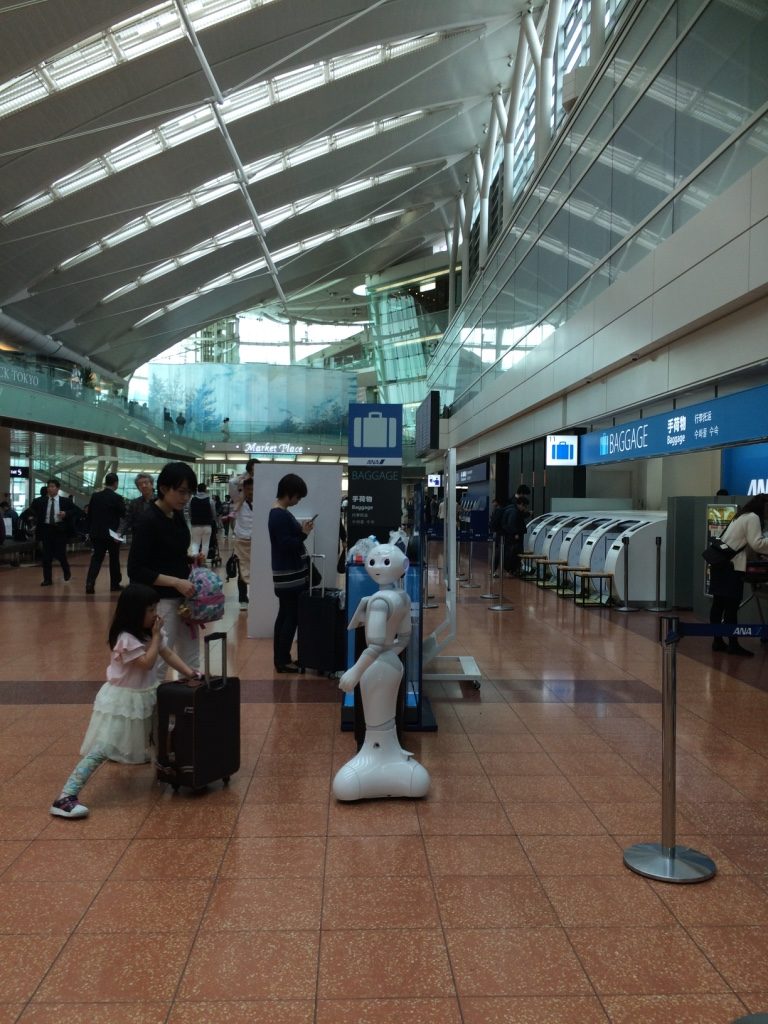 While planning out Japan, one of the first two flights we booked was our flights to Okinawa and Sapporo. We knew we wanted to go to these two places but since they're either not on the mainland or pretty far north, it wasn't as easily accessible with the JR train pass. Luckily, I remembered my former manager talking about cheap domestic flights within Japan that are only available for foreigners. We did some research online and booked our two flights as soon as the flights for the spring and summer were available.
All domestic flights within Japan (regardless of how far) can be booked for 10,800 JPY = $120 CAD. This is a really good price and you also get the full amount of miles (Aeroplan points) for the discounted fare (Tim: I can't remember the last time I got full miles on an Air Canada flight… you have to purchase Flex Fares which are close to double the price of their typically advertised Tango Fares.). All you have to do is provide your passport info as well as your booking number for your arrival and departure flights to Japan. You can book these discounted fares through the ANA's Experience Japan Fare or through JAL's Japan Explorer Pass (JAL seems to also have something called the Yokoso/Visit Japan Fare and Welcome to Japan Fare which seem to be similar promotions). We picked ANA mainly because it's part of Star Alliance, so if you collect Aeroplan points, it's best to fly ANA as JAL is part of One World (Cathay, British Airways, etc). When we looked to book the exact same flights as we wanted without the foreigner's promotion, the price of the tickets were over $800 per person. A lot of people know about the JR pass but if you need to go between cities quickly or ones that aren't as accessible, taking advantage of these cheap tickets is the way to go.
Our plane took about 20 minutes on the tarmac before taking off. They had to double check something on the plane. The flight to Okinawa was about 2.5 hours, and there was quite a bit of turbulence as we were getting closer to landing. The plane was a lot bigger than I thought it would be for a domestic flight (Tim: 777), but I guess Okinawa is a popular destination for a lot of Japanese people.
It was my first time flying ANA and I was actually surprised they only served us drinks for this flight, but I guess it was only a domestic flight. Drinks choices were green tea, apple juice, coffee and chicken consommé (?!).
As soon as we landed, you could tell it was super humid as the windows on the plane on the outside fogged up immediately. We were now closer to Taiwan than were to mainland Japan. When we got out of the plane, you could feel the warm tropical air and it was 27 degrees Celsius. Walking through the terminal, it felt like Hawaii in a sense. Everyone waiting for their flight out of Okinawa were in shorts and t-shirts and were slightly tanned or burned. And it seemed like the staff uniform for a lot of stores were floral printed shirts – very tropical looking.
We caught the monorail (which was only 2 cars long) to Asahibashi Station and walked about 8 minutes to our guest house. This was our first test walking with our backpacks in tropical weather and we both were sweating quite a bit. Are we going to die in Vietnam in June? (Tim: I'm pretty sure we won't die since humans are pretty good at heat acclimatization).
When we we finally got to Villa Coast Nishimachi Guest House, we followed the instructions for the self-check in (the reception is only open until 6pm) which is pretty easy since they also sent me an email after we booked with instructions on how to get there and check in. We booked a double bed studio off Expedia after reading really good reviews about this place. When we got into the room, I was both very pleasantly surprised with the space and cleanliness for $62.44 CAD a night.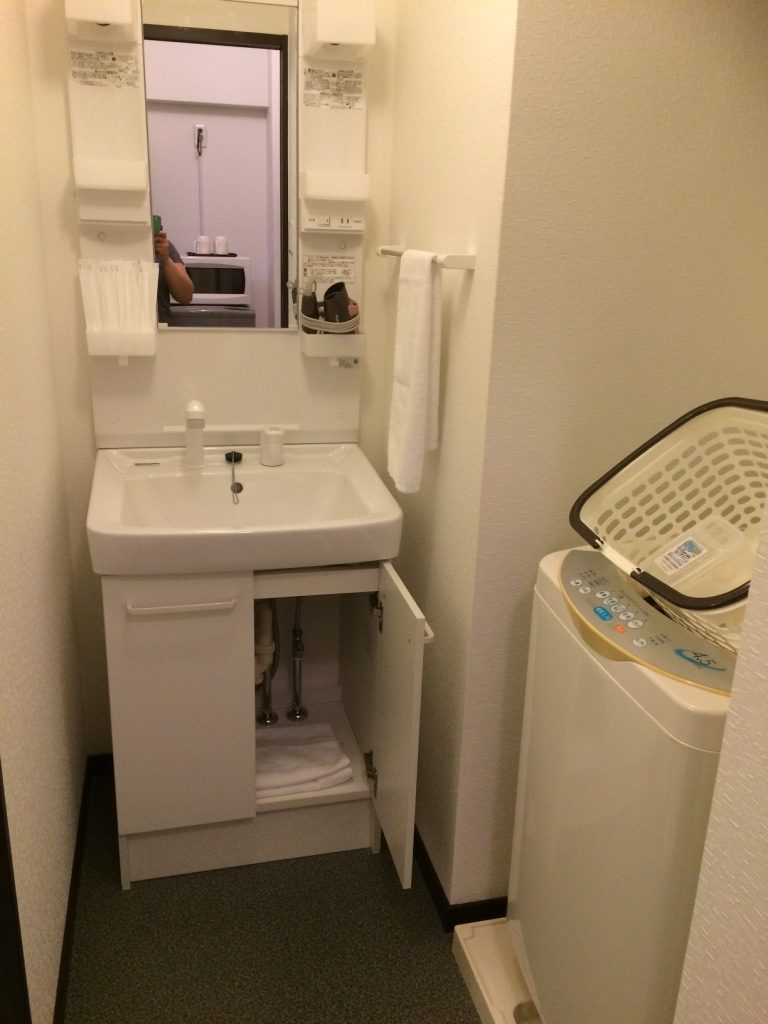 I realize that when posting these pictures for people back home, this doesn't look very impressive but anything that's extremely clean (Tim: not too hard to find in Japan), we're happy with. And if it has a washer, even better! I see why this place has high ratings on TripAdvisor, there's a guide for the room and even a list of suggested restaurants around the area that are favourites of the guest house managers. Although reception isn't around 24 hours and it feels like we're staying in an apartment rather than a hotel, you feel very supported.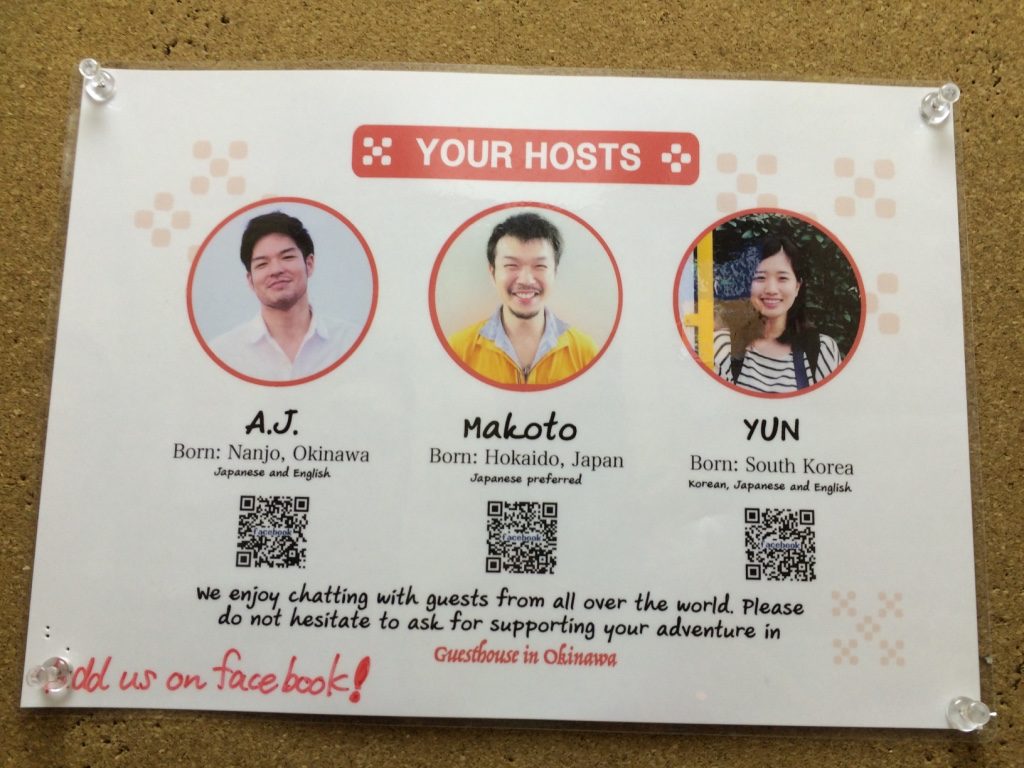 We decided to pick a place from the suggested restaurants for dinner tonight and plan out our next three days in Okinawa. We went to an Izakaya restaurant called, Himitsu-Kichi, about a 3 minute walk away. The building looked a bit tiki-hut-ish and we were seated upstairs in our own private little booth. All the food was really good, and the drinks were very cheap (alcoholic cocktails were only like $3 CAD, too bad I don't really drink). We ordered a salad, chicken skewers, grilled squid, an omurice with gravy, chicken karaage, an Orion Beer (an Okinawan Beer), and coke for 3,988 JPY = $45 CAD.
After a delicious first meal in Okinawa, we headed back to the guest house and bought some water along the way at Family Mart. It was now pouring rain (but still very warm) on our walk back. It's rainy season right now, so hopefully it won't be crazy rain all the time.
I first heard about Okinawa while working at my Aunt's store in Stanley Park (Tim: and I first hear about Okinawa while watching The Karate Kid Part II… looking forward to witnessing some ice breaking, since that's a thing right?). I used to work there each summer when I was younger and got to meet a lot of people from around the world. One of my coworkers was from Okinawa and I heard it was like the "Hawaii of Japan". The way she described home sounded awesome. She's one of the nicest people I've ever met, so when I think of Okinawans, I think of her. Since then, I've always wanted to visit.
The city of Naha is a very slow and quiet town from what we've seen so far. A totally different scene from Tokyo. It feels nice to take it down a notch after being in two large cities back to back.
Looking forward to exploring more of the island and seeing a very different part of Japan.
Steps today: 8,000