June 19, 2016
This morning, after breakfast at the hotel, Kait and I made our way to the Ho Chi Minh Mausoleum at Ba Dinh Square, which was located on the western edge of the old town in Hanoi. This was one of those sites where, while I didn't have any particular urge to see, it felt like something that needed to be checked off a list.
It was a sunny morning and the temperature was around 33 degrees. It wasn't even close to the hottest day we've experienced in Vietnam, but for some reason, the heat really hit us while we walked to the Mausoleum. By the time we arrived, we were both dripping with sweat. It didn't help that when we reached what I thought was the Mausoleum, we had to walk around the fenced off square all the way to the other side of it in order to get into a line up for the Mausoleum. The lineup stretched for some distance, but moved relatively quickly (Kait: I didn't think we were going to make it in before it closed at 11am, but we did!). We had to pass through security and they had bag checks (for water bottles) and a separate drop off point for camera gear as no cameras were allowed in the Mausoleum.
After moving through the line and finally reaching the Mausoleum, we were led in in two single file lines (Kait: when the line splits into two, go to the left side. You're closer to HCMC's body and have better views). They keep the line moving (which is good for everyone waiting), but it really doesn't leave you with much time to view Ho Chi Minh's embalmed body. After walking through the Mausoleum, we walked across the square to visit the Ho Chi Minh Museum. Now, I didn't know a lot of details about Ho Chi Minh's life, and after going through the Museum, I felt like I still didn't know much. The museum had a couple exhibitions about Ho Chi Minh's journeys around the world before returning to Vietnam to aid in their revolution. It also had a hodge podge of displays in the top floor about communism and Ho Chi Minh's life. None of it felt very cohesive, and I felt like I came away from it without a good grasp of the person (other than the fact that he travelled extensively). (Kait: When reading some of the plaques at the museum, the descriptions were pretty questionable. Ie: Vietnam is described as a "Democratic Republic State". Either my understanding of what democratic is, is totally wrong or Communists like to make their citizens believe they're a democratic country)
It's interesting to me how the Communist Party of Vietnam has built a personality cult around Ho Chi Minh… not unlike Kim Il Sung in North Korea and Mao Zedong in China. It makes me wonder if they knew how they would be used post mortem, and how it's possible their legacies are not what they wanted. Even with the Mausoleum, I read that according to his will, Ho Chi Minh wanted to be cremated. Makes me wonder how he might be used now in ways he never would have wanted… But I guess he's dead now so ultimately, it's not his concern.
After a Ho Chi Minh filled morning, we slowly made our way back to our hotel, stopping at a Highlands Coffee (Kait: The Starbucks of Vietnam) to grab a drink and sandwich. Highlands Coffee is a chain that seems to always have locations with large patios adjacent to parks or museums. Kait had a Green Tea Frappuccino (which she said wasn't really a Frappuccino, Kait: it was more of an iced drink with jello) and I had a frozen lemonade.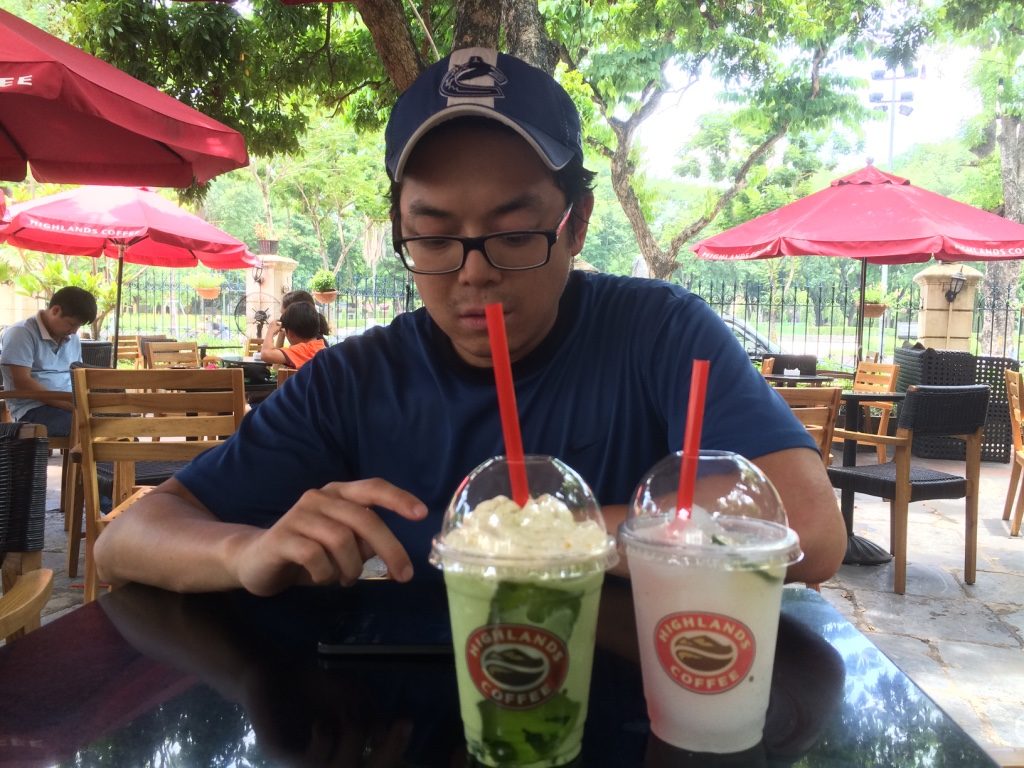 As we've done the last couple days, we spent the early afternoon back in the comforts of our hotel, hiding from the worst of the heat outside. We continued to look at booking things over the next couple weeks, and it really hit me we're nearing the end of this leg of our travels. With less than a month to go, there's still a lot we want to see in South East Asia.
After a lazy afternoon, we made our way out for dinner just across the street from our hotel. It was a Bun Cha (Kait: Bourdain took Obama to eat bun cha when he was in Hanoi, just not at this place) restaurant that seemed to have some decent reviews online (Kait: it's apparently "the best" bun cha in Hanoi…). They had large prominent signs in English pointing out that the location beside them was "Fake" and they are the real restaurant. While I have no doubt they might have been at that location serving Bun Cha for longer than the place next to them, calling them fake seemed pretty harsh. I'm sure the place next door serves real food.
The Bun Cha itself was decent, but nothing to write home about (though I guess that's exactly what I'm doing right now…). We only ordered 1 to share (90,000VND = $5.20 CAD) and it was more than enough food for the both of us. It was similar to the Bun Cha we had in Hoi An, but came with an additional soupy broth/dip as well as pork belly slices cooked with the pork patties. (Kait: this was a more "real" version. The one in Hoi An was much tidier and well put together)
After dinner, we swung by a convenience store to grab some drinks and snacks that we'll bring with us when we go on our cruise around Halong Bay starting tomorrow. Our first few days in Hanoi really flew by and I'm glad we kept a leisurely pace. We haven't been hitting our 20,000 step goals consistently lately, but to be fair, the climate makes 20,000 steps a lot more difficult.
And Happy Father's Day to our Dads and to all Dads out there! It's also Father's Day here, although I don't think they make a big deal out of it. But we did see a sign that said "FatHers Day".
Steps Today: 14,000