May 31, 2016
We set an alarm to wake up in time to watch the Lady Knox Geyser erupt at 10:15am. Robin read about it the night before and was interested in checking it out. By the time we got ready and checked out, we had 20 minutes before the eruption and it took about 25 minutes to actually drive there. When we pulled up to the parking lot, we ran to the geyser and saw the presenter still talking about New Zealand's geysers, so it was perfect timing!
As soon as the presenter stopped talking, the geyser began erupting, like clockwork. The geyser could erupt for up to an hour (unusually long). After about 5 minutes, everyone left after taking their photos. We stayed around to see the eruption end, but after about 20 minutes, we gave up and left, as did the other people who were waiting around. Tim felt sad for the geyser because it was still erupting with no one watching. People's attention spans are so short, and I guess it was also starting to rain.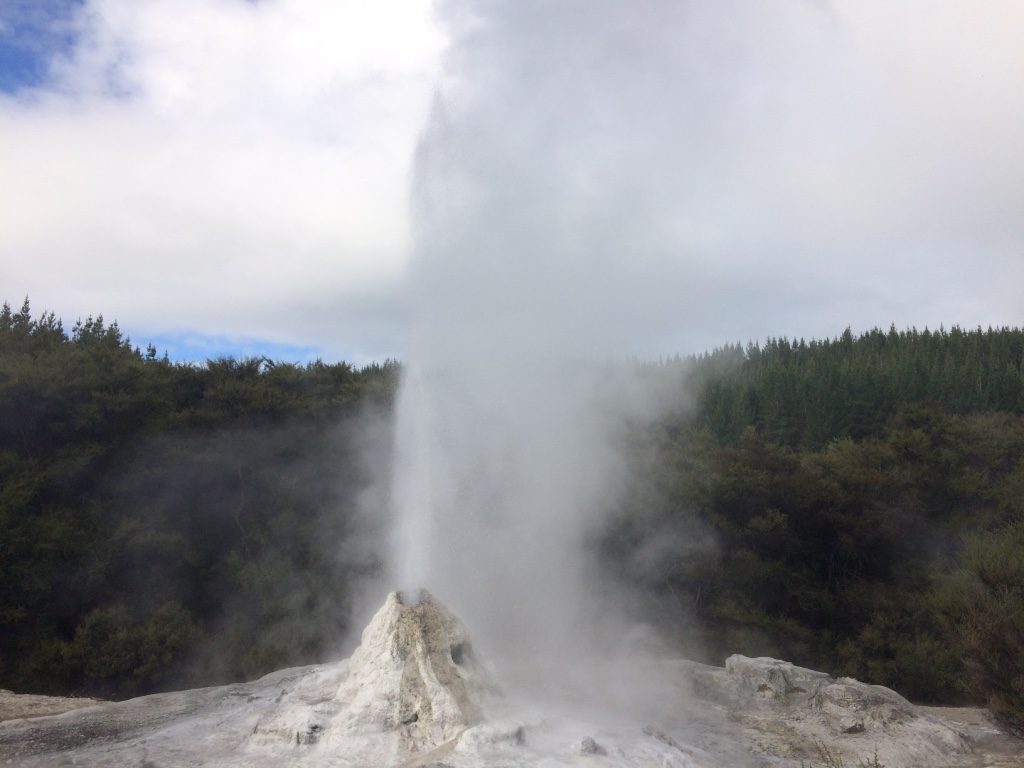 When we first arrived, there was a sign that said to be ready to show your tickets. We didn't realize it cost money see the geyser because Robin read it was free. It worked out perfectly that we were slightly late because there was no one checking tickets when we rushed in. We ended up seeing the geyser and other sights around the Waiotapu area for free. I looked online tonight and apparently the sights were $32.60 NZD per person!
On our way out of the Waitapu area, we saw signs for a mud bath so we decided to check it out. The mud bath was another hot spring which made mud bubble up. Rotorua is a lot like the onsen town of Beppu in Japan, where we went around to all the different "hell" hot springs. It ended up being a similar day since we planned on going to a hot spring spa too.
We made our way back into Rotorua's CBD for lunch. Jess read about a brunch restaurant in Lonely Planet called, Third Place Cafe, so we decided to go there. It was a casual cafe where you order at the counter and they bring the food out to you. The breakfast and lunch menu looked really good so I was excited to try it out. I ordered a "Roasted Kumara Mumble Jumble" breakfast and Tim ordered the "Middle Eastern Spring Lamb Platter". Both dishes were really good. We were both happily satisfied. If we ever go back to Rotorua, I would definitely eat here again.
After lunch we headed to Lake Rotorua, which is the second largest lake on the North Island. We walked along the walkway of the lake and around a park and saw a lot of birds. There were a lot of black swans in the water, which I haven't seen so up close before. There were also large gangs of New Zealand geese, which are large and white.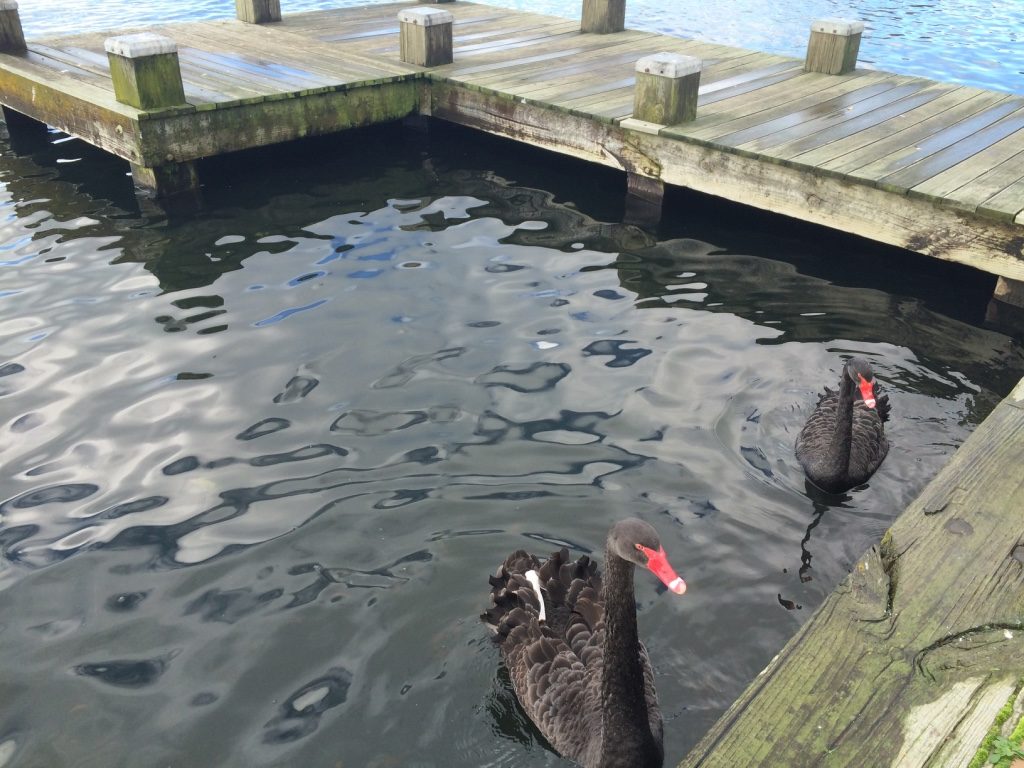 Rotorua is full of beautiful lakes, geothermal sights, Maori cultural centres, and spas. It was still fairly early in the afternoon so we decided to check out another lake in the area before going to the Polynesian Spa to end our time in town. We drove about 10 minutes to Lake Tikitapu (Blue Lake) where I hung out close to the car to admire the view and everyone else went for a quick walk through the forest.
We drove to the Polynesian Spa and decided to go into the "adult pools" ($27 NZD = $23.75 CAD). The Polynesian Spa is a geothermal spa that backs on to Lake Rotorua. The adult pool area had several different hot spring pools at different temperatures, ranging from 38-43°C. It was a nice and relaxing way to end our day in Rotorua. There was a Korean tour there at the same time we were, and at one point Tim and I were in a pool with the majority of them and we felt like we were back in Seoul. Too bad we didn't know any Korean!
We washed up and left at a good time because a Chinese bus tour came and all the pools were jam packed with people. We spent about an hour and a half at the baths which was a good amount of time.
For dinner we went for Indian food at a restaurant called Indian Star. We saw it yesterday and it was full for of people for an Indian birthday party. We figured if it was good enough for a large Indian birthday party, it must be good! We shared four different types of curries, garlic naan, basmati rice, two mango lassis and a Kingfisher beer for $94.80 NZD = $83.60 CAD. We enjoyed everything we ordered. We were all surprised that we finished everything. I guess we were all hungry!
After dinner we drove for about 2.5 hours to get to a town called, Waitomo, which is a major tourist attraction for its caves and for Hobbiton (Hobbit and LOTR tours). On the way there, Tim pulled over and we looked at the stars for about 15 minutes (it was really cold out, 5°C!) and it was beautiful. I guess I don't get that far out away from cities because I haven't seen that many stars before. I turned around to hug Tim and I missed a shooting star that everyone saw. Oh well…
We arrived at our hotel, which is a historic (old) hotel called, Waitomo Caves Hotel. The hotel looked nice as we drove up to it. It has a lot of character and we were really happy with our two bedroom room ($125 CAD/night). Since Jess and Robin had a larger bed in Auckland, they took the two single beds in the other room while Tim and I get to enjoy the larger bed. I'm pretty sure this is supposed to be a family room, so we got the "parent's room" and they're in the children's bedroom.
We made some tea and tried some of the other NZ cookies we bought before heading to bed. We're planning on waking up a bit earlier tomorrow to see what cave tours we can join. We couldn't book anything online since they required 2 days notice for advanced bookings so we'll have to go to the visitor centre to see what we can get.
Steps today: 10,000