June 1, 2016
Today is officially the first day of Winter down here in the Southern Hemisphere. Since we're slowly making our way south (on the North Island) to Wellington, we're seeing temperatures drop drastically. The temperatures are beginning to feel like Sapporo weather when the sun goes down (below 5°C).
We slept well last night. The bed was quite comfortable and it was cool to stay in such a historic hotel. It felt more like it should be a B&B rather than a hotel from the style of the rooms. I opened the curtains and saw beautiful green hills, which we didn't get to see when we came in at night.
We woke up earlier today to go to the information centre to book a Waitomo Caves tour, but they didn't open until 9am (which we found out when we got there at 8:30am). We booked a combo tour to see the Ruakuri and the Glowworm Caves. The combo tour cost $87 NZD per person and included entrance to the Waitomo Museum ($5 NZD value). Our pick up time wasn't until 10am so we had time to grab something quick for breakfast. There wasn't much choice in Waitomo for restaurants since it was a very small town, so we went to the only nearby restaurant that was open – "Kiwi Paka".
Kiwi Paka was a "cabin like" hotel and a restaurant that was only about 200m from our pick up point. Tim and I shared a big breakfast combo ($17 NZD) and a flat white ($4.50 NZD).  It was a good breakfast to share since we wouldn't be eating again until later in the afternoon.
We got picked up by the tour company from the information centre and taken to Ruakuri Cave. The tour lasted about 1.5 hours as we were taken deep into the limestone caves and were guided around. We saw some interesting formations and a few clusters of glowworms. The guide was only okay. She wasn't as informative as I'd like and I felt like I didn't learn too much from her.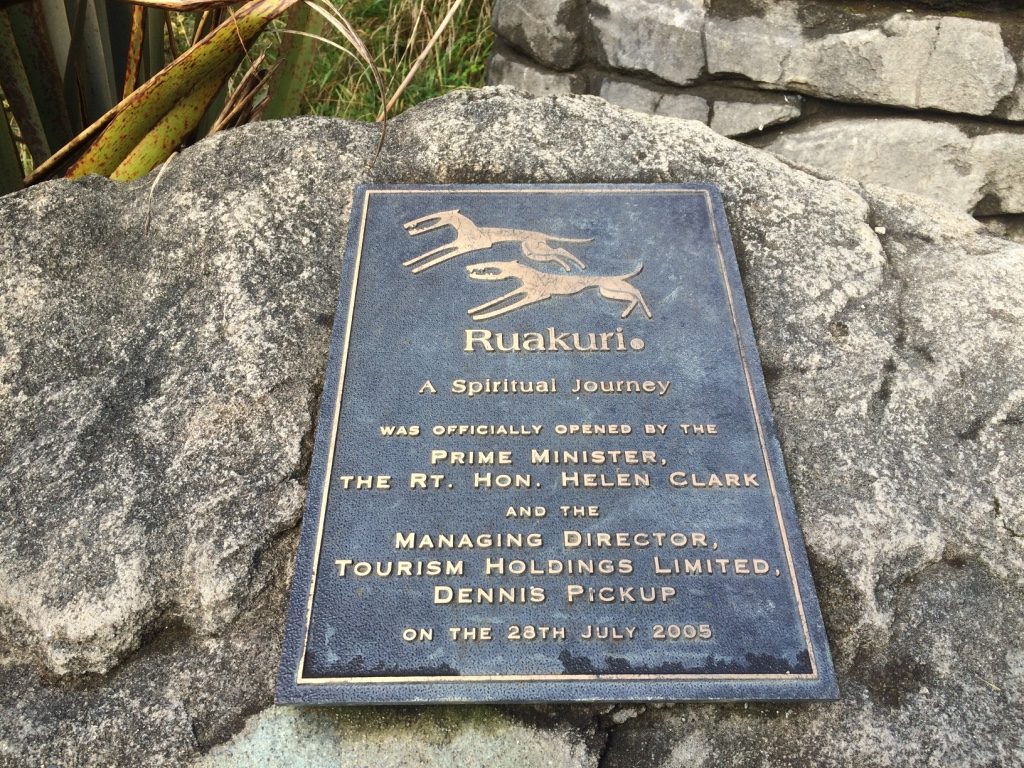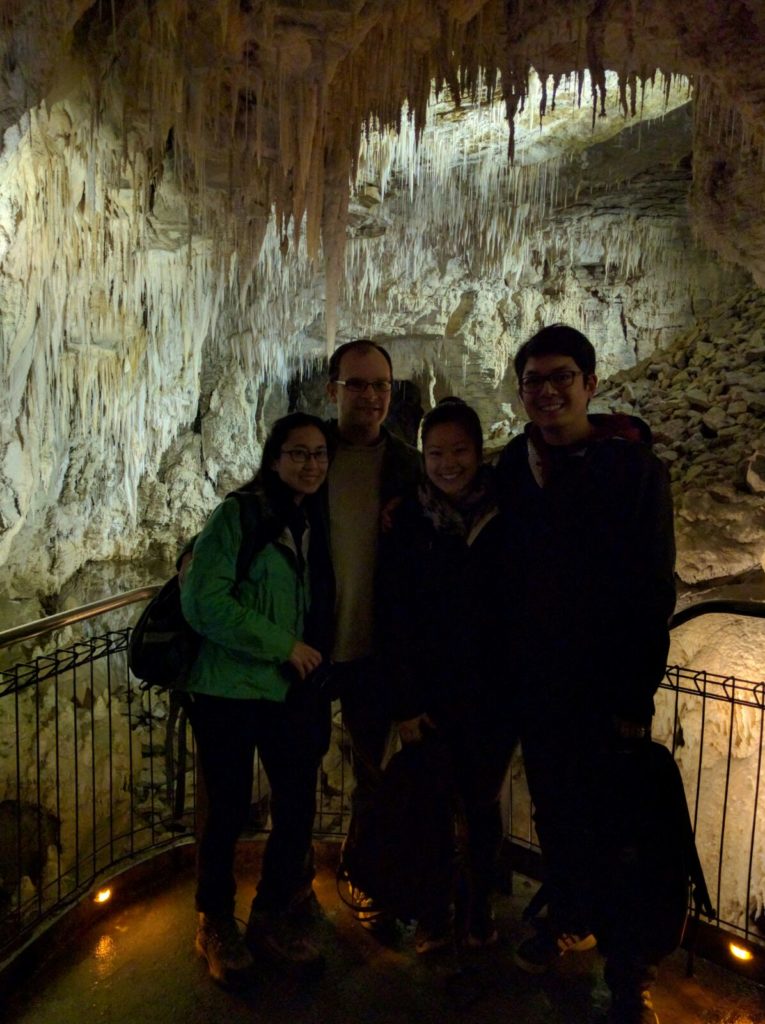 After the Ruakuri Cave, we were dropped off at the Glowworm Cave, where we were lead into another cave in Waitomo. The guide for this portion of our tour was a lot better (in my opinion). She was Maori, and was a lot more knowledgeable about the caves and glowworms than our first guide (she was also pretty funny). We weren't allowed to take any pictures in this cave though. The tour started off with us walking through a limestone cave, which wasn't as neat as the Ruakuri Cave, and then we were lead to the river below to see the thousands of glowworms. They looked like clusters of stars and was amazing to see. Everything was pitch black and silent. The tour guide didn't use a paddle to move the boat around but was just pulling on rope that was strung up inside the cave to move the boat. We were very impressed that she didn't fall in. This tour lasted about 45 minutes. If we were to go back again, I would just go back to the Glowworm Cave, but I'm glad we did both this time around.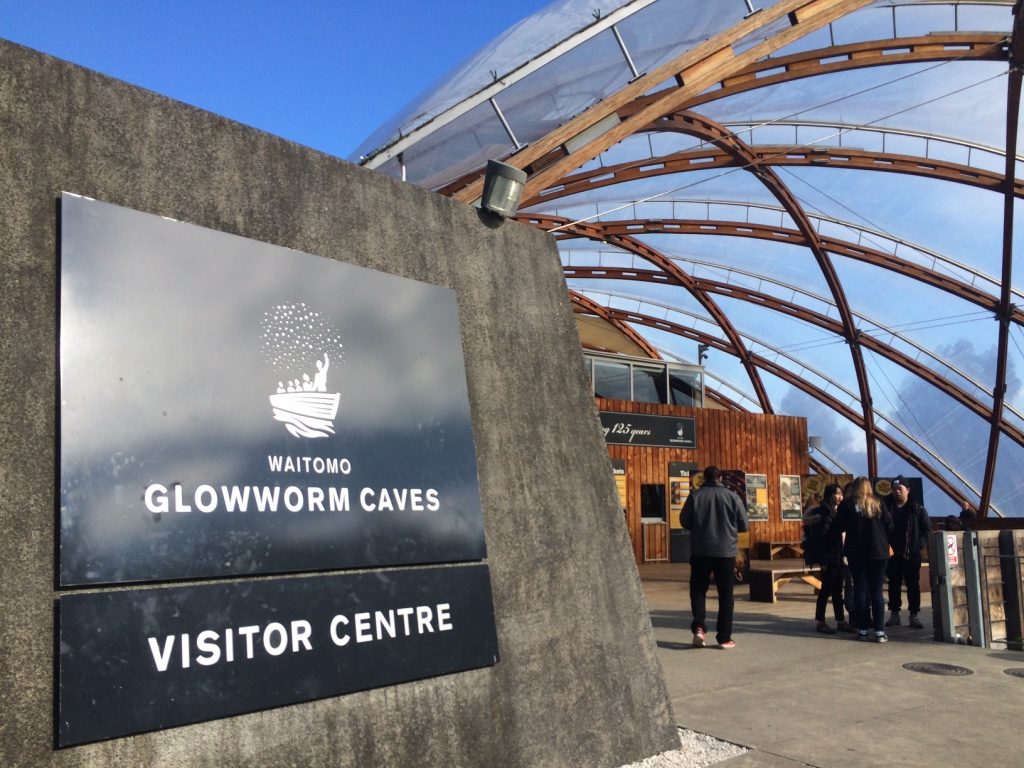 We headed back into town where we left the car but took one of the trails back instead of the main road. We took the Waitomo view point trail which lead us through a forested area and then up a hill with a view of Waitomo and the surrounding rolling green hills. My favourite part of New Zealand has been all the scenery. I can't get enough of all the rolling green hills. They go on for miles and are so beautiful!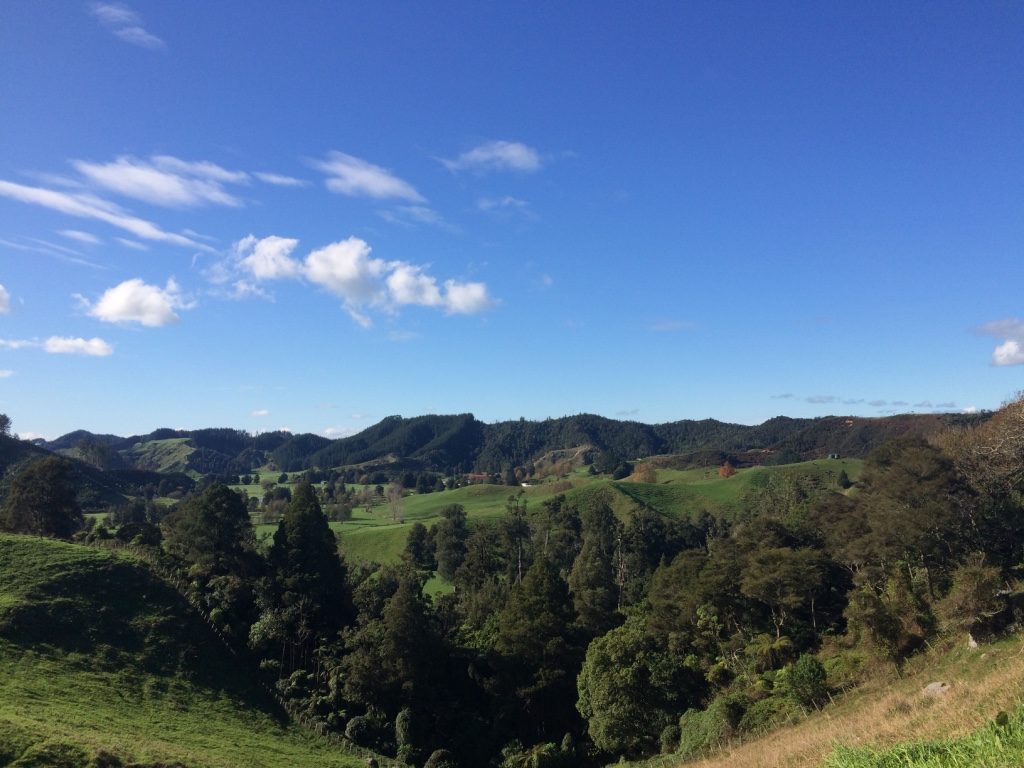 Once we got back into Waitomo Village, we went to the museum since we had free admission. We walked around the small museum, which is located at the back of the information centre, and watched one of the short documentaries they had available for viewing. We had the whole theatre to ourselves and I fell asleep (which normally happens to me in dark theatres). Everyone else seemed to enjoy the documentary about a group of New Zealand cavers who tried to find a connection between two caves but failed (Tim: Anticlimactic ending).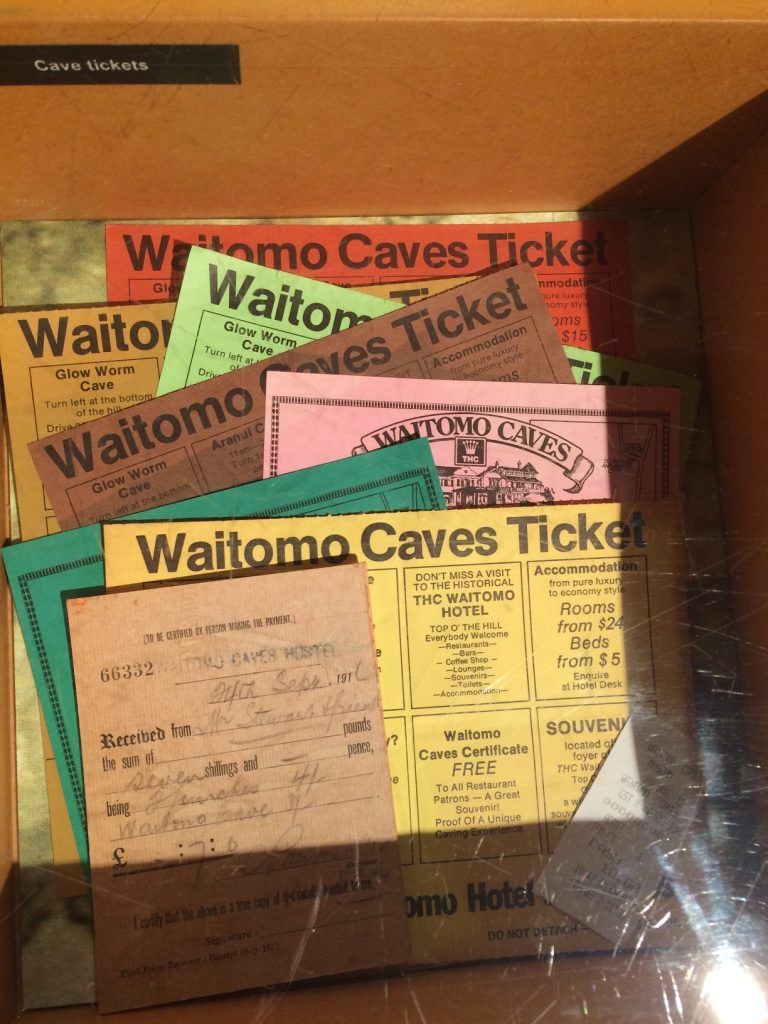 Feeling well rested, we got into the car and made our way towards Wellington. The drive down was about 5 hours south. On our drive we saw some amazing scenery. We saw two volcanic looking mountains that were covered in snow. Snow covered mountains aren't things we usually get excited about but with New Zealand's very green landscape, the solo snow covered volcanic mountains looked amazing.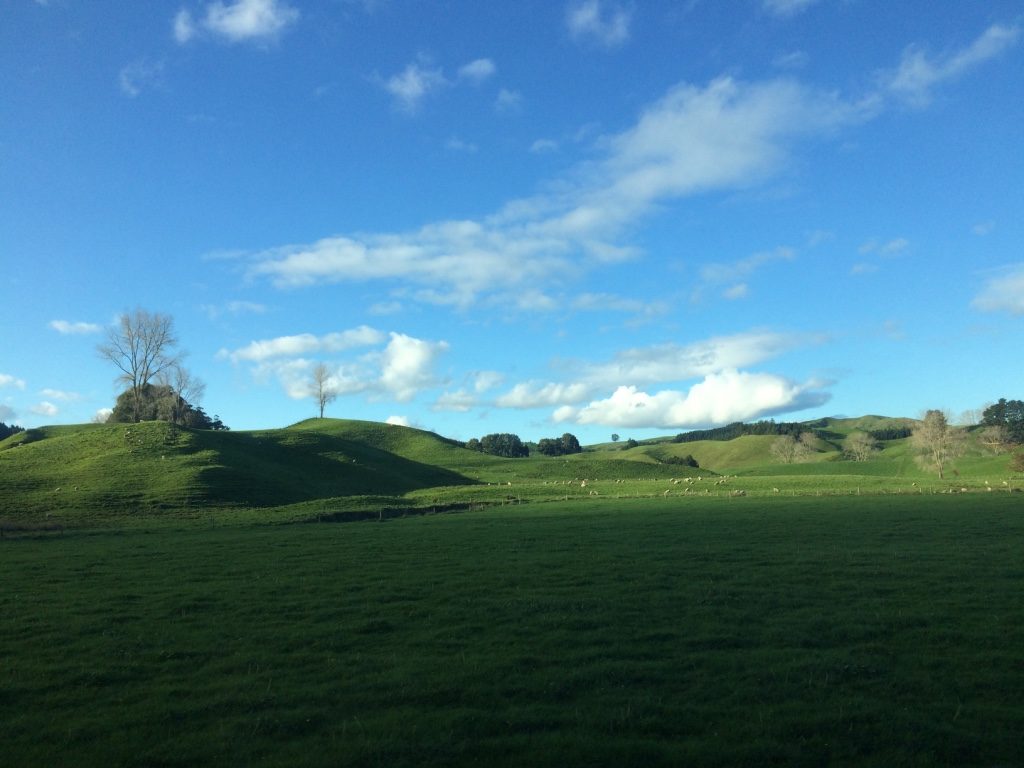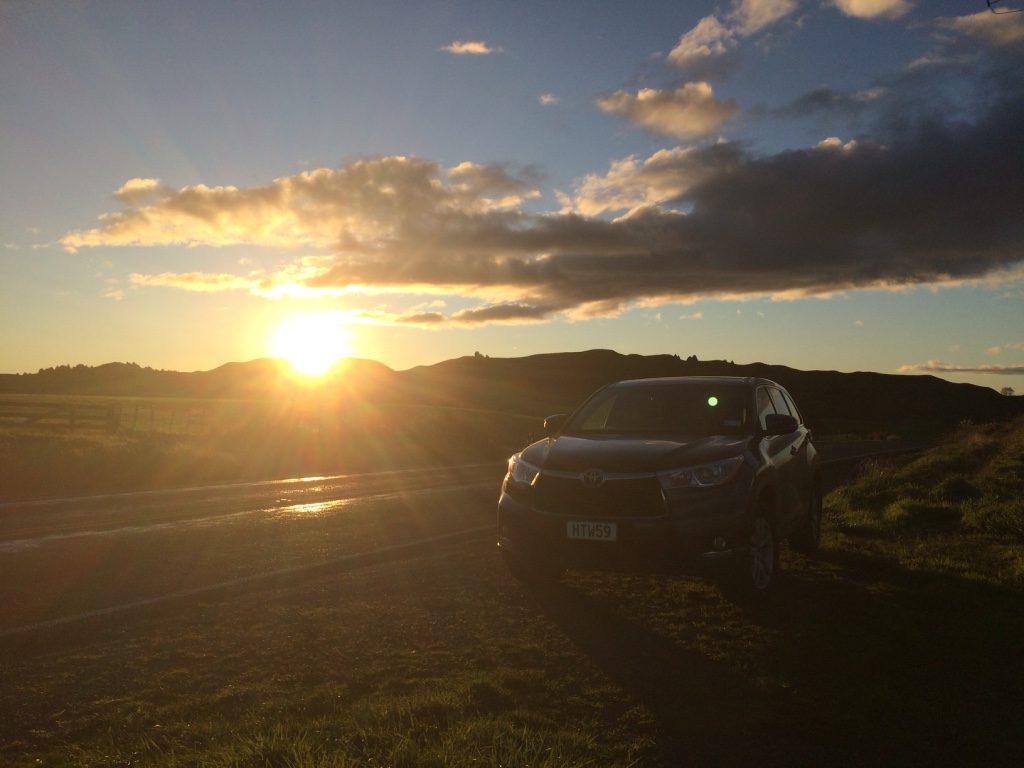 We stopped in a small town called, Ohuke, for dinner. Since it was such a small town, we didn't have much choice. We ended up going to a family run restaurant called Captain Kune's. They served any fried food you can think of, burgers, and pizzas. The owners were friendly and you could tell it was a family run joint and everyone in town seemed to know each other.
After eating dinner and getting gas, we were on our final leg to Wellington with three more hours to go. Since the sun sets so early, it felt like it was very late in the evening. As we were driving to Johanna's house (Johanna went to med school with Jess and Robin), my initial impression of Wellington was that it reminded me of San Francisco because of all the hills and the way houses looked and were spaced. We'll see what it looks like in the day light. Maybe I'm totally wrong. Johanna lives pretty far up on the side of a hill, which most houses in Wellington seem to be situated, in an area with newer houses. She welcomed us with open arms and showed us our rooms for our time here. She has a really nice home and is very kind to let us (Tim and I) stay with her. We settled in and she made us some tea before we all washed up for bed.
Wellington seems like a really nice place. We're looking forward to seeing it tomorrow in the day light!
Steps today: 8,000