April 16, 2016
Today was our last day in Osaka and we didn't have any day trips planned. We decided to take it easy, go shopping, and have okonomiyaki (since we tried Hiroshima's style already) for dinner. The morning started off with us watching the news about the effects of the 7.3 magnitude earthquake in Kumamoto. They showed the area on the map where the active fault is and it stretched north to Beppu, where we were last week. We're very lucky!
We headed out and went for a casual lunch at a restaurant that I had seen around other cities, called Nakau. There was one right across the street from our hotel. It was a casual and inexpensive restaurant that serves rice and noodle dishes. Similar to a lot of other casual restaurants in Japan, you have to order and pay at the kiosk and print your ticket out to give to the waitress when you sit down. The food was good. I would go back to Nakau again. While eating, we were talking about how eating in Japan can be very inexpensive if you go to places like this. No wonder there were so many school aged boys here. It's cheaper than eating at McDonald's.
After our lunch, we stumbled upon Kuromon Ichiba Market, which is fairly close to Namba Station. This market is mainly a food market full of fresh seafood and fruit stalls. Since we just ate lunch, we just browsed and observed some of the prices for sushi and gawked at the crazy prices of fruit. Although I really like Japanese food, I don't know if I could live in Japan and not have access to cheaper fresh fruit. We have been in normal grocery stores (vs. just the high end department stores) and their apples are still about $2.50 CAD each and bananas are around $1.50 CAD each (those were the cheapest prices I saw).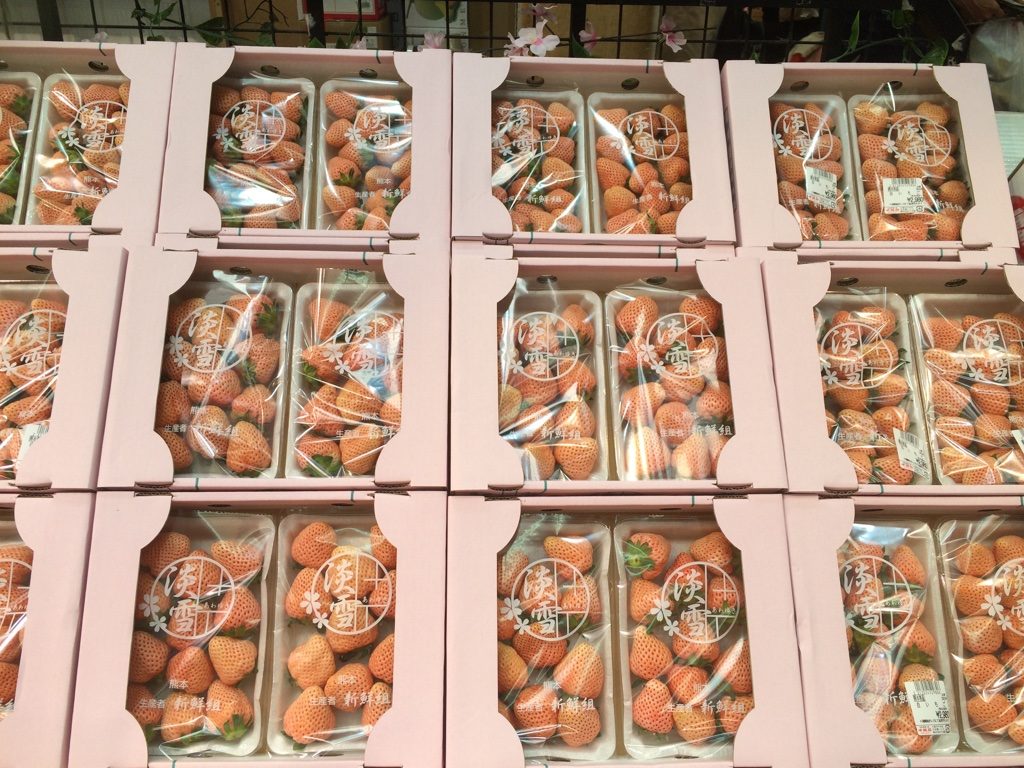 After going through the market, we started to make our way towards Shinsaibashi. On our way there, we came across a large department store near Namba Station called, Takashimaya. The exterior of the building looked very nice so we decided to go inside.
Before leaving the hotel, I was looking online to see if there were any Osaka specific items to buy. I found out that Glico (the company that makes Pocky (Tim: and delicious curry)) has a high end line of Pocky sticks called, Baton d'or (which means "Golden Stick" in French, but obviously it sounds fancier if it's said in French). They are only sold in two department stores in Osaka. (I later found out they have a location in Kyoto and Fukuoka now… at least they don't have any in Tokyo (Tim: why is that a good thing?)). I wasn't going to actively go out of my way to search for them but when we came across Takashimaya, I remembered they sold them there so I wanted to check it out.
I love B1 (Basement floor) in every train station and department store in Japan because it's full of delicious food. They always have a great selection of take out food as well as perfect looking desserts and goodies. If I were going home from Japan this trip, I think I would buy a lot of my souvenirs from here. But since that's not the case, we just browsed. While we browsed, we found Baton d'or! There was a line up of mostly Japanese customers buying basket full of them. When we got closer, we saw that each box of 20 sticks were 500 JPY = $5.90 CAD. For the price of a normal box of Pocky here (which is usually around 100-120 JPY), it's about 5 times the price.
Being a Pocky enthusiast, I felt like it was my duty to try at least one box. We lined up at a good time since the line up only continued to snake around the corner after we got in the line. We (I) decided to try three flavours: Strawberry, Uji matcha and Sicilian lemon. So why are they so special? Apparently the ingredients they use to make these pocky are all fresh ingredients (as they have a fairly short expiry, about a month) and they use real butter. Oh, and their flavours are seasonal and location specific (Asians love exclusivity, and I guess I'm a sucker for it as well).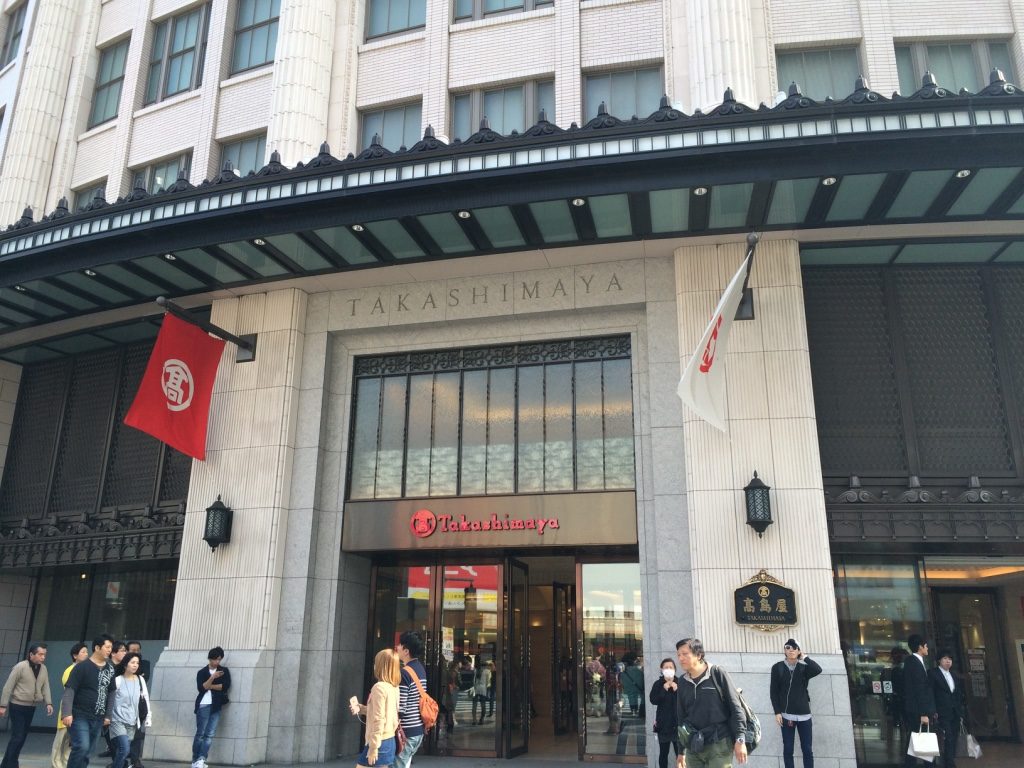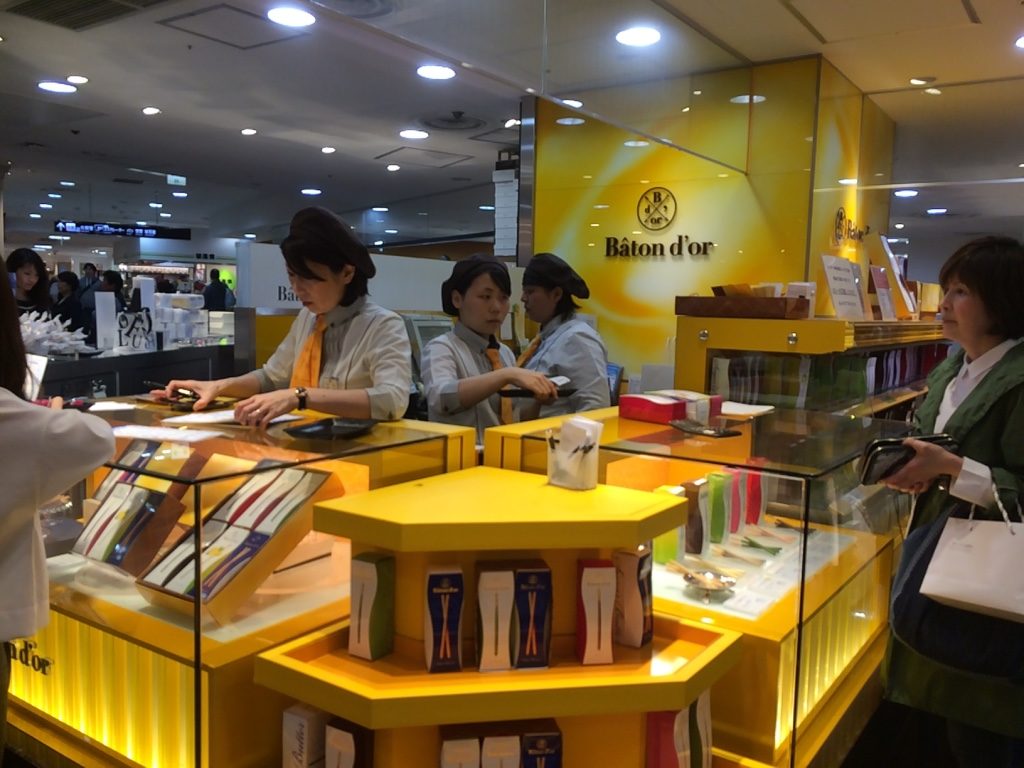 We walked around and shopped for the next couple of hours before dinner time. We went into a store called, Tokyu Hands, which is a store that I've seen throughout Japan and even in Taipei. The Osaka location had 7 levels and we went to each floor to check things out. They have a full range of items, from fancy backpacks to home hardware tools to stationery.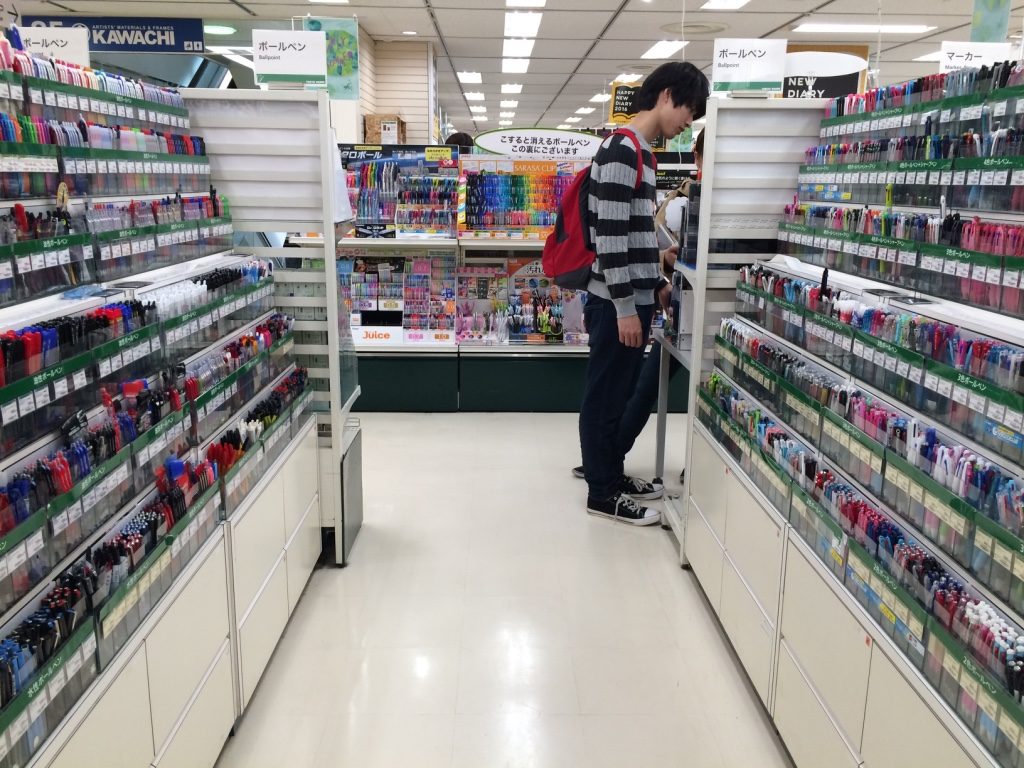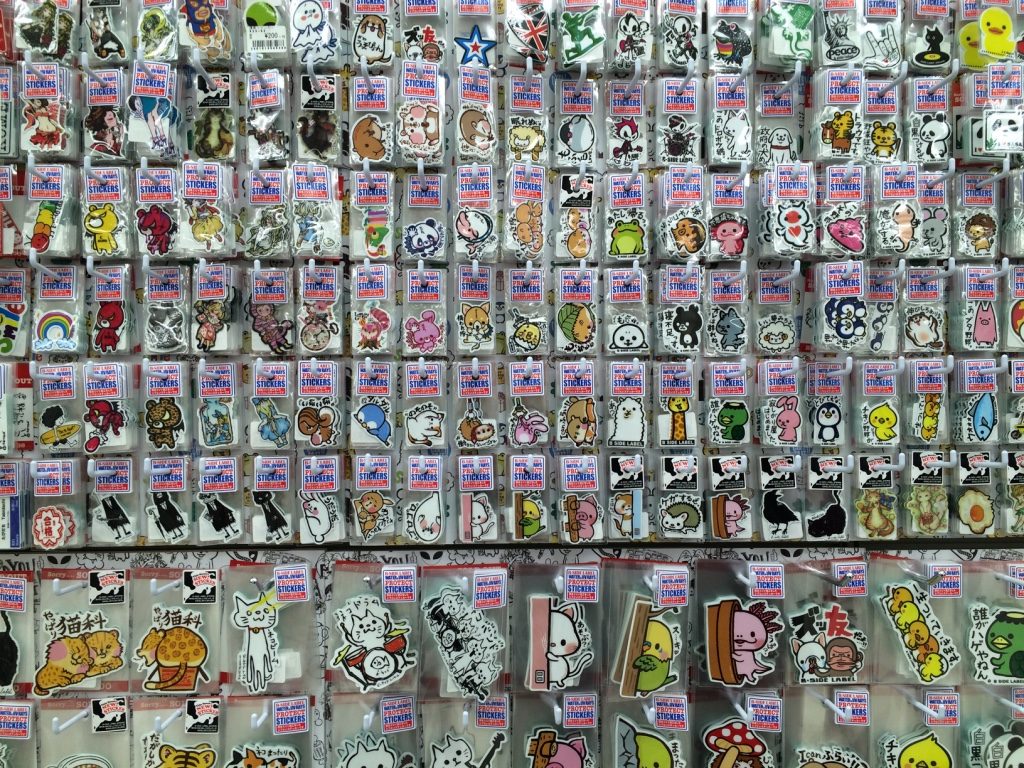 Before finding the restaurant, we walked past the arcade to see if there were any men dancing on the Dance Evolution machine. William showed us a video of a man (who appeared to be in his 50's) dancing really well and even doing the moves while facing the opposite way (so obviously he had them memorized). We didn't have any luck seeing any dancers yesterday, but today there were about 3-4 men lined up to dance. These men had backpacks and towels with them. It was sort of like they just danced there to get a workout. We went back a couple of times and watched different guys. The guy who could do the moves without looking at the screen was sitting waiting for his turn, but we must have missed him because when we went back after dinner he was gone. Tim took some videos of them, they were all really good. I guess you have to be dancing in "master mode" if you want to dance in front of a crowd (there's circle of people watching outside).
William recommended a place tucked away in one of the side streets in the area, which was a good suggestion because so many restaurants on the main drag had long line ups (Saturday night!). After admiring the dancers, we found the okonomiyaki restaurant. We got a seat right away and ordered two okonomiyakis – pork and octopus (800 JPY each = $9.45 CAD). They were smaller than the ones in Hiroshima which is why we felt like we could each have our own this time.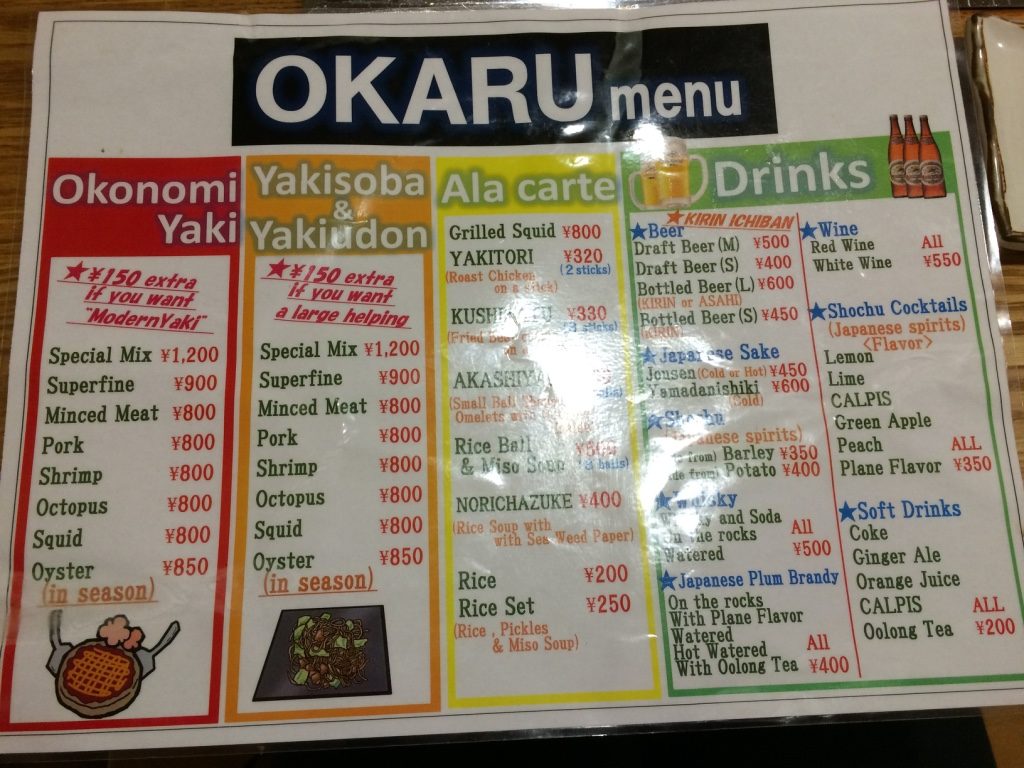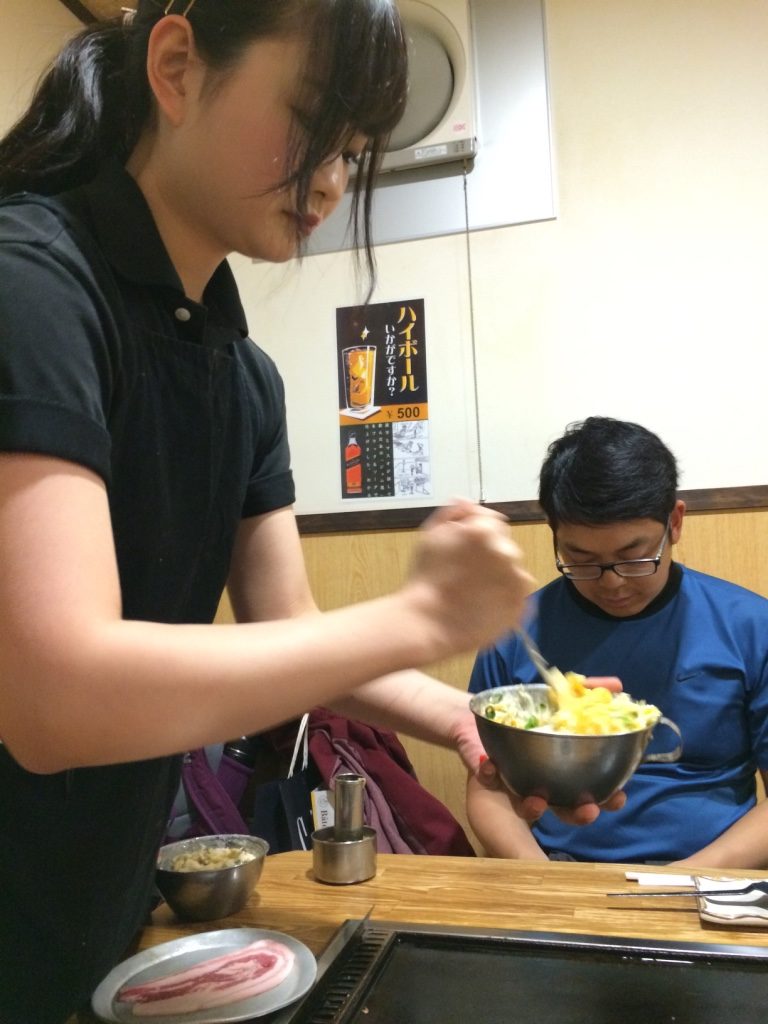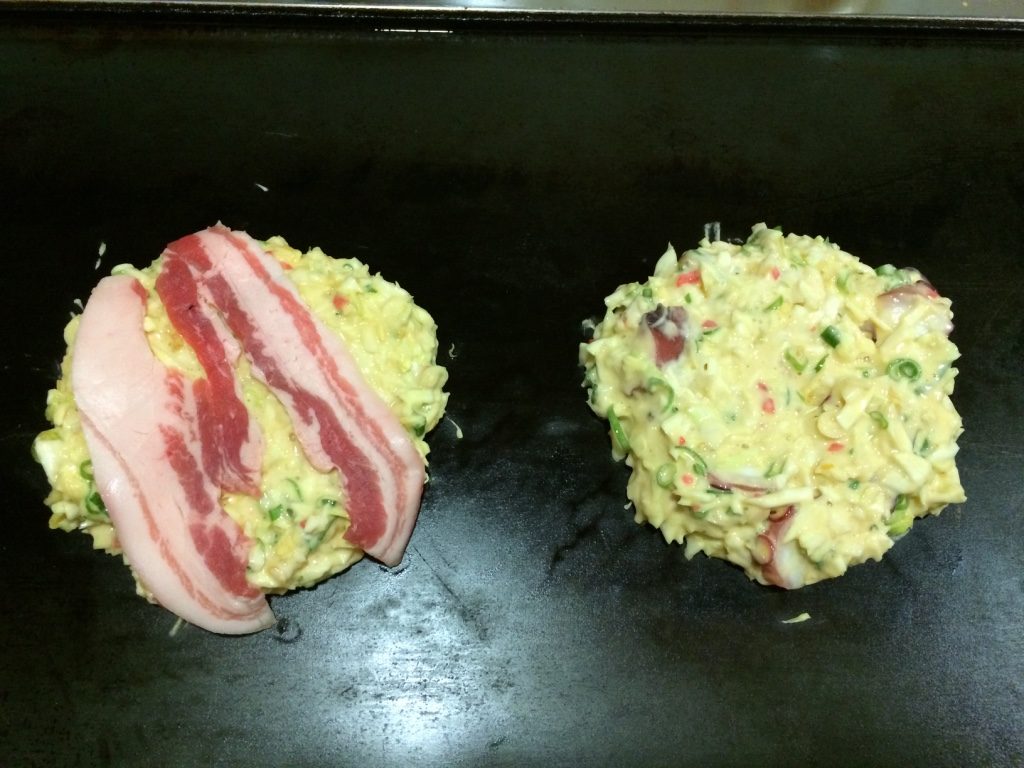 I enjoyed this okonomiyaki more than I did in Hiroshima. There's less frills to this one and I liked how everything is mixed in and not separate layers. But perhaps I'm just used to eating more Osaka style okonomiyakis since that's what they would make in Vancouver at Japanese restaurants that serve okonomiyaki.
After dinner, we had one last look at the arcade to watch the dancers and we made our way back to the hotel. We had to pack tonight as we're heading to Tokyo tomorrow. It was nice being able to stay in one (very comfortable) place for 7 nights. Hopefully our Airbnb is a good one. It should be based on the reviews (*fingers crossed*).
I packed up my backpack and it's looking pretty full. We'll have to come back to Japan on another trip so I can bring home all the yummy snacks and skin care products (Tim: or buy them at home/order them online). My cousin, who is living in Melbourne (who knows her cosmetics), asked me to look for a Biore UV sunscreen (it won a cosmetic award in Japan in 2014). Ever since Taiwan, I've been looking at the product to compare prices every where we went (I didn't see it in Seoul). Since this particular cream is made in Japan, it's slightly cheaper here than in Taiwan. Basically, every time we went shopping I've stared at their line of sun screen products and analyzed how much I should buy for myself and if I could fit it in my bag. I think Tim officially hates this product (but is also an expert in the whole product line) because of how many time I've gone into a drugstore to look for it (Tim: easily 20+). Having bought all the requested products and a few for myself and my sister, I will (try to) stop looking at them and comparing prices (seems to fluctuate a lot).
Steps today: 16,600