July 3, 2016
Our alarms went off at the ungodly hour of 4am. It was good that Dara was going to be waiting for us at 4:40am or else I would very very tempted to snooze. We came to Siem Reap for Angkor Wat and it would be a shame to not see it during its famed sunrise.
We headed down to the lobby, picked up our breakfasts to go, and saw Dara waiting outside for us. When we were about to leave, the EuroCup quarter-finals game between Germany and Italy was on. The game was in the middle of the deciding penalty kicks. Dara and Tim were intrigued so we watched the outcome of the game before heading out. Judging by Dara and the hotel staff's reactions to the goals, they were cheering for Germany.
We eventually made our way to the car 20 minutes later and drove to Angkor Wat. Considering it was 5am, the streets were fairly lively. When we got to the parking lot, it was pitch black and Dara held a flashlight out for us to see where we were walking. Of the people who were up for the sunrise, they all walked down the middle path but Dara took us to the side and we ended up beating everyone to the view points. We camped out right in front of one of the ponds, where you can see Angkor Wat's reflection. Dara told us that within 15 minutes this area will be packed, and he was right. Since it's rainy season, we didn't really see a typical sunrise, since there wasn't much sun. It was cool to see the different coloured sky with Angkor Wat coming into focus. We stood there for about 45 minutes until about 6am. The grass was too muddy to sit down on so most people were standing – which is why our patch of grass was prime real estate.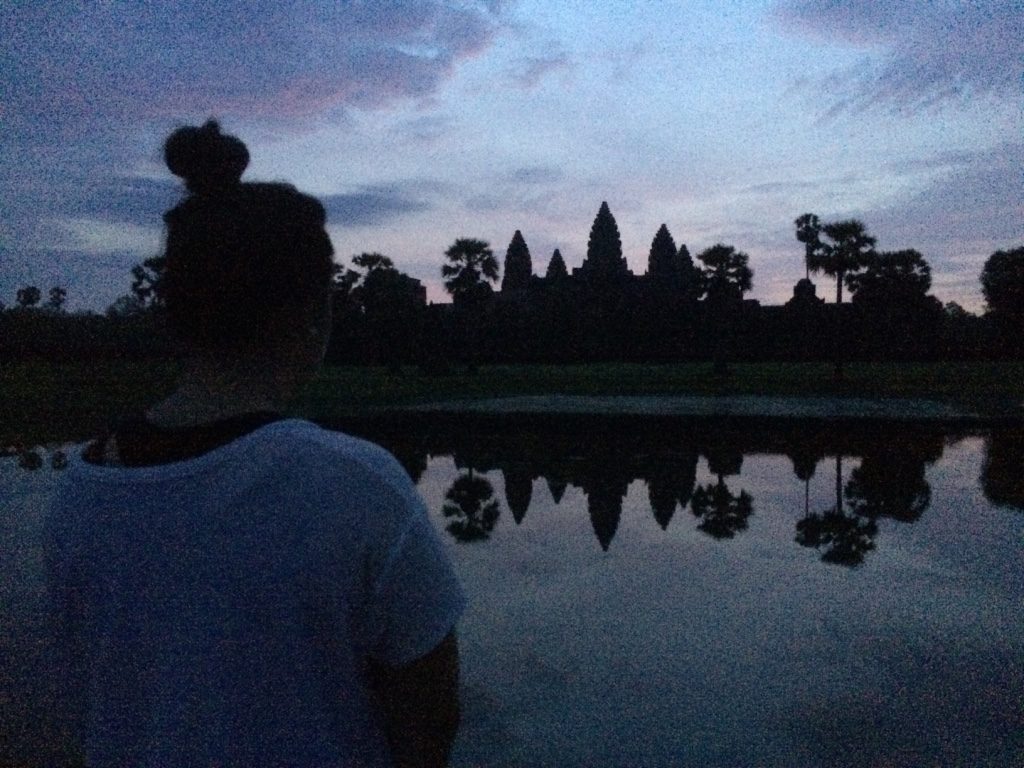 After taking hundreds of pictures of Angkor Wat, we found Dara and he said we should eat our breakfast before heading into the temple. We camped out on the steps of the temple's "library" and ate the breakfast the hotel packed for us. There were a million flies around, so it made eating difficult. The breakfast wasn't that appetizing. I just ended up eating the bananas (Tim: I ate their omelette and sausage and it was good).
Even to this day, Angkor Wat is the largest religious monument in the world. It's incredible that in the 12th century, they built the entire complex which stretches 162 hectares in just an estimated 35 years. We climbed to the top of Angkor Wat, which allows up to 100 people there at a time. There were some great views of the surroundings from the top, including watching mischievous monkeys go through the trash bins and then running away from the security guards. We saw a bunch of monkeys around the temple on our way out – a family of them and another monkey who attacked a young boy after the boy ran up to it suddenly.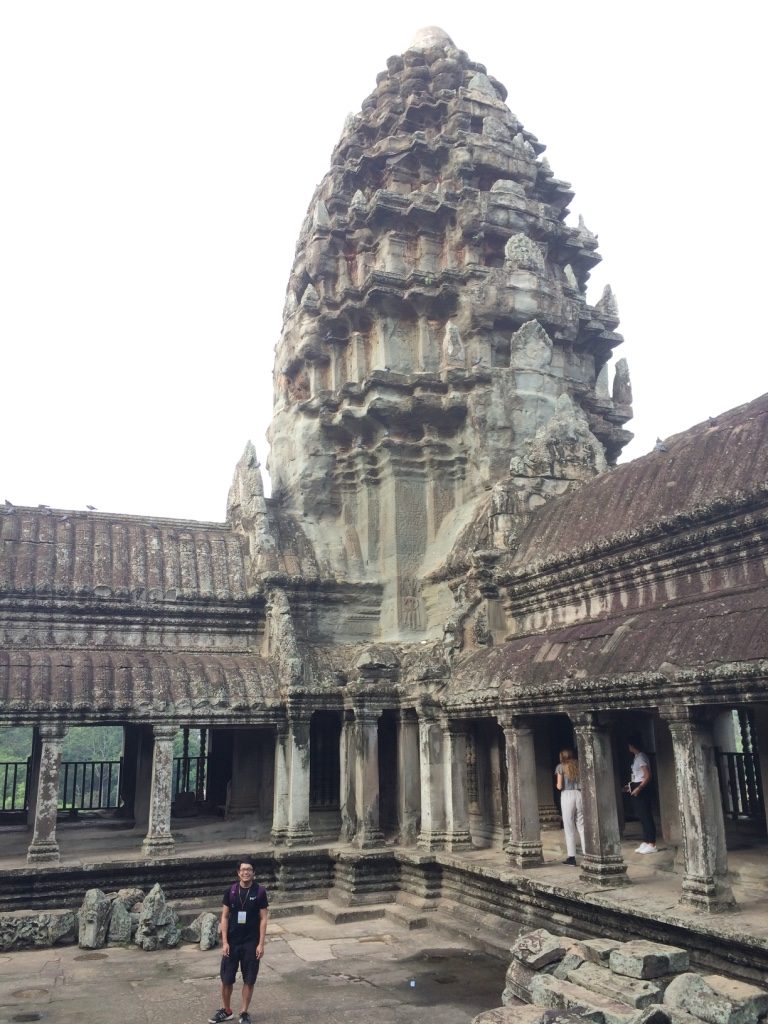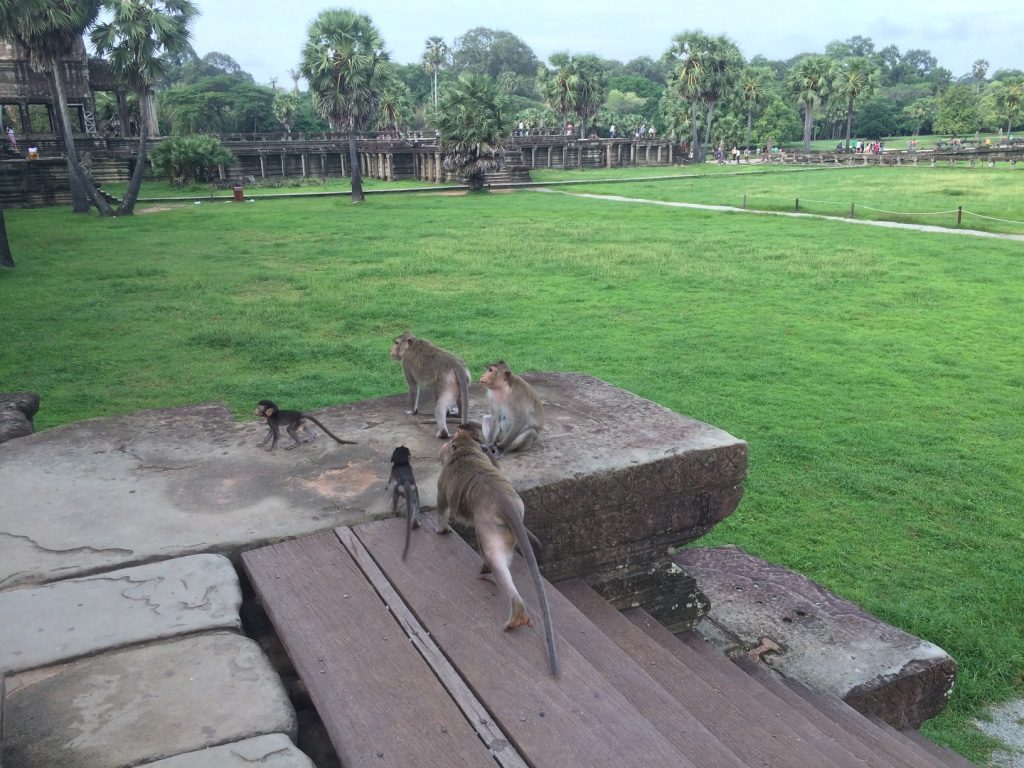 Our next stop on our tour for the day was Ta Prhomn, the temple where some scenes in Tomb Raider was filmed. Angelina Jolie starred in it and subsequently adopted her first son, Maddox, from Cambodia. I just learned that she has honourary Cambodian citizenship because of all the humanitarian work she does for the country. She's also currently producing a Netflix movie called, "First They Killed My Father" about the Khmer Rouge genocide that's being filmed now. We thought Ta Prhomn was very cool, they had so many old trees that have grown over the temple walls. It's interesting to see that all the temples are sponsored by different countries. If there is no country to sponsor the temple's conservation, there is no work done to restore the temples. I didn't see any temples sponsored by Canada (Angkor Wat is sponsored by Germany and Italy).
We saw a few other temples and palaces within the Angkor Thom gates. I was getting really tired at this point in the morning. It was warm and I just had a couple of mini bananas so I was starting to fade.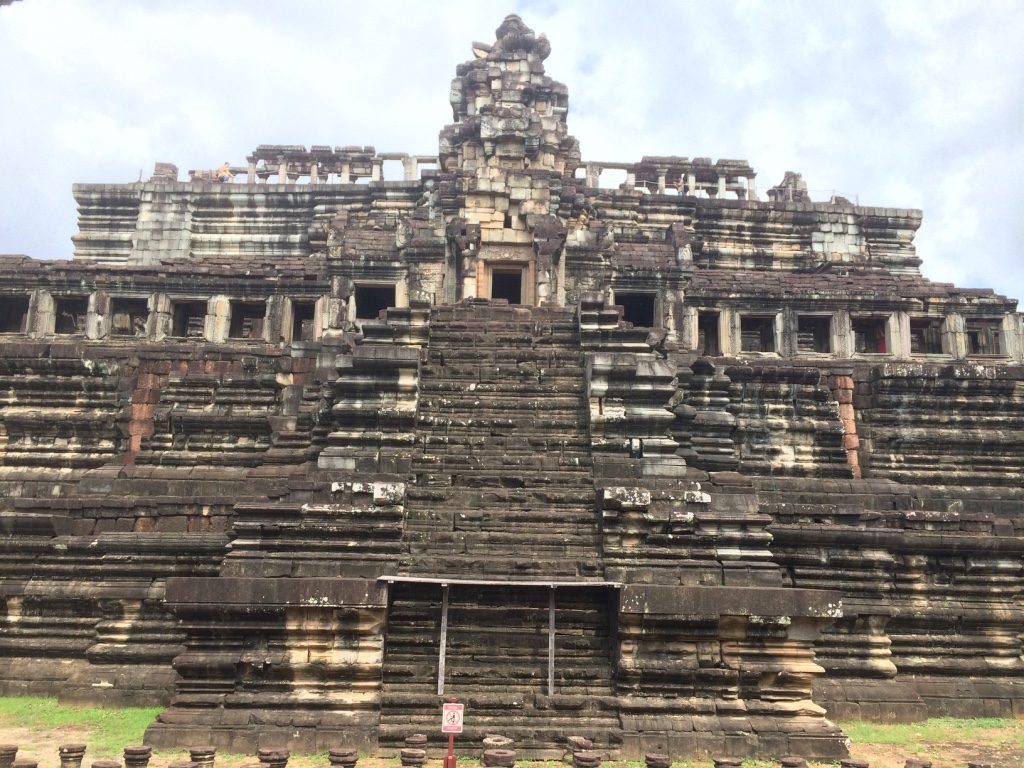 Our last temple for the day and tour was Bayon. Every time I heard the name Bayon, it reminded me of the show Survivor. They filmed the last 2 seasons in Cambodia so their tribe names were Bayon and Angkor. All the temples we went to today were all very different which was good. Bayon was very neat. It was built with hundreds of faces of the king all around. Most of the gates around Angkor had faces of the king around but Bayon was overkill. It was great for picture taking!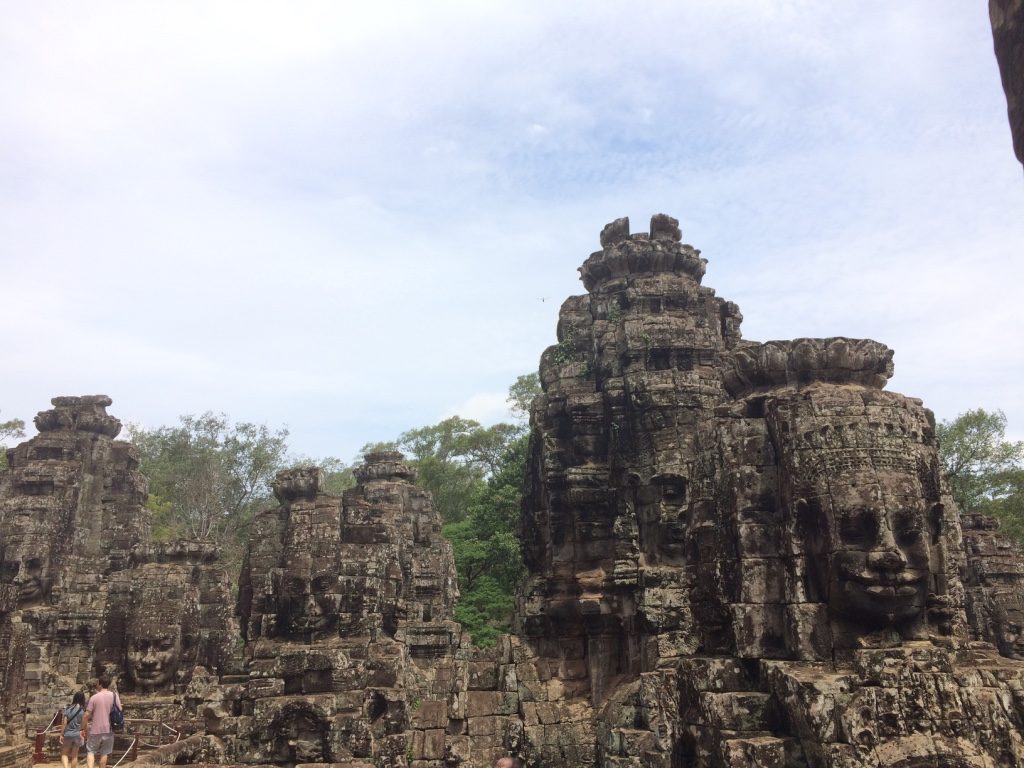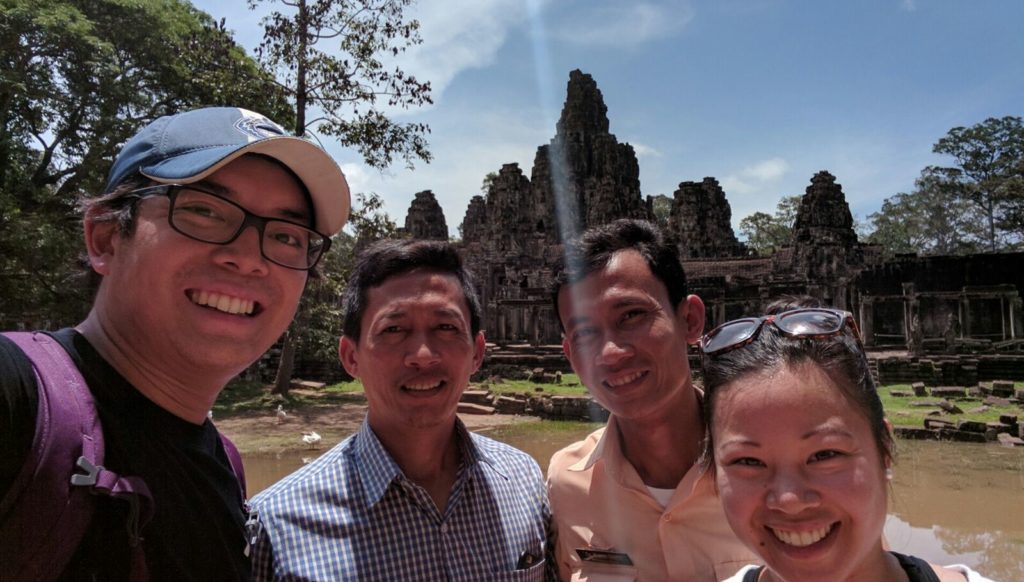 After a pretty jam packed two days our tour of the temples was over. We have the pass for another day but I think we are "templed out" and will just take it easy in town for our last day in Siem Reap. Dara and Mr. Hua dropped us off in the Old Town, where we'd have lunch. We said our goodbyes and thanked him. Dara is a very kind hearted and patient guide, and he is very proud of his heritage. When talking about Cambodia, he always refers to it as "my country". I don't remember the last time I heard anyone describing their home country in that sentiment.
I know you could probably do Angkor Wat and all the temples on your own for much cheaper, but it was nice to be accompanied by a local guide and get to know how life is here. He's around our age and has two boys (6 and 8 years old) and parents to support. Being in SE Asia and seeing how hard everyone works and hustles to even survive makes me feel like an extremely spoiled brat. I don't take for granted how lucky Tim and I are for all that we were blessed with. But sometimes you can't help but feel guilty for our blessings when there are many others who are not as fortunate as us. It's not to say they aren't happy, because all the Cambodian people we have met and interacted with seemed to be very happy and so kind despite being very poor by western standards (Tim: And if they're happier than you, then what does it say about money and happiness?). I can see why Angelina Jolie fell in love with Cambodia while filming here. Any way, that's something I originally wanted to reflect on coming on this trip. What makes people happy? I know it's not material things, that's for sure.
Back to today. We were craving pizza and found a few highly rated places to try in Siem Reap. After going to two of them and finding out they weren't opened for lunch, we went to our third choice. The restaurant is called Il Forno and is just off Siem Reap's Pub Street. The prices were cheap for western standards but expensive for Cambodian standards. We shared a large salami pizza ($9.50 USD) and ordered a couple of soft drinks ($1.25 USD each). The pizza was Neapolitan style and was surprisingly very delicious. The crust was perfectly chewy and it tasted just as good as the Italian pizzas we had in Melbourne. It definitely hit the spot and satisfied our pizza craving. There's a huge ex-pat community in Siem Reap, so that's why there are so many western restaurants in the Old Town.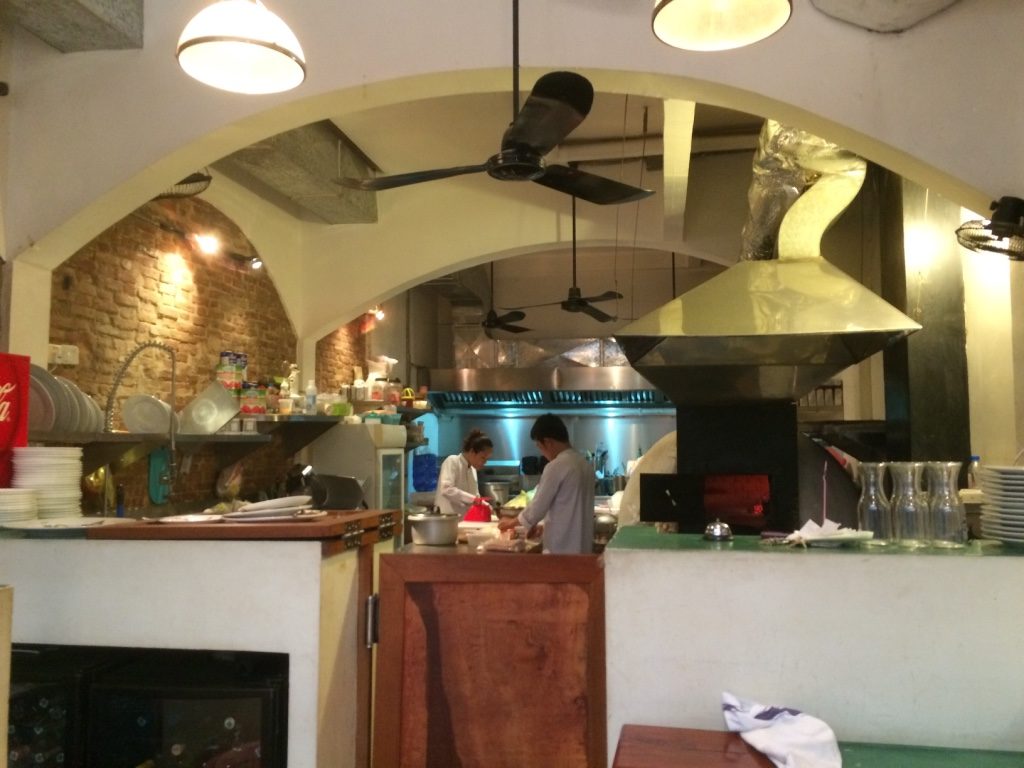 After lunch we took a tuk tuk back to our hotel, washed up, and rested for the rest of the afternoon. I took a nap for a couple of hours. We got ready and went back into town to the Night Market to find something for dinner.
We walked around the Angkor Night Market and it was basically all the same souvenir trinkets and clothing we've seen at most other markets in Cambodia. For dinner we found some street vendors across the street and ordered noodles, skewers, and a mango smoothie from different vendors (they were all in a row, how convenient!). Our street side dinner cost us $4 USD.
After dinner we walked around the streets and found dessert at a pancake truck, which was more like a crispy crepe. The banana chocolate pancake was $1 USD, but we later found some other stands just off the main roads for $0.75 USD. There are so many massage shops around the night market, all trying to get you to go inside. The massages are extremely cheap – $3 USD for an hour foot massage. In addition to massages, they have a lot of fish spas, which I'm too scared to try (because it's dirty). The fish spas were also a lot cheaper than Thailand since $2 USD could buy you unlimited time. The fish were also a lot bigger than the ones I remembered seeing in Thailand. Maybe these fish get fed more?
We grabbed a tuk tuk back to the hotel and called it a night. It was a pretty long day.
Steps today: 18,000