April 15, 2016
For our last day trip out of Osaka, we decided to go to Kobe. I've always wanted to try Kobe beef in Kobe and to be honest, that's basically all I associated with the city (I know, I'm an ignorant North American). The only thing I did some research on (half an hour before we left) was where we should have lunch so we could try Kobe beef. Once I found some options and Tim starred their locations on Google maps, we headed for Osaka Station.
The train ride to Sannomiya Station took about 30 minutes from Osaka Station. We arrived perfectly around lunch time and decided to go to the Kobe beef restaurant called, Ishidaya. The restaurant was located about 5 minutes by foot from the station, but we had a bit of trouble finding it, so it took a bit longer. The restaurant is tucked away from the main road and on the second floor of a narrow building. It was good that we decided to try it at lunch as many restaurants offer much more reasonable pricing than during dinner service.
When we walked up the stairs a woman opened the door expecting our arrival. We later figured out that every time someone opens the door downstairs there's a subtle chime that goes off, so the waitress is prepared to greet diners. Ishida prepares their Kobe beef teppanyaki style, which was perfect because Tim and I have always talked about going to a teppanyaki place together. Tim used to go more frequently while on business with his American coworkers (Tim: Whatever you're imagining right now about teppanyaki places in the States is probably accurate). But something told me this experience would be a different one than an American teppanyaki restaurant (mostly we wouldn't be seeing any cheesy flat top tricks) (Tim: to be fair though, those tricks can be fun :P).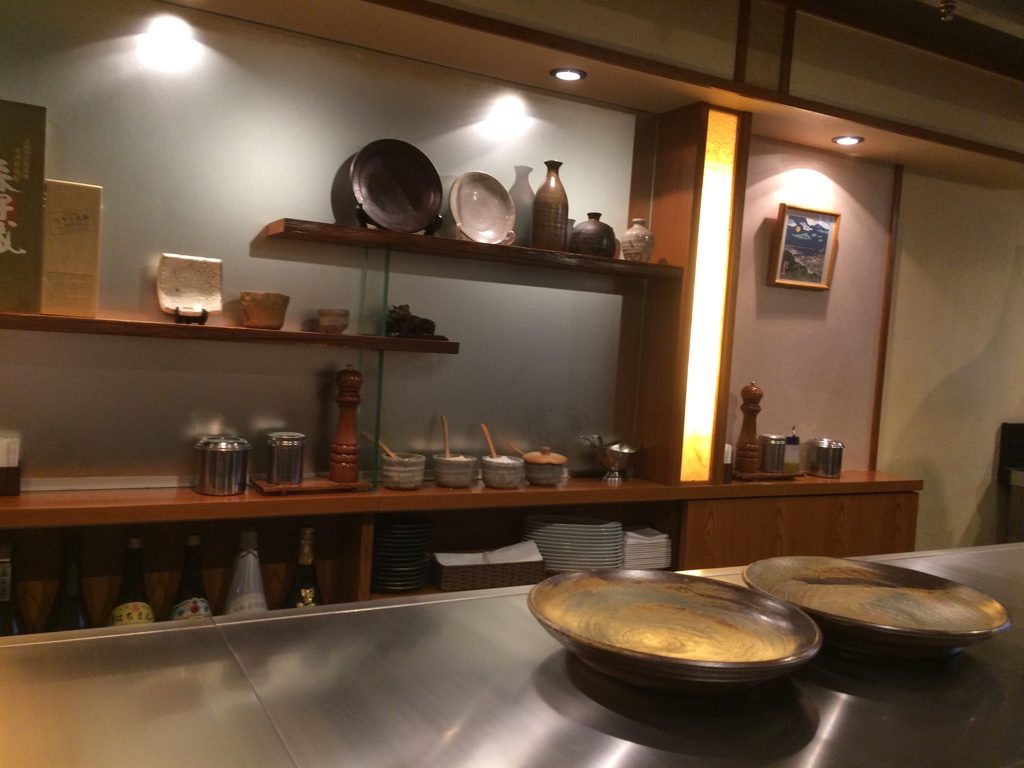 After looking at the menu, we decided we would try two different Kobe beef sets. One of them was sirloin (150g for 5,800 JPY = $68 CAD) and the other was a round steak cut (130g for 3,300 JPY = $39 CAD). Each of the lunch sets came with salad, grilled vegetables, rice (we upgraded to fried rice for 500 JPY = $6 CAD, miso soup, pickled vegetables, dessert and coffee/tea. The whole meal was delicious and eating the sirloin Kobe beef was amazing. It definitely did melt in your mouth as a lot of people say. The round cut Kobe beef was still very tender but it was a lot more lean than the sirloin, so it didn't melt in our mouths as much…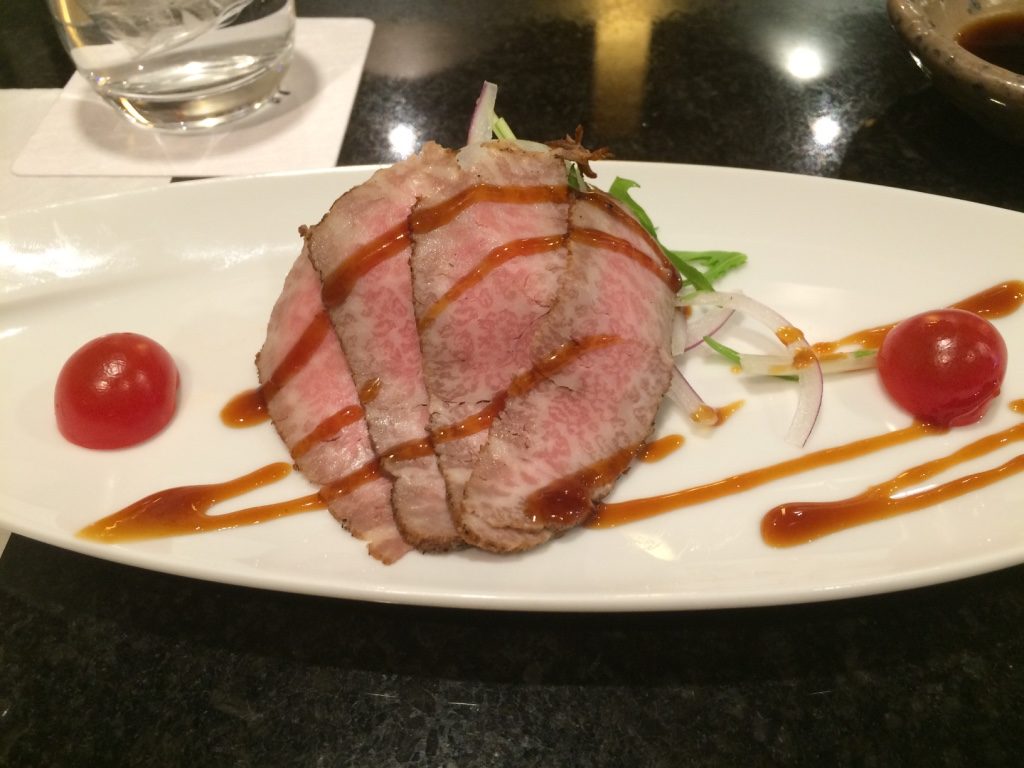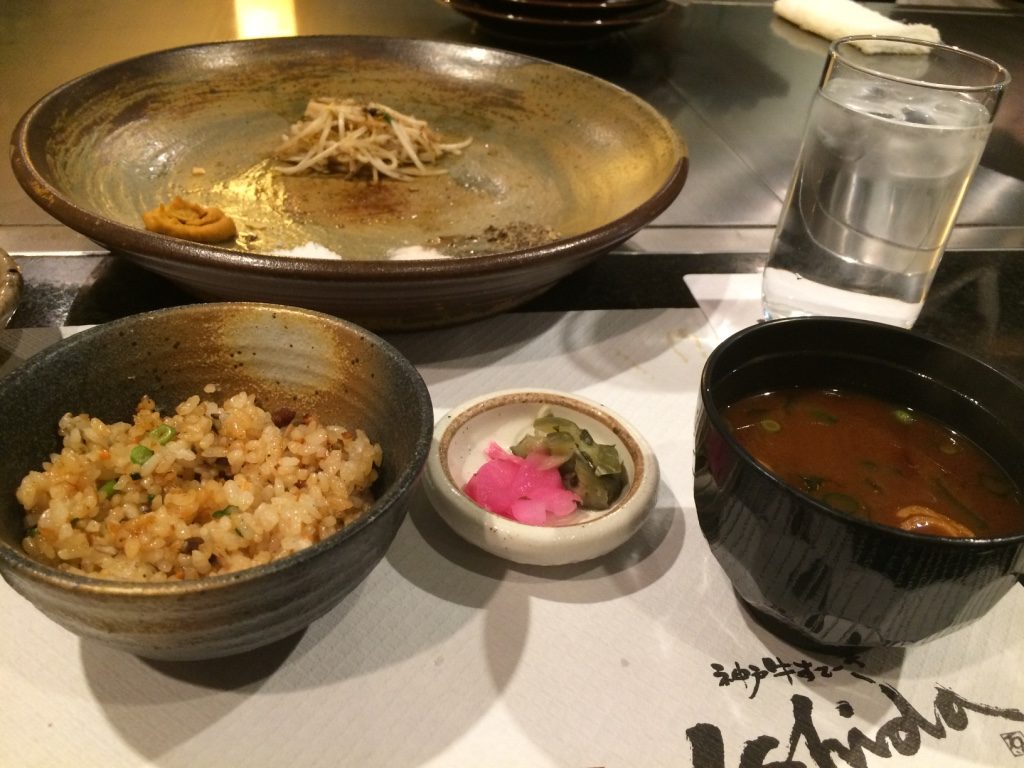 After we were done, we left extremely satisfied. Our plan for the day in Kobe was to just walk around and explore a bit. Kobe has a different feel compared to other cities we've been to in Japan. We noticed there were a lot more ethnically diverse restaurants in the city and some of their street had a European feel to them.
We walked towards the Kitano area of Kobe, which is a historical area set up on a hill. The Kitano area is full of former foreign residences and is a quaint little area to walk around. About 5 minutes up the hill is an observatory area where you can get nice views of the city and the Port of Kobe.
Along our way towards Kitano, we found that the city is not only diverse in its buildings and restaurants, it also has various places of worship besides Buddhist or Shinto shrines. Most notably we passed by Kobe Mosque and a Synagogue. Being one of Japan's major ports to the west, it makes sense that there is much more diversity here than the rest of Japan.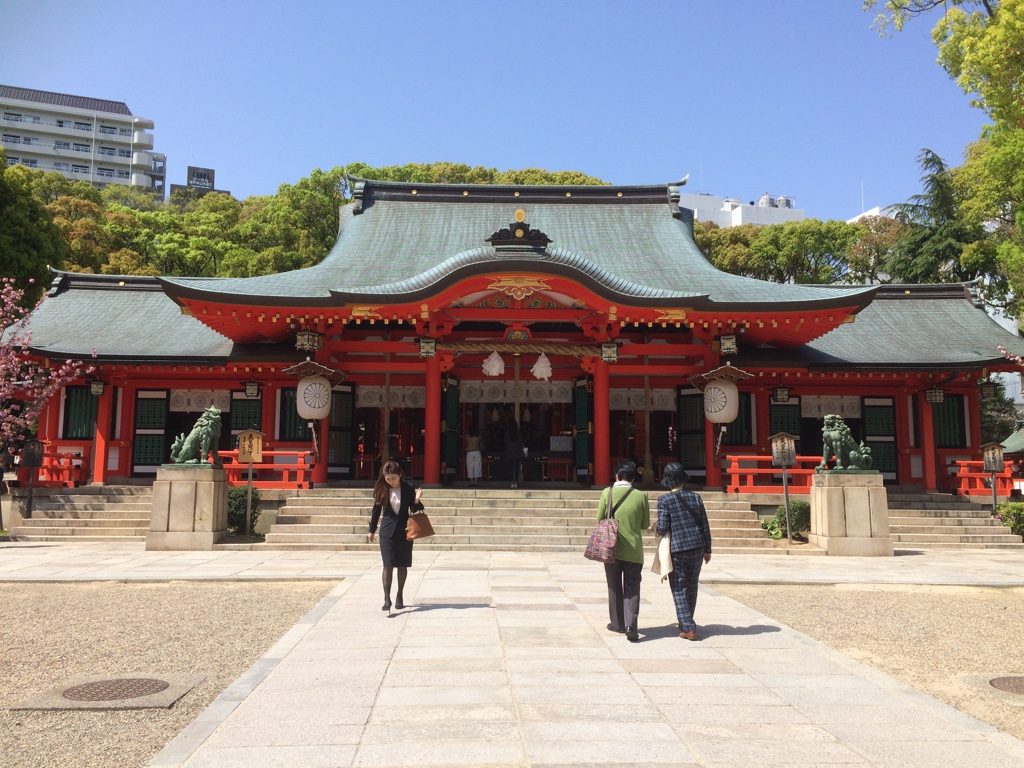 We made our way down the hill back to the more central area of Kobe. Our next stop was to walk through Chinatown, which is only one of three designated Chinatowns in Japan. I was craving Chinese BBQ meats (duck, cha-su, and roasted pork) on rice, so I was hoping to see some on our way through. Granted we only walked through one of the main streets within Chinatown (Tim: there really was only 1 main street), we only saw the same peking duck wraps and steamed buns over and over again (none looked very appetizing).
After walking through Chinatown, we continued to head towards the Port of Kobe. At the port, there is a memorial for the earthquake that happened in Kobe in 1995, which was one of Japan's worst earthquakes in the 20th century (magnitude of 6.9). Walking around the port was really nice since it was a sunny and clear day. We just sat close to the water and chilled out for a while.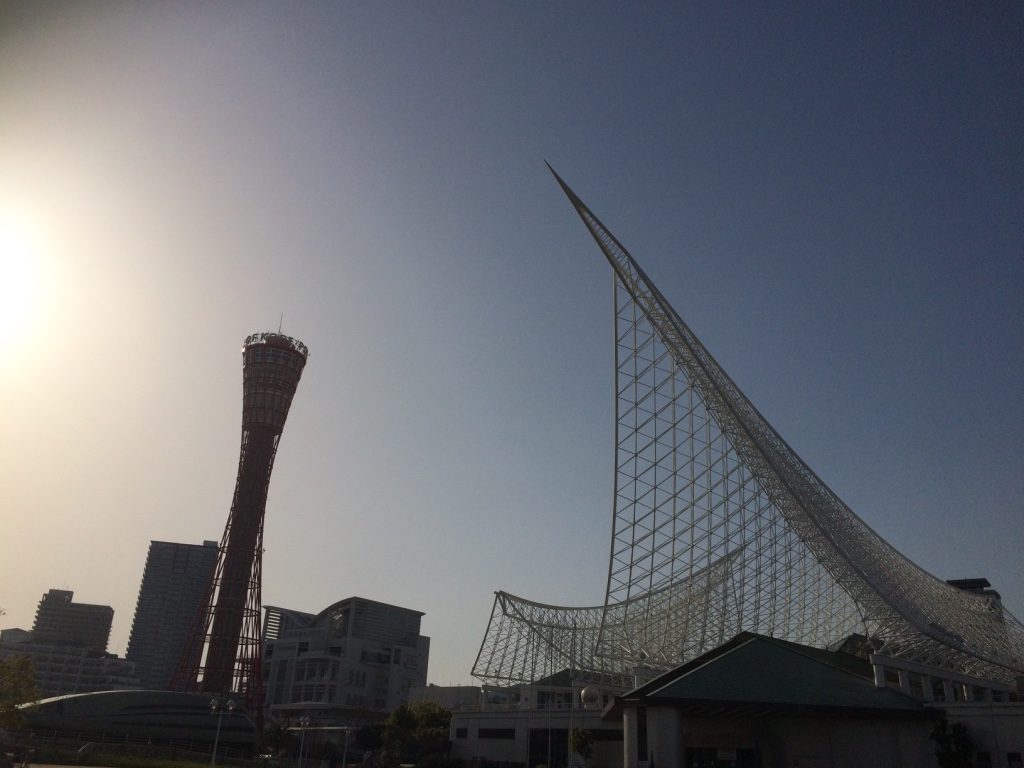 We eventually headed back towards Sannomiya Station, but this time we decided to walk below the train tracks as I read there are a lot of restaurants and stores there. In particular, there was a gyoza only restaurant, called Hyotan, that is supposed to be quite good, so we wanted to go there before heading back to Osaka.
Before finding the gyoza place, we stopped by a bakery called, Pablo, which specializes in cheese tarts. We've seen this place around Japan as well as in Taipei and they almost always have a huge line up. I wanted to try one and this location only had about 5 people in line, so we decided to buy a tart to share. Compared to everyone else in line, who were buying dozens or them or cakes, we had the smallest order. The tart was very well done and the cheese is like a fluffy Japanese cheesecake, I can see why people would line up for them. But at the same time, I think Asian tourists go crazy for any dairy product in Japan because they don't have many dairy based desserts or products in Hong Kong, for example.
We finally found the gyoza place. There was no big sign that says "Hyotan" so it was a bit difficult to find. It's a very casual looking restaurant, full of Japanese businessmen (there were no other female diners) having a beer with a plate of gyozas after work.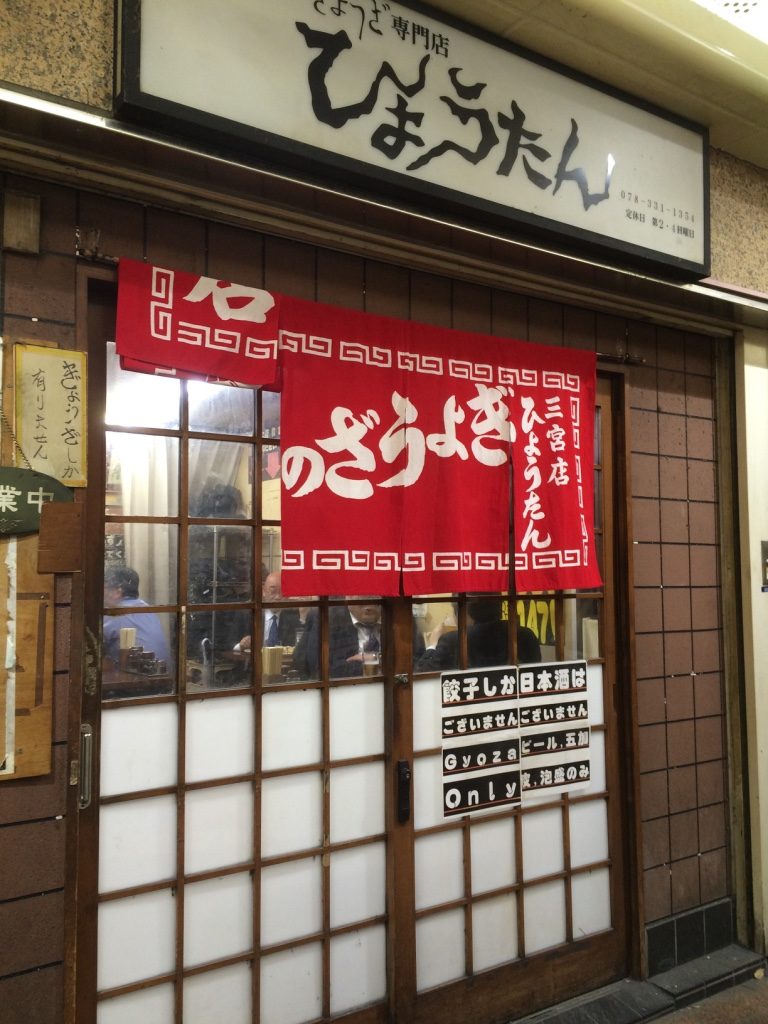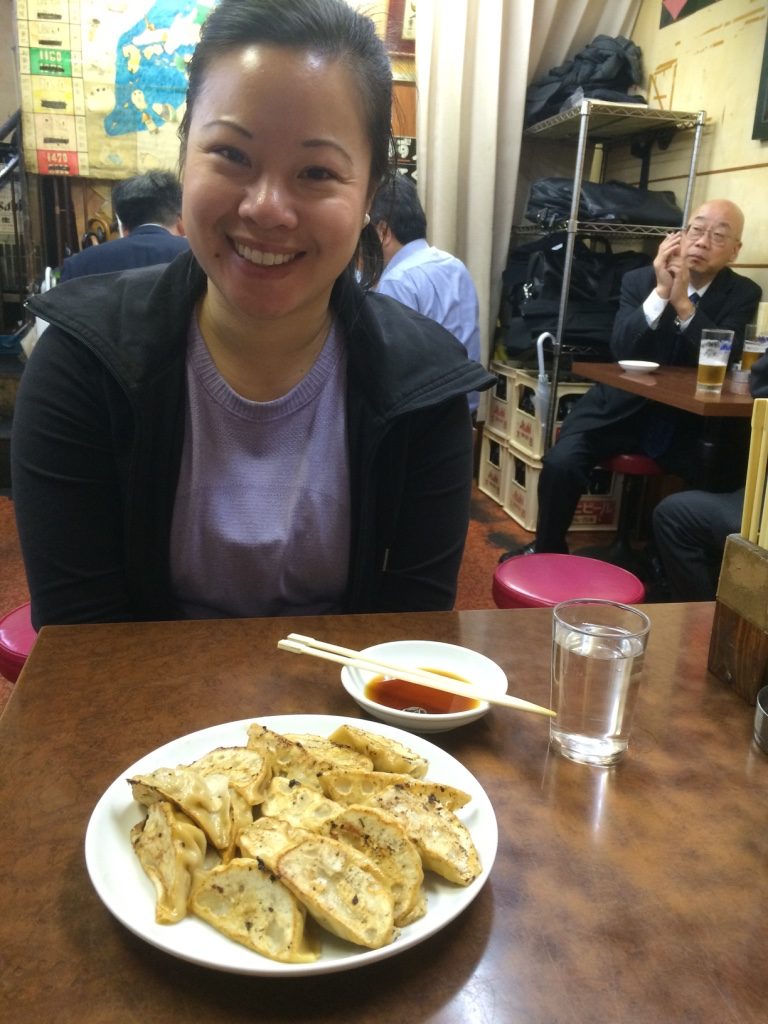 The gyozas were hot and juicy. We read after that they are known for their red miso paste for dipping. Luckily, I wanted to try it in my sauce, Tim on the other hand didn't use any (oh well). The waitress did not speak English and was trying to tell us that the minimum order was one per person in Japanese (although there are signs on the wall in English, we didn't see them). Tim's Mandarin came in handy when she first said no English, then she started to speak Mandarin to him. It was an interesting experience to eat with a bunch of businessmen after work. Tim always asks if I feel okay going into a place like that when it's all men. I think he feels more uncomfortable on my behalf than I actually do.
We took the train back to Osaka Station and headed straight to Dotonburi (via JR Namba Station) to meet William at around 8pm for a late dinner (snack for us).
Last night, we were watching Anthony Bourdain's episode in Osaka and wanted to try kushikatsu (deep fried skewers). We learned they are unique to Osaka, and it just so happened that William said he wanted to try them too before we even suggested it. We found a place in Dotonburi that was pretty busy (seems like a good place to start). Tim and I shared a combo of skewers and ordered a different ones to try. They give you a plate of cabbage that you can dip in the tonkatsu-like sauce. At these restaurants, there are communal dipping sauces at each table and there is no double dipping allowed since they don't change the dip after each customer.
The majority of skewers are 120 JPY = $1.40 CAD and could go up to 360 JPY = $4.25 CAD for more speciality items. My favourite kushikatsu were the quail eggs. It was a good experience and I was happy we got to try it in Osaka. However, this would not be a very healthy thing to eat every day after work.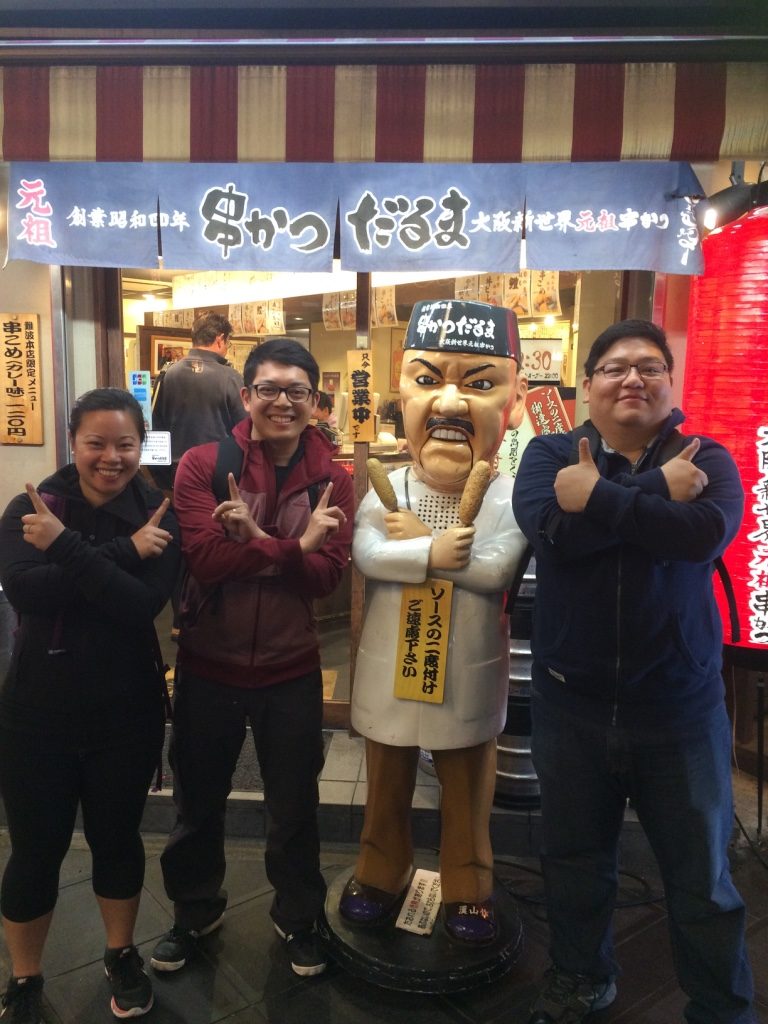 After a heavy dinner, we went to the melonpan ice cream bun truck. We had told William about it last time we met in Kyoto and he wanted to try. We got one and he agreed, it was very delicious. This dessert makes Tim very happy.
We said our goodbyes and said we'd meet up again in Tokyo. William was leaving for Tokyo tomorrow and we'll be there a day after him. I like hanging out with William because he knows a lot about what restaurants to go to or what kind of food to eat in each city as he's been to Japan quite a few times.
We walked back to our hotel and relaxed for the rest of the night. I wasn't able to finish my blog post for tonight because I was getting a bit tired. While I was sitting at the desk, I heard a slight banging noise and felt a bit of movement.  I asked Tim if he felt that and if it was an earthquake. He said he didn't feel anything (while laying in bed) and it was probably nothing. So I thought I was just imagining things since there was a large earthquake in Kumamoto the day before with a magnitude of 6.4. (Tim: It might of been a pre-tremor that hit the area just before midnight.)
At about 1:25am, I got into bed and we turned off the lights to sleep. Then all of a sudden, everything started to shake really hard and you can feel the building swaying and hear the structure of the building making large creaking noises. Since we have two double beds, I stayed in my bed for a little bit thinking the shaking would stop soon. But then after it continued to shake even harder, I went to Tim and hugged him until it stopped. The shaking seemed to have lasted for about 30 seconds (Tim: possibly felt longer because the building continued to sway for a bit). It was the longest earthquake I had experienced, and being on the 18th floor, the amount of sway in the building was unsettling. (Tim: This was the first earthquake where I think felt the 2 distinct waves you learn about in elementary school. One big shake, followed by lighter shaking and swaying in the building, followed by another bigger shake that made the building sway for a while.)
We turned on the Japanese news and tried to go online for  more information about what just happened. We found out there was a 7.3 magnitude earthquake again in Kumamoto (which is about 700 km south of Osaka). The fact that we felt such a strong tremor was crazy since the epicenter was so far away. We are lucky that we left Kyushu (island where Kumamoto is) last week. Fukuoka and Beppu are both on Kyushu island and Beppu, specifically, is in an area more affected by the earthquake. Since the big earthquake on Thursday (which they now know was a pre-tremor for the earthquake last night), there has been over 100 earthquakes of 3-5 magnitude in the Kumamoto region, many higher than what we have experienced in Vancouver.
As we're heading east in the next couple of days, hopefully we won't experience any more tremors or earthquakes while we're here. I was scared and a bit shaken up last night. Thankfully, Tim and I had already left the area most affected last week, and are okay.
Steps today: 24,500