April 30, 2016
We woke up this morning, looked out the window, and it was snowing! Not the magical white fluffy snow, but more of the wet icy type of snow. Tim checked the forecast yesterday and saw it was going to snow a bit today, and he was excited. I think he thinks it's really magical (and romantic) when it snows.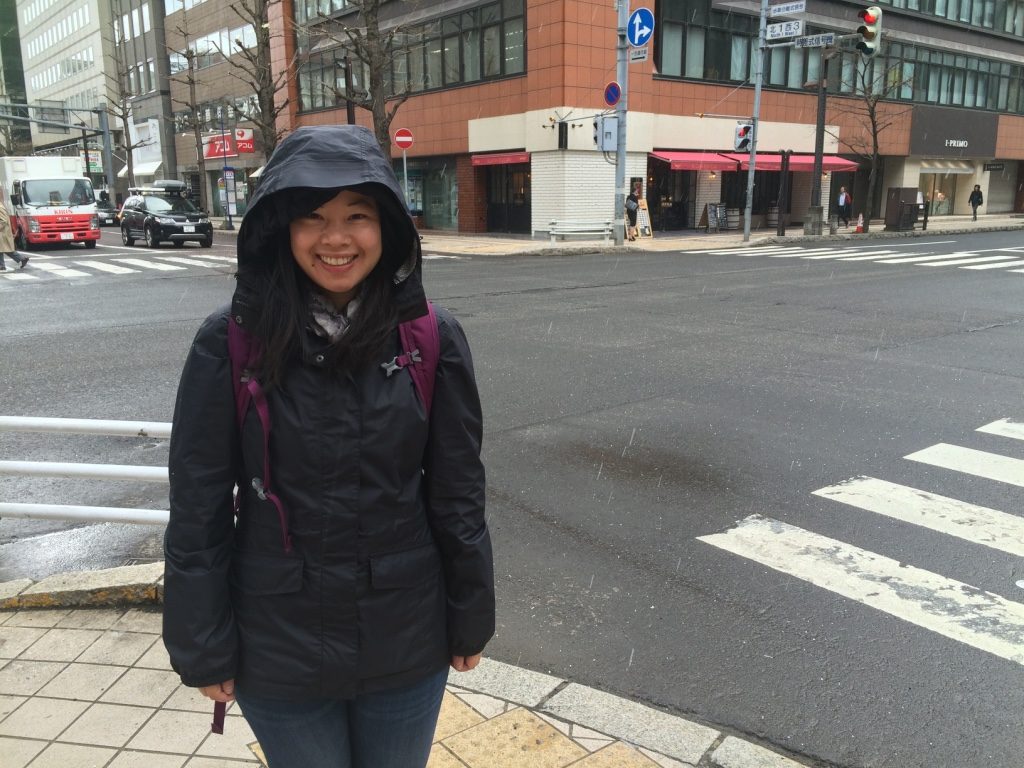 We bundled up even more today and headed out. For lunch, we planned on going to a yakitori (grilled skewers) place we saw on our first night that looked good. We didn't eat there that night because the wait was too long so we passed. When we got to the restaurant, they had a lunch menu displayed and it was all tonkatsu lunch sets. We then realized that yakitori isn't lunch food, and thought to come back for dinner (third time's a charm, right?).
Since it was cold out we decided to check out "ramen alley" in Susukino. We had watched Anthony Bourdain's Hokkaido episode on our first night here and wanted to check it out. Instead of walking outside today, we headed straight for the underground (like the rest of Sapporo). When we got to Susukino and found "ramen alley", half of the restaurants were closed. It's Golden Week in Japan right now, so a lot of people are on vacation. The restaurants that were opened were not very busy, some were even empty (it was 12:30pm). We did pass by the restaurant that Anthony Bourdain went to, it was also pretty empty. We didn't see anything that seemed too interesting and since we had ramen yesterday we decided to find something else (Tim: I should note here that while some of Kaitlyn's posts might give the impression that I love ramen, I actually don't like it all that much. There's a very small subset of ramen I really enjoy (Tonkatsu broth, thin noodles, no bamboo shoots), otherwise most bowls of ramen fall way down on the noodle-soup rankings for me).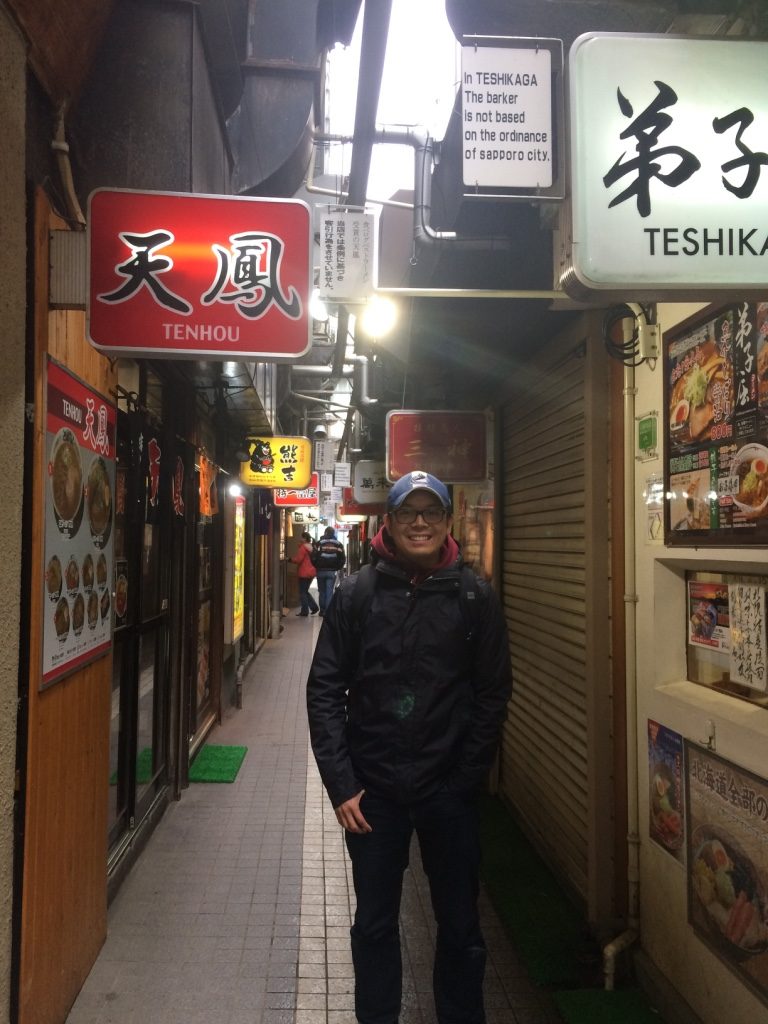 We walked around the block from ramen alley and found a tonkatsu restaurant that looked interesting. It is part of the Matsunoya chain, which serves mostly donburis, but this restaurant just specialized in tonkatsu. The prices advertised were extremely reasonable so we decided to give it a try.
Everything at Matsunoya was very good. It's quite easy to find good quality cheap food in Japan. That's something that we're going to really miss when we leave Asia for Australia. After that filling lunch, we headed back to the underground and did a bit of browsing and last minute shopping at Muji, Uniqlo and Don Quijote, as our time in Japan is winding down.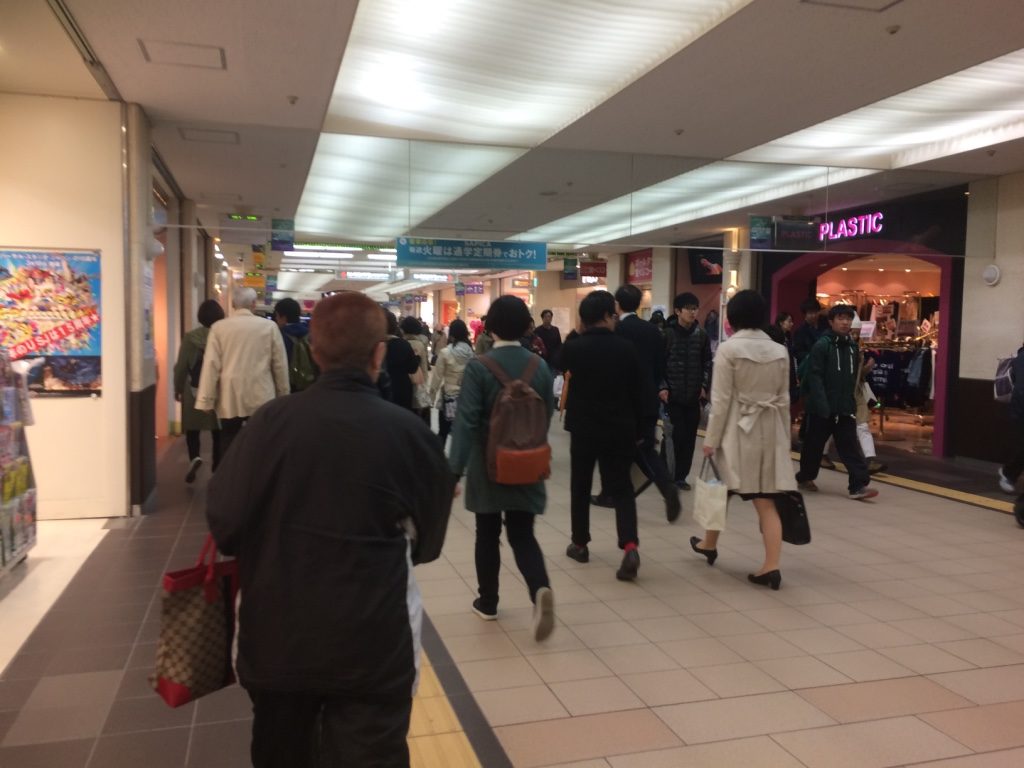 While walking through Pole Town, we noticed a line up outside a bakery that made cheese tarts (similar to the ones we had at Pablo) and they also served Hokkaido ice cream. Before coming to Sapporo, everyone told us we had to have Hokkaido ice cream, as Hokkaido produces high quality dairy products. We got in line at Kinotoya Bake and ordered one cheese tart and an ice cream cone to share.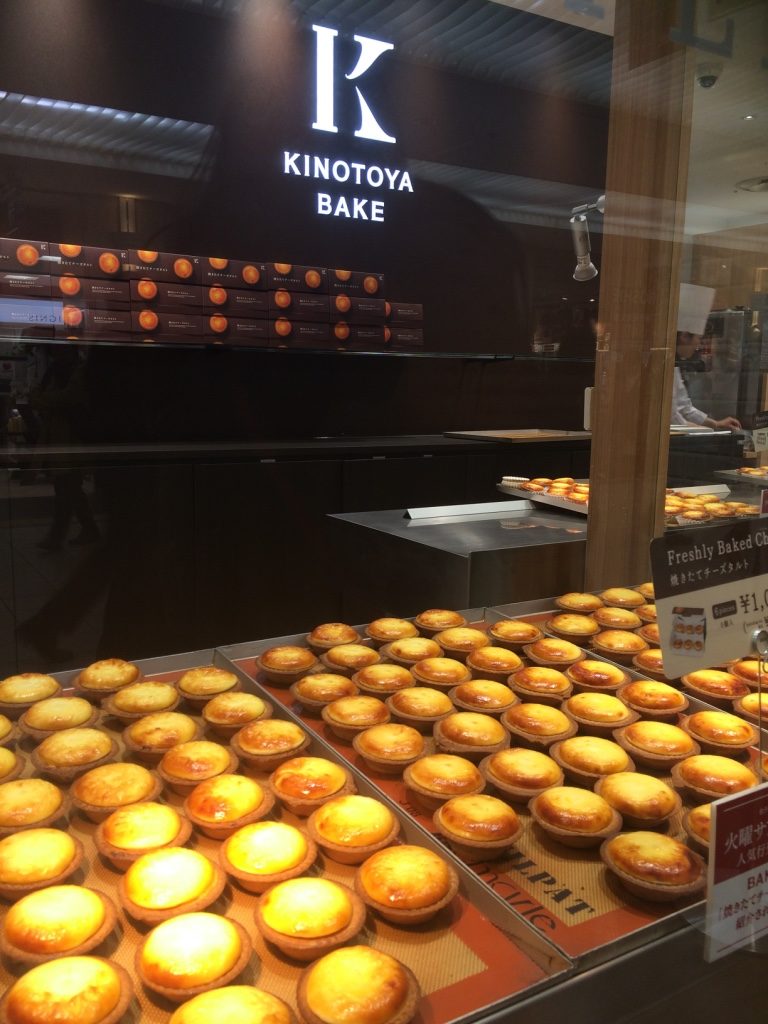 The ice cream cone was huge! The soft serve is different than what we're used to. It's a lot creamier and not as sweet (if you're comparing it to Dairy Queen). The cheese tart was like a warm cheesecake except a bit more gooey. It was good, but we both thought the cheese tart from Pablo was better.
We came up from the underground and saw it was sunny and there were blue skies. It was the first time we've seen blue skies in Sapporo. I guess being underground for most of the day, you don't get to see what's going on outside. We went to the Former Hokkaido Government Office and walked around inside. It's free to visit and there are rooms filled with Sapporo memorabilia – like letters from world leaders who attended the G8 Summit in Sapporo in 2008. The building is a beautiful red brick building and looked very western inside.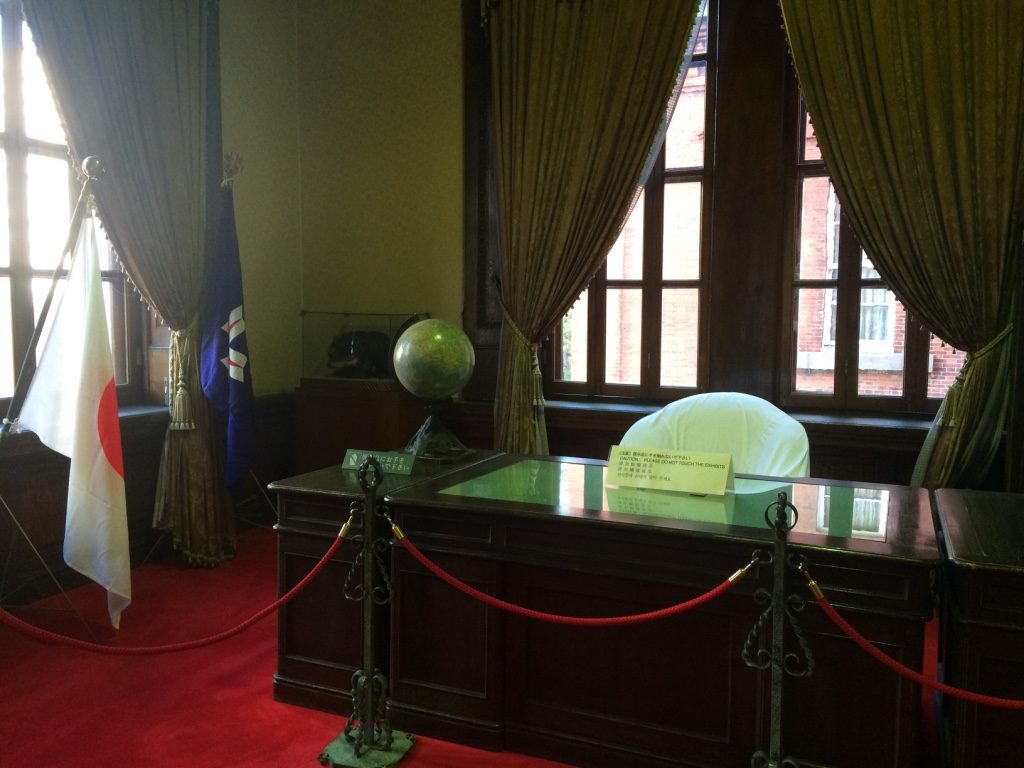 We went back underground and went to Sapporo Station to browse around at the stores. The Uniqlo at Sapporo Station is one of the better ones I've been to this trip. Since it's Golden Week, there are a lot of sales going on. After trying on a lot of items, I restricted myself after thinking about my bulging backpack.
From our shopping today, here are some snacks that were interesting but we didn't/couldn't buy. Too bad all the specialty Glico Pockys are always in such big boxes. I knew that Hokkaido was known for its dairy products but I didn't know they also specialized in cantaloupe/melon flavoured treats.
It was time for dinner so we walked back towards the yakitori restaurant, Kushidori. There were two other groups ahead of us and had to wait about 15 minutes. We got seated at the counter and ordered 15 skewers, edamame, and two drinks (ginger ale and a beer) for 28,000 JPY = $33 CAD. Everything was really good, I think yakitori is one of my favourite types of Japanese food. Grilled meat is so simple but it tastes so good. My favourites from tonight were the bacon wrapped mochi and the classic chicken and leek skewer. Most of the skewers we ordered were 130-140 JPY = $1.50 – $$1.65 CAD.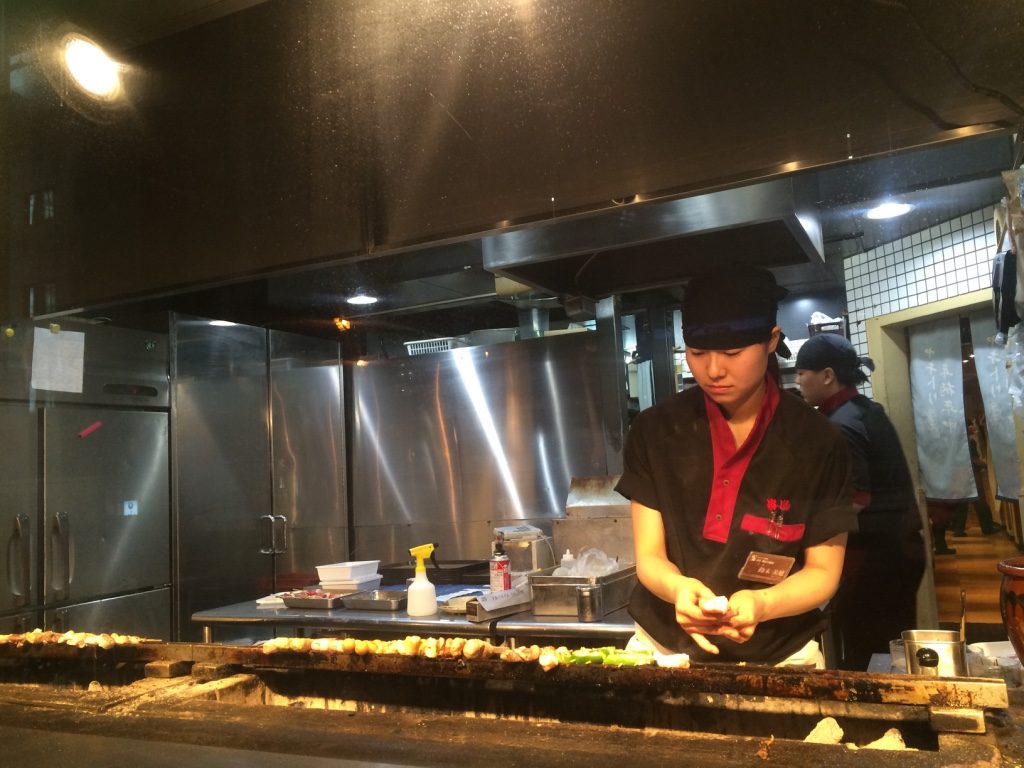 The restaurant is a block away from our hotel, so it was a short walk back. My favourite meals in Japan have been izakayas or yakitori restaurants. I guess I like bars in Japan even though I don't drink. The only downside to eating at these places is that smoking is allowed, which is not something we're used to.
It's our last day in Japan tomorrow. I'm a bit sad to be leaving. There's so much more to see and eat!
Steps today: 16,000